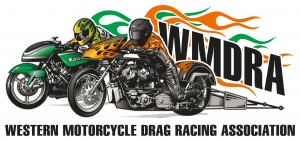 Partnership and fast bikes combined for a successful weekend at Speedworld Dragstrip in Wittmann, Arizona according to Sandra Alberti, Operations Director of the WMDRA, LLC.
The WMDRA found an interesting and untapped partner with Misbehavin Motorsports for the kick-off event in Arizona and who knew that it would work out so well? Bikers and VW owners found they share an obvious need for speed in a perceived fringe market. "It really worked well and we are thrilled to continue the partnership into the next event on May 19th at The Strip in Las Vegas. Most teams at the season opener have committed to this race and we already have advance registrations online for this premier track," says Alberti.
The racer count is building and of course when Mike Bahnmaier of MidContinent Racing pulled in with his super hauler from Kansas and added his multi bike nitro team to the mix, it really spiked the spectator enthusiasm.
More enthusiastic than even the spectators was Pro Drag racer, Terry Stewart, who got to ride one of Bahnmaier's beasts and get his Top Fuel license. He licensed on Saturday, was number one qualifier on Sunday and went to the final found in the Open Fuel class. Terry's thoughts on the weekend, "I am very blessed with a very well built bike and a crew that knows the bike. I am very, very happy that I was able to react as quick as I was able to react and keep the bike in the groove. I could have only dreamed of the outcome the way it turned out. I mean who does that? A very fortunate rider with a great crew. Thanks to Speedworld for a very well prepped track surface."
Winning the Open Fuel class was Cheyenne Wyoming's Mark Chisholm. John Morgan Racing brought in Mark to familiarize the team's first time rider with the bike, team and race procedures. Morgan's team experience and Chisholm's tenacity were a winning combination as Mark worked his way through the Open Fuel ladder on Morgan's KZ1000 based turbo-charged, alcohol injected, Steve Rice prepared Funnybike. Lined up against the other "virgin" Top Fuel Harley pilot and low qualifier Terry Stewart, Chisholm took the win with a track punishing 7.07 with the bike and riders personal best 202.4 mph.
So-Cal Racing, a multi-bike team out of California, made quite an impact on the weekend as well with three #1 qualifiers: Dawn Baugues in Pro Gas, John Hren in Top Gas and Harly Legowski in Super Gas. Sam Baugues of So-Cal Racing explained, "Well we went to WMDRA @ Speedworld in Arizona… and qualified #1 in three different classes. Going into round one of (Pro Gas) eliminations, we got the bye run and opted to get a tune/data run instead… and it proved the undoing for Dawn on her Pro-Stock bike. We were running the "B" motor with only 5 passes on it and it kicked a rod out the front through the cases at half track (still ran an 8.0). We went runner up and got some prize money for our trouble and the bike will be back for the Vegas event. We want to thank Sandra @ WMDRA for inviting us to the event, had a great time and loved the fans out there in Arizona."
So-Cal's loss was Arizona's gain as the Pro Gas win went to local favorite, Fred Love. With his Pro Dragster still on the mend, Arizona local Bill Bentz couldn't sit this race out and ran a back up bike to a runner up finish to Karen Wagner in Super Gas.
Double winner of the weekend went to local racer Chris Phipps of Gunslinger Motorsports who edged out John Hren in Top Gas and John Coburn in Pro E/T. New Mexico Baggers were the bikes to beat in Street E/T with the win going to Victor Neuenschwander over teammate Allen Prince.
Quotes from teams at Phoenix:
We had a blast with you at Speedworld this weekend. Thanks for putting on such a great event! Can't wait to see you at Vegas Baby! –Dawn Baugues
Yeah, it was slightly warm and humid as all hell that Saturday. Wouldn't change a thing though. Most fun I've had at an event as a competitor. –Roger Griggs
Alberti goes on to say, "Speedworld was a great track to work with and we couldn't have picked a better venue for our season opener. There's been a lot of excitement about the 2012 race season and bringing Bill McGrew on board as Technical Director has allowed me to focus on developing a larger racer base and bring in more partners. There are so few opportunities for motorcycle drag racing on the west coast and the WMDRA is really focused on filling that void. We have several more events to add to our schedule this year, so stay tuned!"
If you are receiving this release, you love motorcycle drag racing. Add to that passion and join the WMDRA fun in Las Vegas on May 19th!