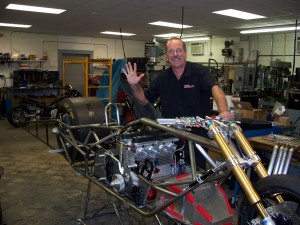 The dragbike of the future has arrived.
Motorcycle drag racing world record-holder Larry "Spiderman" McBride and his brother Steve McBride have been busy building a cutting-edge Top Fuel dragbike the duo hopes to debut sometime in 2011.  Cycledrag.com was fortunate enough to obtain some "top secret" photos of the work in progress.
The machine will feature a 104-inch wheelbase, four inches longer than McBride's record-holding Suzuki. The ten-time champ says the team could easily make the wheelbase as long as 108 inches with the new set-up.  Longer wheelie bars will also be used, making the total length of the new motorcycle, from the tip of the front tire to the end of the wheelie bars, over a foot longer than McBride's current bike, at 18.8 feet.
"This bike will truly be state-of-the-art," McBride said. "Steve has put his heart and soul into this thing."
To help with the chassis fabrication, the McBride brothers precisely measured their old frame using lasers.  Larger 1.25-inch tubing was used, compared to McBride's current 1.125-inch  frame rails.
"Fresh tubing means a great deal.  That should really help it go quicker.  Our old frame was built by Puppet in 1994 and we got a heck of a lot of passes on it," McBride said.  "If everything comes together like we expect it to, 5.60s should not be a problem."
McBride holds the current world record at 5.793.