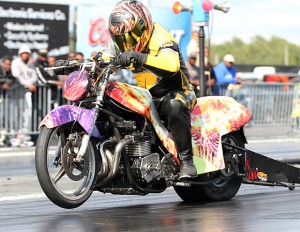 Pro racers will be turning wrenches and flipping hamburgers as the Mickey Thompson MIRock Superbike Series spotlights its sportsmen and grudge racers this weekend in the Adams Performance Sportsman Summer Sizzler at Steve Earwood's Rockingham Dragway. But the action will stay as hot as North Carolina's Sand Hills sun all weekend long as the back gate takes over the big show.
Louis Concrete 4.60 will feature the quickest index bikes on the planet, launching hellbent assaults on the eighth mile pole. Winners so far in the new-for-this-year class have been Kenny Cornell, Ronnie Smith and Jeremy Teasley.
That's right, pro racer Jeremy Teasley regularly goes deep in sportsman classes also, and you can expect to see him competing against race winning brother Cameron Teasley, defending class champion Shayne Proctor, Ben Knight and many more in MIRock Crazy 8s.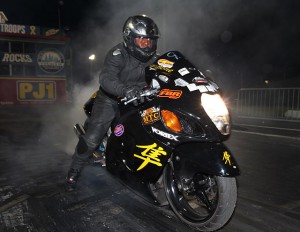 FBR Shop 5.60 champ "Fearsome" Andy Baumbach can expect a vicious attack from fellow Virginia racer Jimmy "Hillbilly Hustler" Shifflett when those two hit the staging beams. Shifflett has practically owned the Maryland International Raceway portion of the MIRock Series so far this year and will be looking to extend his domination into Rockingham as well. Don't expect April Rockingham winner Jerry Turner to let either of these two waltz their way to the winners circle.
Trac King/APE Top Sportsman and Brock's Performance Street ET champ Boo Brown will be hustling all comers in both of those classes, including recent winner Terry "T-Bone" Singleton, Barry Pryer Sr., Baybay Yarbrough, Clay Davies, Mike Schultz, Mike Herman Jr. and many more.
Nitrous Express Pro ET champ Dale Hamilton is known to slice his way through huge fields and will be forced to do so again if he wants the trophy and check at the end of the day. Mike Rankin, Stanley Russell, Barry Purnell, Mike Herman Sr. and more will be standing in his way.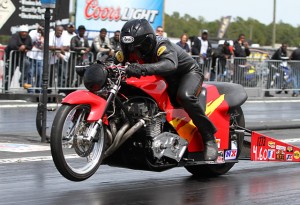 Grudge bikes will be making shakedowns between qualifying rounds all day long and taking over the track for a DJ'ed "Afterdark Underground" session deep into the night. Long-tail bikes like Eddie Kane, Ric Flair, Katrina and others will be clogging the lanes while hustlers like G. Wizz, CJ400, and Alex Bud Light run their motor-mouths. Meanwhile, riders like Johnny Locklear, Richard Gadson and others keep their heads cool and eyes focused on the big prize.
The weather looks great, with just the usual scattered storms and intense sunshine that The Rock staff knows just how to deal with.
Find out more about PJ1 motorcycle products at http://www.pj1.com/
Adams Performance Sportsman Summer Sizzler schedule: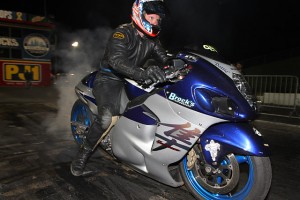 Friday, June 28
Gates Open 4pm
Test and tune 5pm to 6 pm
Saturday, June 29
Gates Open 9am
Time Trials 10am
Eliminations 1pm
After Dark Underground 8 to midnight
Sunday, June 30
Gates Open 9am
Time Trials 10am
Eliminations Noon
Find out more about the Mickey Thompson Performance Tires MIRock Super Bike Series at http://www.mirockracing.com
Find out more about Rockingham Dragway: www.rockinghamdragway.com
This report was prepared by Tim Hailey. Photos are for editorial use only. Enjoy everything there is to read, see and watch about motorcycle drag racing and more at http://www.eatmyink.com
-end-
High-res images for editorial use are available by e-mailing timhailey@earthlink.net