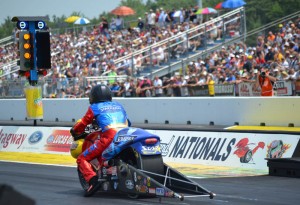 Following their win at Englishtown, the Sovereign-Star Racing team continued to dominate the competition this past weekend at the inaugural Auto Plus NHRA New England Nationals at New England Dragway and Motorsports Park in Epping, N.H.
Michael Ray, the team's racer who claimed their Englishtown Wally, was the No. 1 qualifier of the Epping event with his career best 6.832 ET pass at 197 mph that set the low ET and high mile per hour of the entire weekend for the Pro Stock Motorcycle class. In addition, he claimed the best ET and mile per hour during Sunday eliminations.
"That was our first No. 1 qualifying position since we raced in 2008. I think the last time we did it was with Angelle (Sampey) on an S&S powered Buell in Vegas in 2008," Star Racing owner George Bryce said.
"It was a pretty big accomplishment to qualify on the pole," Ray said. "But as much as I enjoyed crossing that off the list, I didn't like it because it puts the bull's-eye on your back even more to keep up the performance – especially after coming off of a win. It was good to show that the high quality parts from S&S held up well and the hard work from the guys at the shop really paid off, though."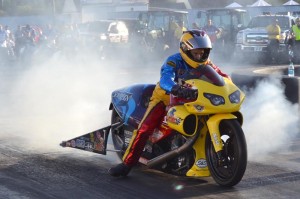 Ray's teammate, Scotty Pollacheck, also posted very competitive numbers over the weekend as the No. 4 qualifier with the quickest pass of the fourth qualifying round on Saturday and the third quickest run during round one eliminations Sunday.
"Coming off of a race where I didn't qualify for the first time and then qualifying at No. 4 this weekend was definitely a good sign and a move in the right direction for us," Pollacheck said. "We have two very fast motorcycles, so I think we're starting to get away from all the technical issues we had with my bike so that we will steadily improve now."
No. 1 qualifier Ray faced No. 16 Angie Smith during round one eliminations, where Ray's 6.882 ET/195 mph pass earned him the win against Smith's 6.997/190 run.
No. 4 qualifier Pollacheck was up against No. 13 Steve Johnson for round one. Johnson's quick reaction time gave him the holeshot win even though he posted a 6.946 ET against Pollacheck's 6.901-second time.
Ray advanced to the second round where he had an excellent .009-second reaction time to earn the win with a 6.910/193 mph against Mike Berry's 6.982/192 mph pass.
In the semifinal round, Ray faced rookie racer Adam Arana whose slight advantage on the Christmas tree earned him the holeshot win with a 6.918/193 mph against Ray's 6.909/196 mph, with only inches between them at the finish line.
"I was really flirting with disaster with the .009 light, so I didn't want to risk going up there for the semis and getting a red light. We were expecting the bike to pick up two or three hundreds, so I thought I'd have the opportunity to drive around Adam (Arana) if I needed to. I was trying to make the perfect pass on the bike, but, unfortunately, I missed it by a fraction of a second on the Christmas tree," Ray said.
This inaugural event at New England Dragway and Motorsports Park brought out hundreds of New England drag racing fans to watch the action throughout the weekend.
"They were the best fans we've seen in years. I think it was sold out ahead of time every day. They were so receptive and thankful. Even the track employees were so friendly and thankful for us being there. I was really pleasantly surprised," Bryce said.
After a strong performance by the Sovereign-Star Racing team over the weekend, both teammates remain in the top five in the NHRA Mello Yello Series Pro Stock Motorcycle points standings. Ray advanced to the No. 3 position, while Pollacheck dropped but held onto the No. 5 spot.
"Michael (Ray) has moved up in the points every race. Scotty (Pollacheck) moved down but not by a lot of points. Plus, they're both still in the top five. It's a one round difference between that whole group," Bryce pointed out.
"We've been to five straight semifinals and taken home a Wally. I've moved from No. 11 to No. 3 in the points just over the past four races. Everyone else can win every other Wally they want to this season, but we want the championship one," Ray said.
Pollacheck and Ray will compete again this coming weekend June 28-30 at the O'Reilly Auto Parts Route 66 NHRA Nationals presented by Super Start Batteries at Route 66 Raceway in Chicago, Ill.
The 2013 Sovereign-Star Racing Team is a partnership between Georgia-based Star Racing and the Hungarian-based Sovereign Racing Team, the 2011 UEM European Pro Stock Bike Championship Team, owned by sugar distributor Jenõ Rujp.
The Sovereign-Star Racing Team would like to thank the following sponsors: Sovereign, Star Racing, Americus Motorsports Complex, S&S Cycle, Daytona Sensors, Worldwide Bearings, CP Pistons, Cometic Gaskets, Quality Tire, and Uncle Hal Gottspeed Racing.
Star Racing Fast Facts:
·         Based in Americus, Georgia
·         Six-time NHRA Pro Stock Motorcycle Championships
·         79 NHRA national event wins with 10 different riders
·         Owned by George & Jackie Bryce
Sovereign Racing Team Fast Facts:
·         Based in Budapest, Hungary
·         2011 European Motorcycle Union (UEM) Championship Team with rider Jesper Thiel
·         Owned by Jeno Rujp
Scotty Pollacheck Fast Facts:
·         From: Medford, Oregon
·         Job: Owns "Quality Tire" store
·         Years in drag racing: 27
Michael Ray Fast Facts:
·         From: New Braunfels, Texas
·         Job: Harley-Davidson Motorcycle Salesman
·         Years in drag racing: 11