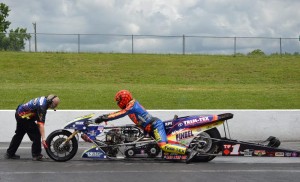 The East Coast Cup, from Virginia Motorsports Park in Petersburg, Va., June 21-22, turned out to be less of a race and more of a successful test session for 11-time Top Fuel Champion Larry "Spiderman" McBride. A heavy storm moved in Saturday night and forced the cancellation of eliminations.
McBride's best run of the weekend came on Friday night with a field-leading 5.99 at 238 mph. An oil down pushed the program off schedule, so those in attendance were treated to a rare, nighttime pass, when one can see nitro flames shoot out of the exhaust like water out of a fountain.
"The darkness makes the sensation of the run seem so much quicker," McBride said. "I have no problem running at night on a good, safe track and VMP is certainly just that. I used my parachute all weekend and I'll never race without one now. I highly recommend it to everyone. "
On Saturday, in Q2, McBride recorded a 6.00 at 224 mph. The 115 grains of water in the air and experimentation with a new super charger caused the record-setting machine to drop cylinders.
"I went from a 1.5-liter blower to a 2.1-liter blower," McBride said. "It's a better blower but we are still learning how to tune for it. You don't have to spin it so fast and we were over the threshold on that pass."
Saturday night, after his final qualifying pass of 6.22, Spiderman's motorcycle was hit with drops of rain on the way back to his pit area, and a team that is accustomed to frantic thrash sessions, scrambled with the same urgency to prepare for the storm.
"It was a very violent. The wind almost blew my awing off. Thank God we had a lot of friends there to help us," McBride said. "It poured all night."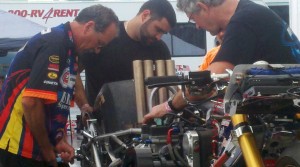 With water seeping up from the rubber, the track was deemed unsafe on Sunday and about 235 competitors were notified the event would be cancelled.
"Personally I think they (the Cup group) handled it the only way they could. The crew at VMP worked all day Sunday but it wasn't safe," McBride said. "Money was refunded and the race won't be made up. There were no winners in this race because of the weather."
McBride also extended a special thanks to his new sponsor Barry Van Hook who supplied McBride with crankshafts prior to the race.
McBride's next race will again place him at his home track for the Bike Bash at Virginia Motorsports Park on July 13th.
McBride thanked his primary sponsors; Pingel Enterprise, Trim-Tex Drywall Products, Drag Specialties-Parts Unlimited, Red Line Synthetic Oil Corporation, Final Swipe Merchant Services and Barry Van Hook.
McBride thanked associate sponsors; K&N Air Filters, Web-Cam, Vance & Hines Motorsports, PR Factory Store, Ferrea Valves, Kibblewhite, Precision Machine, World Wide Bearings, Vanson Leathers, Belt Drives Ltd, Simpson Race Products, Nitrous Express, APE, EK Chain, Arias Pistons, MSD, Protect ALL, Cometic Gaskets, B&J Transmission, Carolina Cycle, L.A. Sleeve, PJ1, Mickey Thompson Tires, Valco, Goodridge, Carlisle Belts and Gates Belts.