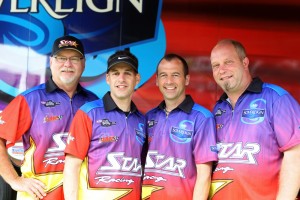 The Sovereign-Star Racing Team riders, Scotty Pollacheck and John Hall, not only racked up personal career bests at the O'Reilly Auto Parts NHRA Spring Nationals in Houston, Texas, but the duo also advanced to No. 7 and No. 10, respectively, in the overall NHRA Full Throttle Series point standings.
In Pro Stock Motorcycle Qualifying, Pollacheck posted a new career best with a 6.871/194.27 to put him at #4 going into Eliminations.
"That was amazing getting such a low ET and being the No. 4 qualifier in only our second race," Pollacheck said. "I think that was huge progress for us and a pretty amazing accomplishment."
Hall also gained a career best in only his second NHRA event with a 6.990/193.16. Hall ended up qualifying #13, putting him up against his own Sovereign-Star Racing teammate, Pollacheck, in Round 1 Eliminations on Sunday.
"Even at 13th in qualifying we were only .014 behind with John," team co-owner George Bryce said. "We never showed how powerful John's bike is because we never got the clutch to hook up once. He also had tire problems on two of his qualifying runs, but still managed to run 193 (mph) with it slipping. Of course, no one wants to have their own riders against each other in eliminations, but that's the cards we were dealt, so we just wanted to focus on improving our overall performance."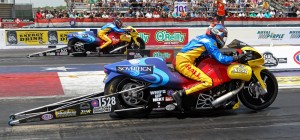 On racing his teammate, Pollacheck said, "I've raced with one of my best friends for a long time, so I'm definitely used to that. At least on the upside you know that someone on your team is going on to the next round, and if it's not you then you still support them. Plus, it was neat for John to get his first NHRA round win."
In Round 1 Eliminations, Pollacheck's slight starting line advantage of 0.042 against Hall's 0.049 wasn't enough to win the round after Pollacheck's Buell broke a rocker arm bolt, giving Hall his first round win in his second NHRA start with a 7.001/189.79.
"I'm happy we both qualified," Hall said. "A round win is a round win – even against your own teammate. It was unfortunate that we had to race against each other, but that's how it goes."
Hall advanced to Round 2 to face Andrew Hines on his Harley-Davidson Screamin' Eagle/Vance & Hines V-Rod. Hines, who won in Houston for the past two years, qualified fifth for the event with a time of 6.877 seconds. With a big advantage at the line, Hines defeated Hall and went on to win the event with a perfect 0.000-second reaction time against Hector Arana Jr.'s Lucas Oil Buell.
"It seems like the field has tightened up a bit. I think we definitely have a chance to win, though. No one is running away with it as far as times are concerned," Hall said.
Despite the ups and downs of the Houston weekend, the Sovereign-Star Racing team was pleased to see improvements in their program with both Hall and Pollacheck moving up in the top 10 point standings. Both racers are eligible for the 2012 Automobile Club of Southern California Road to the Future Award, which honors the series' top rookies.
"We are currently 7th and 10th in the points, so it was a great move forward for us," Bryce said. "I am very proud of our team and plan to get all of our technical problems out of the way for this weekend's race so we can show our true potential."
Hall said, "Once we get this clutch issue straightened out I think we're gonna be qualifying in the front – I know we are."
The team's next race is the Summit Racing Equipment NHRA Southern Nationals on May 4-6 in Commerce, Ga. Both racers say that they welcome the back to back races since it keeps the competition fresh in their minds for this weekend. Pollacheck and Hall are also encouraged by the team's positive improvements after only two NHRA events this season.
"I'm really upbeat and excited about this weekend, considering how well we qualified in Houston," Pollacheck said. "It really gives you confidence knowing you can run with all the big boys out there."
The Sovereign-Star Racing Team's Hungarian co-owner, Jenõ Rujp, will also be present at the Commerce race. The crew welcomed Rujp to Houston for his first NHRA event and is hosting him throughout the week in Americus, Ga., where Star Racing is located.
"It's been wonderful having Jeno here to support the team and to experience what it's like to run in NHRA," Bryce said. "We have been working our butts off to improve our program, and we're just hoping to get the opportunity in Commerce to really show what we can do. Our racers have come a long way in a very short amount of time, and we're excited to see what they can accomplish out there this weekend."
The Sovereign-Star Racing Team would like to thank the following sponsors: Sovereign, Star Racing, S&S Cycle, Daytona Sensors, Worldwide Bearings, Americus Motorsports Complex, Who's Up Next?, and Quality Tire.
Follow on Twitter: https://twitter.com/StarRacingGA
Like us on Facebook: http://www.facebook.com/StarRacingGA
Watch on YouTube: http://www.youtube.com/StarRacing6X