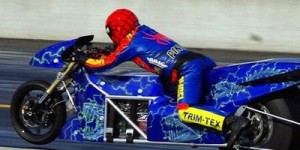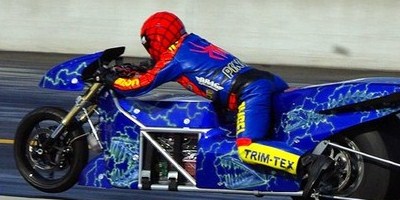 Top Fuel motorcycle icon, Larry "Spiderman" McBride has yet another world record to add to his impressive resume.
During a test session at Virginia Motorsports Park in Dinwiddie, Va., May 4th, 2012, Spiderman piloted the innovative Lawless electric dragbike to an unprecedented elapsed-time of 6.94 at 201 mph.  It marked the first time any electric-powered vehicle has been in the sixes or over 200 mph on a drag strip.
"I could qualify in the NHRA Pro Stock Motorcycle class on an electric motorcycle!  It's mind-boggling  how quick this thing is," McBride said. "I am so proud of the hard work everyone put into this."
In late 2010, ten-time Top Fuel champion McBride was selected to be the rider for this project intended to break the quarter-mile world record for an electric motorcycle.  The team, which included electric guru Shawn Lawless and the engineering genius of Paul Teutul's American Chopper Team, namely OCC master fabricator Jim Quinn,  aimed to surpass the former 7.82, 168 mph world record. The project was highlighted on TLC's American Chopper in 2010.
"From start to finish, this is an incredible achievement and I'm proud to be a part of it," McBride said.
McBride had a 1.14 60-foot time on the record blast. His other two runs on the day were 7.16 at 188 mph and 7.00 at 195 mph.
"Because it's a bit top heavy, this bike is harder to ride than my Top Fuel bike," McBride said. "You have to be careful because it can get away from you quickly. I just took my time and really learned how to ride it."
McBride thanked sponsors; Pingel Enterprise, Trim-Tex Drywall Products, Drag Specialties-Parts Unlimited, Red Line Synthetic Oil Corporation, K&N Air Filters and Web-Cam as well as his other sponsors.
Vance & Hines Motorsports, PR Factory Store, Muzzys Performance, Ferrea Valves, Kibblewhite, Precision Machine, World Wide Bearings, Vanson Leathers, Performance Machine, Belt Drives Ltd, Street & Competition, Simpson Race Products, Nitrous Express, APE, EK Chain, Arias Pistons, R/D Spring Corp, Autolite, MSD, Protect ALL, Whipple Industries, Cometic Gaskets, B&J Transmission, Carolina Cycle, L.A. Sleeve, PJ1, Mickey Thompson Tires, Valco, Goodridge, Carlisle Belts and Gates Belts.