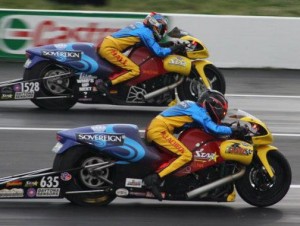 The Sovereign-Star Racing team plans to merge new ideas with Star Racing's proven success to gain a win for their rookie drivers at this weekend's AAA Auto Club National Hot Rod Association (NHRA) World Finals in Pomona, Calif.
Both racers Scotty Pollacheck and John Hall are seeking their first event win as their rookie season in the NHRA Full Throttle Series draws to a close.
"I think it's going to be a little bittersweet being the last race, but as long as everything comes together and we do well, it'll all be worth it," Pollacheck said. "I'm also pretty excited about some new things that George (Bryce) has been working on. I think that will definitely make some improvements on our performance this weekend."
Returning to the racetrack will be a welcome distraction for Hall whose local community of Hamden, Conn., was recently battered by Hurricane Sandy. After the last race in Las Vegas, he was forced to postpone his trip home until the storm allowed for the airports to reopen.
"It was a pretty crazy experience for our family, but we were very lucky that our home wasn't close enough to the coast to get any major damage from the storm," Hall said. "It was hard for me to be away from my family, though, since they were all waiting out the storm with no electricity and having to use generators while I was stuck halfway across the country."
After Hall and Pollacheck both won their first rounds in Las Vegas with Hall advancing to the semifinals, Sovereign-Star Racing co-owner George Bryce decided to push the team further in fine-tuning their XB12R Buells.
"We've learned a lot throughout the year. I know we've been saying it a lot but it's still as true as ever. We expect to move closer to the front at Pomona," Bryce said. "Even with back-to-back races this year, we've shown up at each event with something different, and we will continue to try new ideas at Pomona."
Pollacheck, who attends the NHRA World Finals in Pomona each year with his wife Susan, will have a much different experience this year as a competitor instead of annual spectator.
"I'm really excited because Pomona is our favorite place. We spend our anniversary there every year, because it's the first place we ever went together. We love it there. Plus, it's the end of the year and the last race, so we're looking forward to it and the awards ceremony on Monday," Pollacheck said.
Hall, on the other hand, is happy to be visiting the Auto Club Raceway in Pomona for the first time.
"It's always fun to race at a new track that I've never been to. This will be my first time at Pomona so I'm really happy that I have the opportunity to race there. One of the best things about this season has been the chance to visit new places, and it can really get you motivated and excited going into the competition," Hall said.
Bryce and his six-time World Championship Star Racing Team have definitely seen their fair share of success at the Auto Club Raceway in Pomona over the past 30 years.
"Pomona is where we've received six of our World Championship Wallys with notable Star Racing drivers like three-time champion Angelle Sampey and the late, great John Myers. Star Racing drivers have also won the [AAA Auto Club] NHRA World Finals event several times. In other words, we have a great history at Pomona. The weather is always great; the fan turnout is awesome. It's a long way from home for us, but it's always well worth it," Bryce said.
The 2012 Sovereign-Star Racing Team is a partnership between Georgia-based Star Racing and the Hungarian-based Sovereign Racing Team, the 2011 UEM European Pro Stock Bike Championship Team, owned by sugar distributor Jenõ Rujp.
The Sovereign-Star Racing Team would like to thank the following sponsors: Sovereign, Star Racing, S&S Cycle, Daytona Sensors, Worldwide Bearings, CP Pistons, Permatex, Americus Motorsports Complex, Who's Up Next?, and Quality Tire.
Star Racing Fast Facts:
Based in Americus, Georgia
Six-time NHRA Pro Stock Motorcycle Championships
78 NHRA national event wins with nine different riders
Owned by George & Jackie Bryce
Sovereign Racing Team Fast Facts:
Based in Budapest, Hungary
2011 European UEM Championship Team with rider Jesper Thiel
Owned by Jeno Rujp