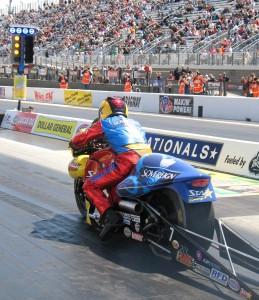 Following their most successful race yet at the Dollar General NHRA Four-Wide Nationals near Charlotte, N.C., the Sovereign-Star Racing team and racers plan to continue their progress toward winning a Wally this weekend at the O'Reilly Auto Parts NHRA SpringNationals at Royal Purple Raceway in Houston, Texas.
Second-year Sovereign-Star Racing driver Scotty Pollacheck moved up to No. 2 in the NHRA Mello Yello Series Pro Stock Motorcycle points standings after qualifying at a team best No. 2 in Charlotte, setting the low ET of the event, and racing in his first final round ever where he had a perfect .000 light and missed taking second place by less than an inch at the finish line.
"Well, the easiest way to keep the momentum going in the right direction is to go fast again," Star Racing owner George Bryce said. "Scotty sent me a text yesterday that said Charlotte was the third race in a row that he's had his career best lap, and he expressed interest in making this weekend the fourth in a row."
Pollacheck added, "We have a lot of momentum right now. So, I just want to stay focused and keep doing what I'm doing and let (crew chiefs) George, Chuck (Kennedy) and Ken (Johnson) make improvements like they have been to continue that progress."
Pollacheck's new teammate for the 2013 season, Michael Ray, is also expecting to make significant headway this weekend at Houston, especially since he lives only a few hours away in New Braunfels and will have family and friends at the track.
"We've run really competitive numbers and been consistent, so I think we're in a good place to have a breakout event and really get the ball rolling for the season. I really like the Houston track, so it'll be nice to have that sort of home field advantage," Ray said.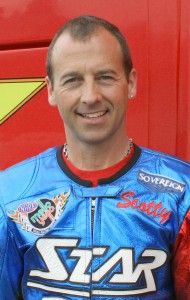 Pollacheck is also looking forward to what Royal Purple Raceway in Houston has to offer this weekend based on the team's experience there in 2012.
"We actually did really well at Houston last year and qualified fourth, which was my best ever at the time. We had engine trouble first round and lost to (former teammate) John (Hall), but it had been shaping up to be a good weekend. So, I think it'll be a good track for us this time," Pollacheck said.
For Ray, this weekend's SpringNationals is more about getting back into the groove of going rounds on Sunday.
"My little goal right now is to win my first round of racing in 2013 and get that 'first round monkey' off my back. If you look back at last year, I have not won a round since winning at Dallas over six races ago," he said.
Ray was the only non-Harley driver to win a 2012 NHRA Pro Stock Motorcycle national event when he took home the Wally at the AAA Texas NHRA Fall Nationals in Dallas, breaking the Harley-Davidson/Vance & Hines Screamin' Eagle team's streak of 13 consecutive wins.
After having more than a month between the first two Pro Stock Motorcycle races of the season, it can sometimes be challenging for teams adjust to the urgency of having back-to-back races, but this was not the case for the Sovereign-Star Racing crew as they prepared for Houston.
"I didn't really think we would have any advantage in a back-to-back because it gives you so little time to improve or repair between races, but the Star Racing team knocked it out of the park this time," Bryce said. "They got back to work Monday afternoon, unloaded (our semi) Big Red, took the bikes apart, repaired everything as necessary, improved as needed, put it all back together, and loaded the truck on Wednesday a.m."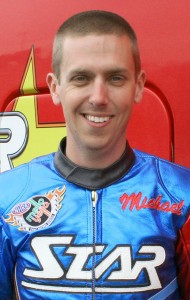 The Sovereign-Star Racing teammates will compete this weekend April 26-28 at the O'Reilly Auto Parts NHRA SpringNationals at Royal Purple Raceway in Houston, Texas.
Television coverage of the NHRA SpringNationals will be featured on ESPN2 with qualifying sessions airing from 3-5 p.m. ET Saturday, April 27 and final eliminations airing from 2-5 p.m. ET Sunday, April 28.
The 2013 Sovereign-Star Racing Team is a partnership between Georgia-based Star Racing and the Hungarian-based Sovereign Racing Team, the 2011 UEM European Pro Stock Bike Championship Team, owned by sugar distributor Jenõ Rujp.
The Sovereign-Star Racing Team would like to thank the following sponsors: Sovereign, Star Racing, Americus Motorsports Complex, S&S Cycle, Daytona Sensors, Worldwide Bearings, CP Pistons, Cometic Gaskets, Quality Tire, and Uncle Hal Gottspeed Racing.
Star Racing Fast Facts:
·         Based in Americus, Georgia
·         Six-time NHRA Pro Stock Motorcycle Championships
·         78 NHRA national event wins with nine different riders
·         Owned by George & Jackie Bryce
Sovereign Racing Team Fast Facts:
·         Based in Budapest, Hungary
·         2011 European UEM Championship Team with rider Jesper Thiel
·         Owned by Jeno Rujp
Scotty Pollacheck Fast Facts:
·         From: Medford, Oregon
·         Job: Owns "Quality Tire" store
·         Years in drag racing: 27
Michael Ray Fast Facts:
·         From: New Braunfels, Texas
·         Job: Harley-Davidson Motorcycle Salesman
·         Years in drag racing: 11