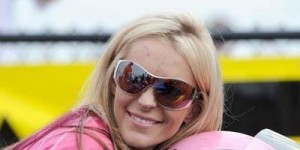 Angie Smith redeemed herself this weekend in Sonoma. After not qualifying for her first race of the season last time out in Denver, Smith and her team tested and dug deep to get their Buell running strong.
After making numerous great passes in qualifying throughout the weekend, Smith qualified herself in the fifth position with a 6.928 et at 189.04 mph.
Having to face Justin Finley first round, Smith knew she needed to just be calm and do her job. Running a 6.983 et at 189.95 mph, she would take the win and move on to the next round.
In round two she would have to face Mike Berry. With Berry getting lane choice, Smith kept her head held high and concentrated on her reaction time. With Berry red-lighting and Smith cutting a great light, she would get another round win and advance to the semi-finals for the first time this season.
Taking on the 2010 NHRA Full Throttle Champion in the semis, Smith would yet again keep her cool. Leaving on the Champ by two and a half hundredths, Smith looked as if she would make it to her first final round, however with her Buell immediately bogging for no apparent reason, Smith would be forced to abort her run and lose the round.
"We had an awesome bike all weekend," said Angie Smith. "We ran well right out of the hauler. Not sure what happened to the bike in the semis, but it bogged real bad. I really felt like we had a bike that could have won the race. I am pumped and I can't wait for Brainerd."
With Best Tech Brands, FastSharkSupply.com, Red Line Oil, Wilson Concrete and Senecal Construction on board throughout the West coast, Smith kept her sponsors proud with her best finish of the season thus far.