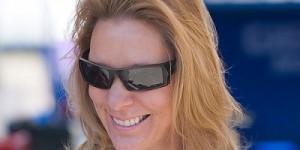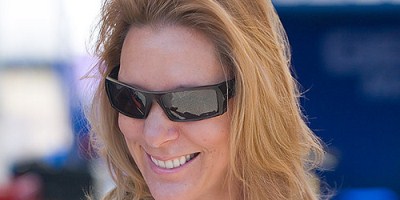 Pro Stock Motorcycle points leader Karen Stoffer has been playing musical motors with her GEICO Suzuki at this weekend's 24th annual FRAM/Autolite NHRA Nationals. But showing championship mettle, she still managed to earn the No. 7 position on the elimination ladder with 6.938 at 193.60 mph, which she posted in the fourth and final qualifying session.
"In Chicago we blew up one of our motors and that changed our gameplan for the rest of the season," Stoffer said. "We really don't have an 'A' motor per se; they're all about the same. But the one that blew up in Chicago had been particularly happy and had become a favorite child. We lost that motor, so we had to go back and regroup.
"We bought a brand-new motor because, while the one we blew up was repairable, it's not going to be considered our favorite motor again until we break it in, which takes about 10-12 runs. You have to loosen them up. That's kind of what we were doing this weekend, and that's where you saw the struggling with the ETs in the first three rounds. It's a bummer to throw away rounds, but when you have back-to-back races, you have no time to test.
"After the third pass we put 'Maverick' back in. That's the motor we won with in Denver, so Gary made a few modifications and set it up for here.
We put it in the bike for the last qualifying hit and it got us into the No. 7 position. We're pleased with that, especially because there's plenty more in it."
As the No. 7 qualifier, Stoffer will begin Sunday's single-elimination racing against Gerald Savoie, who topped out with a 6.976 at 188.28 mph, good enough for 10th place. Stoffer has faced Savoie two times this year and is a perfect 2-0 against him.
"We're comfortable with our position," said Stoffer, who clinched a spot in the Countdown to the Championship this weekend. "A lot of what we're doing now is aimed at the races ahead. That's why we took the time to break in a motor during a national event. We want to be as prepared as possible when the playoffs start."