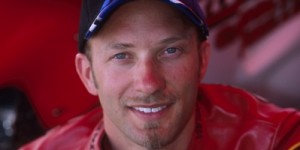 After racing his way to two straight finals, including a victory at Englishtown, former NHRA Full Throttle Series Pro Stock Motorcycle champion Matt Smith was poised to race for another Wally, this time at Route 66 Raceway. Unfortunately, the defending event winner and class champion, LE Tonglet, had something to say about that. Despite cutting a .006 second light, Smith fell to the Louisiana native in the O'Reilly Auto Parts Route 66 NHRA Nationals by only .04 seconds.
"LE's a good competitor, he's really good, he's last year's champ," Smith said immediately following his exit. "We had a good weekend. We qualified well, (the bike) ran good, I just struggled with the tune up for the last two- or three-hundred foot of the track here. I don't know why. I'm not used to these conditions, I don't guess. We just couldn't get it. That's where we struggled and it bit us today against LE. We had him all the way to the thousand foot and it just bit us."
In the opening round, Smith faced rookie Jerry Savoie, winning with a 7.019 second ET at 184.89 mph against Savoie's 7.140 ET at 186.61 mph. In the second round, Smith made a solo pass after Karen Stoffer was unable to start her bike. The North Carolina and 13-time Nationals winner will leave Joliet third in class points, but unfortunately, doesn't know if his team will be able to continue after this weekend.
"We'll regroup and hopefully, somebody will come onboard and help us out to go out to go out west and we'll give this thing a shot," he said.
Smith's teammate and wife, Angie, was also sent to the house Sunday courtesy of Tonglet, losing to him in the first round. Tonglet went on to repeat for the win, beating Chip Ellis in the finals.