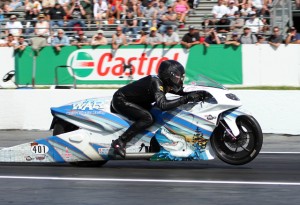 Jerry Savoie's new Pro Stock Motorcycle program took another leap forward this weekend, qualifying number 3 in the quickest field ever and advancing to the semifinals of the NHRA Full Throttle SuperNationals at Old Bridge Township Raceway Park in Englishtown, New Jersey. "It was an awesome weekend," said tuner Mark Peiser. "That's the best we've qualified and the farthest we've gone in a race. The momentum's building and we're learning."
True enough. After leading qualifying on Friday, the team had to replace the rear tire on Saturday. That was broken in enough to get past Mike Berry in round 1 and Justin Finley in 2 on Sunday, before bowing out to Karen Stoffer in the team's first semifinal appearance.
eliminations round 1
right    (W)     Jerry Savoie             .054      6.898 at 192.74 mph
left                  Mike Berry                 .058      6.968 at 188.96 mph
"I like that pass," tuner Mark Peiser said after round 1. His rider left a tad earlier than opponent Berry and pulled out strong to advance to round 2. "I'd like to see another pass just like that one."
eliminations round 2
right    (W)     Jerry Savoie             .000                6.966 at 188.20 mph
left                  Justin Finley              -0.067(R)       7.043 at 188.67 mph
Savoie nailed a perfect .000 light against redlighting Justin Finley in round 2, but backed up on ET. "I short shifted first gear," explained Savoie. "I hit'em all right after that, but that first one throws everything off. Too bad I didn't save that light for this next round against Karen. But we'll make a small change to the tune-up and go do what we do."
semifinal
left      (W)     Karen Stoffer            .036      6.907 at 194.32 mph
right                Jerry Savoie             .157      6.928 at 189.84 mph
Savoie's perfect round 2 light was followed by a not-so-perfect reaction time in the semis. "We're up in points, the bike's running good, but that was the worst light in my entire life," laughed Savoie. "I was just late. My normal thing is to just go in and be comfortable, pre-stage, and once they light their pre-stage bulb, just pull in and get a little relaxed break. But this one here, she rolled right in, I rolled on the 2-step and by that time the yellow light was on, so it just threw me off.
"It's a learning experience. I'm a rookie. It's just something that happens in racing. I told my son today 'That's why winning is so exciting because losing hurts so bad.' You just gotta be a good sportsman and take it as it comes."
"We were in a position today that we had a bike that was just behind what we needed," said Peiser. And indeed, Stoffer's Suzuki outran Savoie's regardless of reaction time. "Obviously we fought tire issues, but we had our first 1.04 60 foot against Karen, so we got that sorted out. Conditions were not too far off from when we went the .83 (on Friday), so I didn't make a lot of changes today. Our deal is Jerry getting more repetitions, more laps, and he did an awesome job. The .83 run was about as close to perfect as a rider can get. Now that we've qualified third, it's getting harder to be better. But we can be more consistent. Jerry can be more consistent, I can be more consistent.
"What I like best about this, being a new team, is how well we've worked together. Carman "Peanut" Wilcox is my help at the track and back at Indy in the shop, and Jeremy Derouche helps here at the track. We've now made 25 laps of competition, and every time we've gone to the starting line the bike's made it to the finishline under power and we haven't embarrassed ourselves. That's huge. I don't think there's another team out here that's made that many laps without some sort of mishap. So we're solid. We've just got to earn our stripes."
"You talk about professional racing, this is the best of the best," said Savoie. "And people here tell me to hang my head high, don't be ashamed about anything. 'You guys have come out here and gone further than any rookie,' they say. We made it past second round this race, so hopefully we'll make it past third and go to the finals."
The only step backward for the WAR team? That would be ending the streak of losing only to the eventual event winner. Stoffer lost on a holeshot to 2007 champion Matt Smith in the final. "I'm glad that streak is over," said Peiser, who doesn't want any streak that isn't a winning one.
Jerry Savoie, Mark Peiser and the White Alligator Racing team race next June 23-26 in the Summit Racing Equipment NHRA Nationals at Summit Motorsports Park in Norwalk, Ohio, USA
Pro Stock Motorcycle  Points
1.  Karen Stoffer      380
2.  Andrew Hines    337
3.  Eddie Krawiec   311
4.  LE Tonglet            273
5.  Matt Smith           252
6.  Hector Arana     239
7.  Jerry Savoie        238
to watch Jerry Savoie on "Dirty Jobs" go to http://www.youtube.com/watch?v=UDsuCy72v-0for more information about Jerry Savoie and White Alligator Racing go to http://www.whitealligatorracing.com/