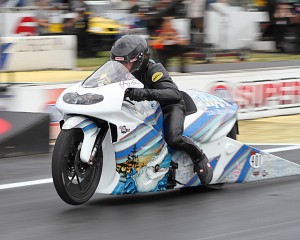 After leading the Pro Stock Motorcycle field on Friday, tuner Mark Peiser put Jerry Savoie's White Alligator Racing team into race prep mode on Saturday, breaking in a new tire and pushing tuning limits at the expense of defending the number 1 qualifying position for the NHRA Full Throttle SuperNationals at Old Bridge Township Raceway Park in Englishtown, New Jersey.
The tire from Savoie's 6.83 pass was starting to peel near the edge and the team replaced it for the morning session. As a result, Savoie's TL1000 backed up to a 6.987 while breaking in the new tire.
qualifying round 3
left lane  Jerry Savoie  6.987 at 187.34 mph
qualifying round 4
right lane Jerry Savoie  6.921 at 190.83 mph
The new tire, same spec as the old one, was also a full inch bigger in circumference, calling for a Q4 sprocket change. "I sure could have used some scuffed in tires that were the same size," noted Peiser.
The bike improved to a 6.92 in the afternoon session, placing Savoie third in the final order. "The 60 foot was still off a little bit, but each pass makes a big difference in the tire, so hopefully by tomorrow it will be better," Savoie said as the NHRA poured over his bike in a post qualifying tech inspection. "The NHRA is so professional, they've really got it together. I've gotta give all the officials a thumbs-up.
"I'm excited about tomorrow," continued Savoie, who has Mike Berry in round 1 of eliminations. The pair has already met up in Savoie's short career, in Gainesville with Berry redlighting the round away.
"I don't worry about who's in the other lane, it doesn't matter," continued Savoie. "I don't see anybody when I start the bike—not in the stands, on the starting line, or in the next lane." Which could explain why Savoie, a rookie on the Full Throttle tour, hasn't been fazed by the huge NHRA national event crowds. "I was more nervous about testing the bike then I was my first pass at Gainesville. And except for the Cajun Nationals 35-40 years ago, I'd never even been to an NHRA race."
And now Savoie has qualified third, sixth, seventh and ninth in his four NHRA appearances so far.
Watch the NHRA SuperNationals on ESPN2
6/05/2011 eliminations 4:30 PM – 7:00 PM ET
to watch Jerry Savoie on "Dirty Jobs" go to http://www.youtube.com/watch?v=UDsuCy72v-0
for more information about Jerry Savoie and White Alligator Racing go to http://www.whitealligatorracing.com/
contact: info@whitealligatorracing.com
for media inquiries: Tim Hailey timhailey@earthlink.net