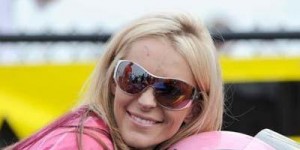 After barely losing last time out in Atlanta, when she cut a perfect light against Andrew Hines, Angie Smith and her Coffman Tank Trucks Buell were hoping their luck would turn around. However after having to face her husband first round, Smith didn't get the outcome she wanted.
Smith qualified in the eighth position going into today's final eliminations in Englishtown, New Jersey. After qualifying with one of the quickest runs in her career, Smith would head into first round and face off against, her hubby, Matt Smith.
Both Smith's would run incredible times, Angie Smith would match her qualifying effort and run the third quickest time of the round with a 6.896 et. However her opponent, Matt Smith would run the quickest time of the round with a 6.861 et.
The two would have the quickest race of the round, resulting in a bittersweet loss for Angie Smith.
"It's frustrating," said Angie Smith. "We ran so great the last two days. Today was awesome. We were third quickest first round and it just so happens we had to run, Matt, who was the quickest. I just hate it for my sponsors. We got the bike running, now hopefully we can just find some luck to go with it."
The next stop of the NHRA Full Throttle Pro Stock Motorcycle tour is in a few weeks at Summit Motorsports Park in Norwalk, Ohio.