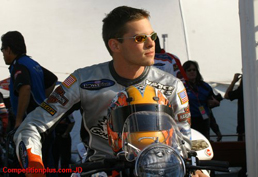 Defending three-time NHRA Pro Stock Motorcycle champion Andrew Hines reports his Screamin' Eagle Harley Davidson Team is close to naming a replacement for GT Tonglet, who was released from the squad in early December.  Hines stated that of the large pool of talent interested in the position the team has been particularly impressed by two riders, neither of whom are current NHRA racers.  The team hopes to further evaluate these individuals before making a decision.
"We're going to take them out to the track and watch them make passes," Andrew said. "The best way to see if someone can do this is to put them on the bike and see how they ride. There are so many things that happen during a run and no matter what your past experience might be, these Harley-Davidson V-Rods are unique in many ways. That's why we want to see them on the bike before we make any final decisions."
Rumors have surfaced that the team was interested in hiring a woman for marketing purposes, but nothing has been confirmed.  The team plans to announce its choice long before the season-opener in Gainesville, Fla. in mid-March.
Meanwhile Tonglet, 27, who has four top-ten finishes in the last six seasons is still hoping to secure a ride for the upcoming season.  Tonglet reports he is considering all offers.
"I want to stay out there racing. I think people that follow our class know what I can do. Everything is up in the air right now but I'd love for that phone to ring and have someone offer me a job. I'll do whatever I need to do to race."