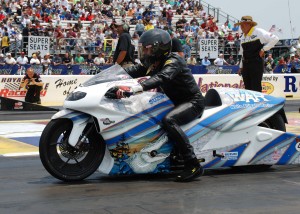 PSM Rookie Jerry Savoie and his White Alligator Racing team are
looking forward to running in some cooler, faster air at the Lucas Oil
NHRA Nationals at Brainerd International Raceway (BIR) August
18-21st, a track he has never been to.
"I'm excited. I heard a lot of great things about BIR and I am really
excited to finally get out of this Louisiana heat, and get into some nice
cool weather, that is the main thing that I am most excited about. Here in
Louisiana it has been raining and in the 90's ."
Cooler weather is not the only thing rookie Savoie has on his mind.
Brainerd is the second to last race before the Championship Countdown
begins in Charlotte.
"Mark (crew chief Mark Pieser) has been working hard at the shop we
got a few new combinations to try. The bike has not been running in the
back half we think we finally figured out what the problem is."
With all the work being done in the shop, Savoie and his team are ready
to focus on Brainerd and the upcoming countdown ahead.
"We want to move up in points and the only way to move up is to win some rounds.
Were not just laying around thinking were a shoe-in, you got to worry
about it (countdown)."