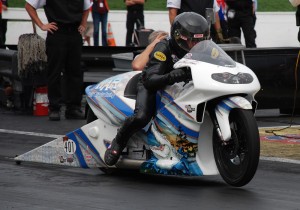 Qualifying for the Lucas Oil Nationals at Brainerd International
Raceway (BIR) may have not gone as good as Jerry Savoie and
his team White Alligator Racing hoped it would have, but they are
in high spirits for tomorrows eliminations.
"We were a little disappointed we changed some things on the
bike, tried another tune up on the second pass Friday and we fell
off. This morning I was actually off I didn't ride to the best of my
abilities I hit the rev limiter in second gear so that through us off.
Then we were fourth or fifth fastest in the last session, second
fastest Suzuki behind LE Tonglet we were pleased. We are
feeling confident for Sunday and we will be running against Matt
Smith first round."
Savoie qualified ninth with his best run of the weekend in the first
qualifying session on Friday running a 6.97ET 188.94MPH. But
being a rookie can often leave you with little or no data heading
into a race and Brainerd was a track Savoie had only heard of
and seen in pictures. "First time at Brainerd we had no information
it was a shot in the dark. We had nothing to work with, we left a lot
on the table. We feel confident for tomorrow."
Despite having no data Savoie is extremely proud of his team.
"Look we could be like a lot of other guys going home on the
trailer, but to be in the top ten at every race I think is good just to
even be there. We could not be qualifying and going home, but it
is our first year and I think we are doing well. Mark (crew chief
Mark Pieser) has been working hard at the shop finding a few
problems we've been having, its all good, we can only get better
from here."
"Sunday is a new day, riding or driving should I say. Ride or drive,
the driver has to drive the bike. It is a challenge, If everyone
thinks it is so easy then they can just come out here and get them
some, that's all I can tell them. Its not as easy as it looks." Savoie
taking everything in stride during his rookie year and learning as
much as he can to be competitive especially in first round
tomorrow against Matt Smith.