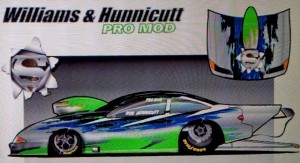 Longtime motorcycle drag racer, Rob "Superman" Hunnicutt will be doing some drag racing on four wheels this season.
The former Outlaw Pro Street standout and Pro Extreme Motorcycle racer announced that he will drive Rick Williams' 2004 Pro Mod Chevy Cavalier in the PDRA series. Hunnicutt will also compete at EOPM events and races at his local track, Maryland International Raceway.
"I hardly have to leave the state to race because there are so many organizations," Hunnicutt, a resident of Maryland, said.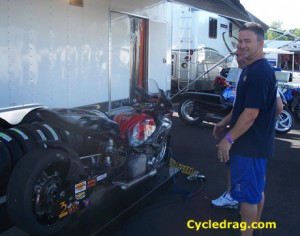 As a huge fan of the Pro Mod class, Hunnicutt is calling his chance to drive the car a "dream come true."
"I never thought I would have this chance," Hunnicutt said. "I used to always kid around with Rickie Smith (longtime NHRA and PDRA car racer), "let me drive your car." But I didn't think I ever would."
Smith's NHRA Pro Stock Motorcycle champion son, Matt, who also raced a Pro Mod car, gave Hunnicutt some encouragement about making the transition from a dragbike to a car.
"Matt said that already being accustomed to the speed and the ETs from racing a motorcycle will really help," Hunnicutt said. "I'm certainly not taking anything for granted though. I know I have a lot to learn."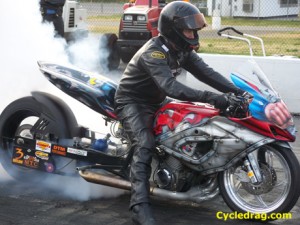 Hunnicutt will also continue to race his dragbike in the Top Sportsman class of the MIROCK Series
"I'm not sure I will make every event, but I will be at every at Maryland race," Hunnicutt said.
The Superman is also looking forward to racing his teammate Mac McAdams, who recently purchased a Pro Mod car. The duo will both compete on two and four wheels this season.
"There will be a lot of trash talking," laughed Hunnicutt.