It's unfortunate such influential and wonderful people in the sport of motorcycle drag racing always seem to leave too soon.
Factory involvement is what made AMA Prostar the major league of dragbike racing in its day.
One of the key individuals responsible for the amazing Kawasaki semi being displayed at the races for all those years was John Hoover.
Hoover, 67, succumbed to cancer on Aug. 6, 2015.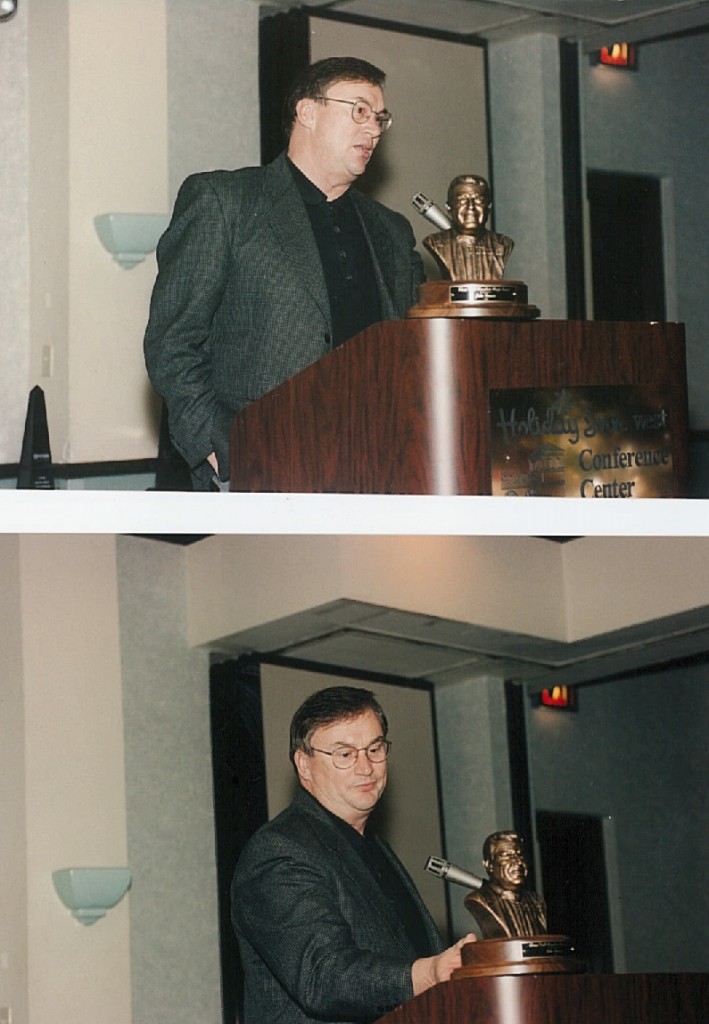 Hoover began riding motorcycles as a teenager. He turned his passion into a decades-long career with Kawasaki Motors Corp. U.S.A.
AMA Prostar founder Keith "Scooter" Kizer added, "Hoover came to the Prostar Worlds Finals in 1993. He was sporting a broken arm from a motorcycle wreck. That is when he and I formed a bond that would lead to what I believe was the greatest motorcycle drag racing organization in history. But then again, I'm partial. Through John's perseverance with the OEMs, Prostar is the only organization to have factory teams from Honda, Harley-Davidson, Kawasaki, Suzuki and Yamaha all at the same time. It was the greatest of times but admittedly in better economic times for everyone. It would have never happened without John. He produced factory riders like Steve Rice, Marty Ladwig, Terry Kizer, Chip Ellis, and the list goes on. He was awarded the first of many "Elmer Trett Mountain Magic" Awards for his dedication to motorcycle drag racing. He was a true pioneer and will be missed greatly. I loved Hoover for everything he did. I have many great stories of him."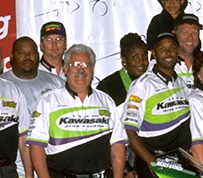 Widely recognized as the first full factory backed motorcycle drag racer, Rickey Gadson said, "I'm still in total disbelief that my mentor John Hoover has passed away. This man in 1996 changed my life forever when he took it upon himself to create a budget within his marketing budget, because he saw value in marketing Kawasaki's heritage through drag racing by having me and Steve Rice represent the company at the races. At the height of this program he even provided us with a semi truck with my picture on one whole side. He taught me how to stay relevant in this industry through marketing myself and the companies I represent in a positive yet lucrative way. The most important lesson he shared with me is how to make my ROI (return on investment) higher than the investment a company puts out so that it's a bargain for someone to get involved with my brand. More recently he advised me on how to deal with the Japanese while over there on the H2 project and how to place a value on my consulting project. I will forever miss the great John Hoover and will never forget what he has done for me and my family over the years. Rest in peace my friend."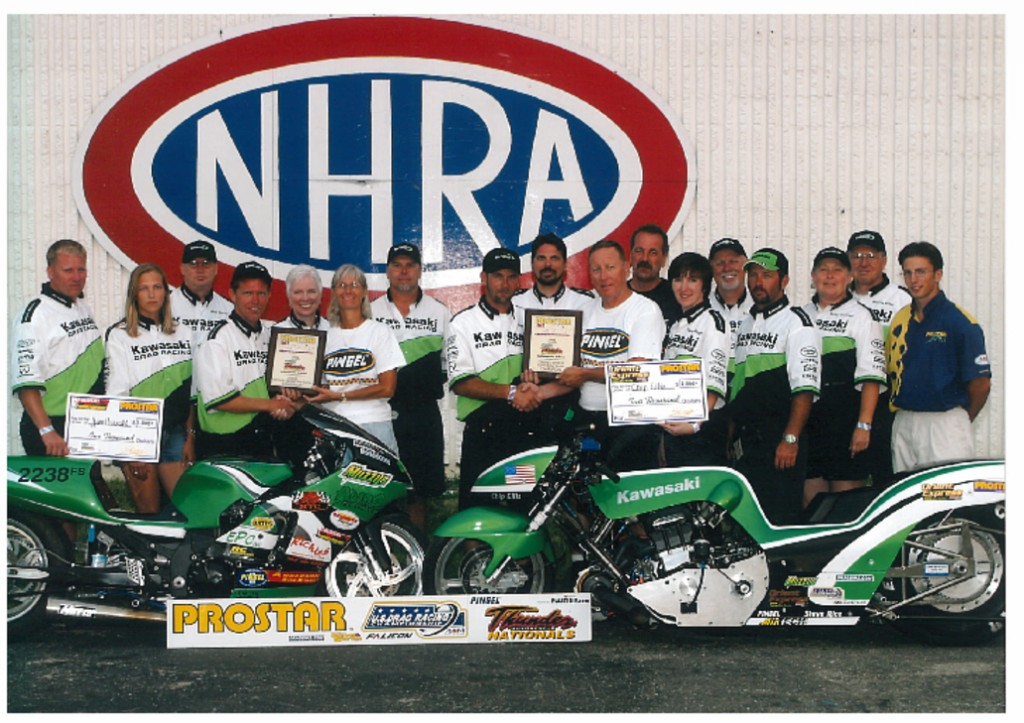 Legendary Funny Bike racer Steve Rice said, "Hoover was my friend and mentor. Without his influence I would would not be where or who I am today. Kawasaki, drag racing and whoever else fell within the man's gravitational pull had their life's direction altered for the better."
Former Kawasaki Drag Racing manager Reid Nordin added, "I was saddened to hear of John's passing but I was fortunate enough to work with John and one of his great passions, dragbike racing. Kawasaki's effort would not have been what it was without the work of John. He poured his heart and soul into it and he was respected in the paddock because of that. John was one of my early mentors at Kawasaki and I will always be forever grateful for the guidance and friendship he provided while we worked together."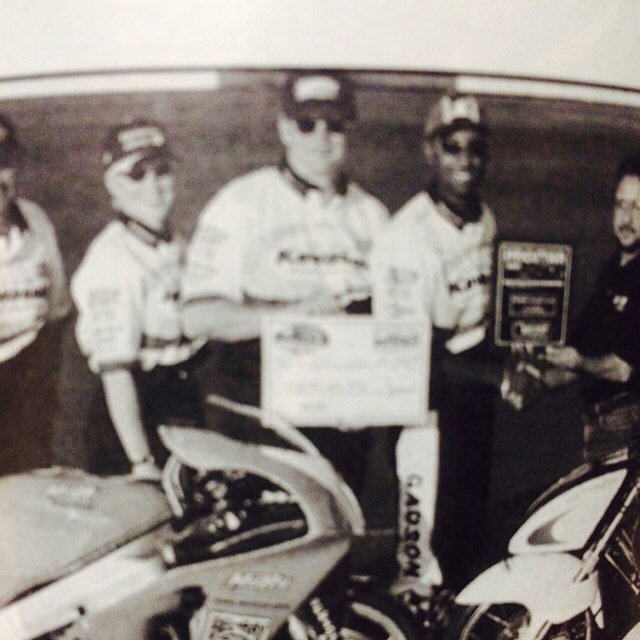 Following a career spanning more than 20 years with Kawasaki Motors Corp., U.S.A., Hoover, Director, Product Management, announced his retirement effective January 5, 2004.
Hoover joined Kawasaki in 1983 as a district manager, moving to the California corporate offices as Manager, Marketing Services in 1988.
His contributions to the company have ranged from the implementation of  an aggregate data mining software package that provides sophisticated sales data to Kawasaki's sales and marketing departments, to an integral role in developing and marketing the Vulcan line of cruiser motorcycles.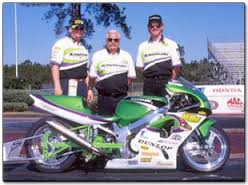 Hoover also represented Kawasaki on the AMA Board of Directors for several years.
Following his service on the board, Mr. Hoover came to work for the AMA as chief operating officer, taking a more active role in the association's membership service and marketing efforts.
"John had a lifelong enthusiasm for motorcycling and contributed a wealth of knowledge to the AMA on multiple levels," said AMA President and Chief Executive Officer Rob Dingman. "The motorcycling community mourns his loss."
Godspeed John Hoover.