Star Racing drivers Michael Ray and Chaz Kennedy remain in the top ten of the NHRA Mello Yello Series Pro Stock Motorcycle points standings after the team raced to their first semifinal finish of the season and claimed a new career best qualifying position for Kennedy at the Summit Racing Equipment NHRA Southern Nationals this past weekend near Atlanta, Georgia.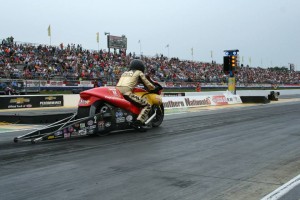 Rainy weekend weather conditions at Atlanta Dragway in Commerce, Georgia, presented unique challenges for all the NHRA teams and caused final eliminations to be postponed until Monday. Despite this, the Georgia-based Star Racing team was proud to see Ray earn the team's first semifinal round appearance of the year aboard the newly-painted, signature red and yellow color scheme of the Star Racing Buell motorcycles.
"Overall, both Michael and Chaz drove really well. The track was different than we'd ever seen, because nobody really got any good traction. It was very unusual. Of course, the winner and runner up (in Pro Stock Motorcycle) were the only ones making really good runs, and to call their performance impressive was an understatement. We know we have enough power to run fast; we just have to grab the track and hook it up. We're going to focus on that next. I think the best way of hooking up is to go to Englishtown," Star Racing co-owner and team crew chief George Bryce said.
Ray qualified at No. 5 with a 6.875-second/195 mph run. Kennedy, a contender for Rookie of the Year, posted a 6.895/193 mph pass to claim the No. 7 qualifying position, his best yet in NHRA professional competition.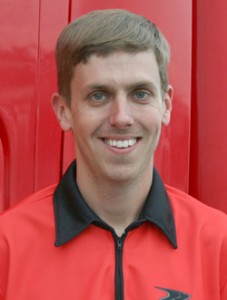 "I think this weekend was one of the best we've had as a team. We were just resilient even though every run was just a roll of the dice. We didn't have any mechanical issues with the bikes all weekend, but we were just up and down as far as consistency, mainly because of the track and racing conditions even though the Safety Safari team worked really hard all weekend. We worked so hard during qualifying, swapping tires and changing this and that. So, to come out of there with a well-earned semifinal finish was awesome, especially to run in the conditions and to run on the track that we were given to run on," Ray said.
"It felt really good to qualify at No. 7. The bike ran awesome, and we had two really fast motorcycles this weekend. The track just wasn't really there, especially on Monday after all that rain that they were trying to get cleaned up so that we could run. But you hardly ever get a perfect track, so you just have to be the best man on Sunday with the conditions you have to work with," Kennedy said.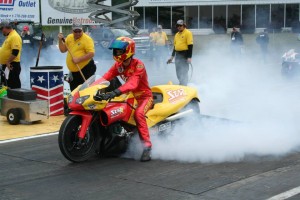 During the postponed first round of eliminations on Monday, Ray had a big advantage off the starting line against No. 12 qualifier Shawn Gann. Ray continued to pull away for the win with his 6.973/194 mph pass.
Also during first round eliminations, Kennedy faced No. 10 qualifier Hector Arana. Although Kennedy's 6.898/192 run was competitive and consistent with his qualifying time, he left the starting line .006 seconds too early, giving Arana the win despite shutting off early to post a 10.036 ET.
"I think Chaz (Kennedy) was in the top five best ETs for first round, but he was too quick on the tree, just ever so slightly. It's brutal. Chaz was trying to go a .020-second reaction time, but he was just closer than he needed to be. I will encourage Chaz to keep doing what he's doing, because he is on the verge of being just right. His runs were the most consistent and the smoothest he has ever made. You can tell he's becoming a seasoned racer," Bryce said.
Despite his disappointment from missing out on this near-win, Kennedy is already looking toward the team's next race in a couple weeks in Englishtown, N.J.
"I knew (having a good qualifying position) was already a plus for this past weekend, and I was going to try and take that momentum into race day. Sometimes things just don't pan out the way you want them to, but you have to roll with the punches and keep going. I'm trying to keep making improvements and learn at every race. I just have to carry on and push the reset button for Englishtown," Kennedy said.
In round two eliminations, Ray posted his first ever perfect .000-second reaction time against No. 13 qualifier Scotty Pollacheck's equally challenging .005-second light. Ray continued to pull away to take the win with his 6.852 ET, his best of the weekend, against Pollacheck's weekend best of 6.887-seconds.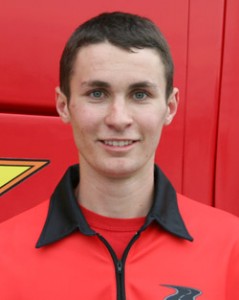 "I've never had a perfect light before, except for one time playing around during a test session I think. During second round, I went through my normal routine, because what I had been doing all weekend had been working for me. I wasn't really trying to push the tree, but I knew that I couldn't give Scotty (Pollacheck) an inch or he'd run with it," Ray said.
As he advanced to the semifinal round of eliminations, Ray was up against No. 1 qualifier Eddie Krawiec. Ray was first off the line, but lost traction allowing Krawiec to pull away until Ray eventually rolled off the throttle before crossing the finish line.
"We went to the semis for the first time this year. Michael took off and left Eddie (Krawiec), but Michael's bike spun the tire really hard. Then, when he shifted to second gear, it spun so hard it almost stopped. Our No. 1 qualifying performances at the first two races came from grabbing the track better than everybody else, but we weren't able to grab the track and find that same traction at all during the Atlanta race," Bryce said.
The Star Racing teammates remain in the top ten overall points standings for the NHRA Mello Yello Series Pro Stock Motorcycle class with Ray at No. 6 and Kennedy tied with Adam Arana for the 10th position.
After two No. 1 qualifiers and his most recent No. 5 qualifying position, Ray is also holding onto the No. 1 spot in the MiraMonte Records NHRA Pro Bike Battle points standings, which awards points based on qualifying positions at each event. Kennedy is currently No. 8 in the Pro Bike Battle.
The next race for the Star Racing teammates will be May 30 – June 1 at the Toyota NHRA Summernationals at Old Bridge Township Raceway Park in Englishtown, N.J.
The Star Racing Team would like to thank the following sponsors: Star Racing, Georgia International Raceway Park (formerly the Americus Motorsports Complex), HopUpYourHarley.com, Underground Professionals Inc. (UPI), S&S Cycle, Daytona Sensors, Worldwide Bearings, Arrow M, Jay Warner, and Uncle Hal Gottspeed Racing.
The HopUpYourHarley.com campaign represents Star Racing's state-of-the-art upgrade options for Harley-Davidson® and other Big Twin street motorcycles. Star Racing offers a full range of S&S Cycle V-Twin replacement engines for Harley-Davidson® Dyna™, Softail®, and Touring models that deliver huge increases in horsepower and torque. For 2007 and up Harley models, Star Racing has also developed a 107" Thrasher Upgrade Kit that produces 120+ horsepower while maintaining the stock appearance and reliability.
• Star Racing Online:
o HopUpYourHarley.com
o Twitter: twitter.com/StarRacingGA
o Facebook: facebook.com/StarRacingGA
o YouTube: youtube.com/StarRacing6X
Star Racing Fast Facts:
• Based in Americus, Georgia
• Six-time NHRA Pro Stock Motorcycle Championships
• 80 NHRA national event wins with 10 different riders
• Owned by George & Jackie Bryce
Michael Ray Fast Facts:
• From: New Braunfels, Texas
• Job: Harley-Davidson Motorcycle Salesman
• Years in drag racing: 12
Chaz Kennedy Fast Facts:
• Age: 19 years old
• From: Ormond Beach, Florida
• Job: Sovereign-Star Racing crew member
• Years in drag racing: 4