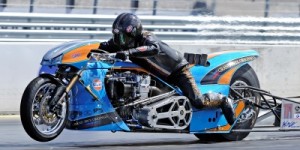 The Gulf Oil Dragracing – Grand Prix Originals Top Fuel Motorcycle team start their defense of their 2013 European Championship Crown at the season opening Main Event at Santa Pod Raceway, UK this weekend.
Along with the usual members the team will be joined over the three days by a TV crew of five people from Discovery Canada's in-house production company who will be filming the team as the subject of an episode for season two of the series `Megaspeed'.
The first season doesn't begin airing in Canada until June, but the company has already begun working on season two. The series is comprised of 6 one-hour episodes, each tells 5-7 stories anchored by a main story of a large racing event. In their first season they filmed at events such as Goodwood in England, the European Rally in Italy and Baja 1000 in Mexico.
They profiled supercars such as the BAC Mono, the Drayson Electric car as well as "dreamers and schemers" such as a jet-powered school bus and Parker Bros concept cars.
MegaSpeed will be distributed worldwide following its debut in Canada.
The team currently lead the US Top Fuel Bike Championship after their recent successful trip to the opening round of the Manufacturers Cup in Valdosta, Georgia where they made history by taking the last remaining spot in the MTC Engineering Five Second Club.
The Gulf Oil – GPO Dragracing team uses and endorses exclusively Gulf Oil greases and lubricants in their history making machine. The team is extremely proud to be supported by many leaders in their chosen markets in winning the 2013 European Championship and in their 2014 endeavours:-
APE – The world's most innovative manufacturer of aftermarket parts for race bikes
ACTION CAMERAS – Europe's leading source for action sports cameras
BLACKCAT MOTORSPORTS – The leading V Rod Harley race team
COMETIC GASKETS – The Premier Manufacturer of racing gaskets
GATES – The world's most trusted name in drive belts, hoses and hydraulics
GOODRIDGE – The most innovative and the best in fluid transfer systems
GRAND PRIX ORIGINALS – The brand for drive and lifestyle, past and present
GULF OIL INTERNATIONAL – The world's most iconic brand in automotive fuels and lubricants
GRAPHITE ADDITIVE MANUFACTURING – A leader in 3D printed technologies and rapid prototyping
HOTROD HANGAR – Home of the world renowned custom artist Knud Tiroch
HYPERPRO – The leading producer of progressive suspension products for motor bikes
JE PISTONS – The world's premier manufacturer of high performance forged pistons
JOHN AND DEA MORGAN RACING – The creators of the world's most advanced New Age Funnybike
KIBBLEWHITE PRECISION MACHINING – The highest quality valve train components available
KING RACING – The most successful Top Fuel Bike team in European Dragracing
MICKEY THOMPSON – Simply the best drag race tyres in the world
MRE – Leaders in trackside support for drag race components and air shifting systems
MTC ENGINEERING – Manufacturer of clutches for the fastest motorcycles in the world
NITROSHUTTER – Europe's leading dragracing photojournalists
NCTENGINEERING – Manufacturer of the world's leading non-contact motorsport torque sensors
NGK SPARKPLUGS UK – The world's number one spark plug manufacturer
PAR WILLEN – Master webmeister and proprietor of HarleyDrags.com
PORTABLE SHADE – The best custom branded collapsible canopies available
PRO ALLOY MOTORSPORT – The UK's leading fabricator of alloy tanks, intercoolers and radiators
PUMA ENGINEERING – Manufacturer of the world's most powerful motorcycle engines
RSG CUSTOMIZE – The UK's most creative website designers and vinyl artists
SUPERTOUGH – Custom cases and covers for the Film, TV, Music and Motorsports Industries
SPIES HECKER – the world's leading supplier of paint for car, commercial and industrial finishing.
VAN ES MOBILITY – The leading manufacturer of telematic products for management of moving objects
VANSON LEATHERS – The most iconic brand in motorsport leather goods
WEB CAMSHAFTS INC – Simply THE company for Top Fuel Bike camshafts
WORLDWIDE BEARINGS – The world's leading supplier of ceramic bearings for racing
ZODIAC – Europe's largest supplier of performance and aftermarket HD parts