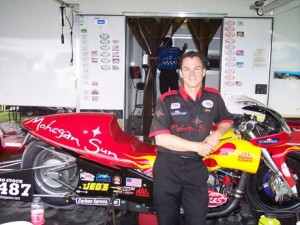 NHRA Pro Stock Motorcycle standout and rider of the Mohegan Sun-backed Buell, Chris Rivas is anticipating an extraordinarily prosperous season in 2007 after a tremendously eventful off-season.
In early January Rivas announced his team's acquisition of former G-Squared Motorsports crew chief Rick Maney.  In February Rivas unofficially obliterated The Las Vegas Motor Speedway PSM record by six-hundredths with an impressive 7.02  during a test session.  Rivas, now entering his third NHRA season, says his Buell still has plenty of performance left to uncover.
"We have a lot to look forward to. I love the American V-Twins.  It's the only thing I have ever been on," said Rivas, who owns a Harley Davison performance shop in Fresno, Calif. called H-D Drifters. "I have spent my career making V-Twins more powerful and that's all I ever want to ride."
With the ever-raging battle between imports and domestics combined with the changing climate of rules in NHRA PSM some teams have started building both a Suzuki and a Buell combination to determine which provides a greater chance for victory.  Rivas adamantly admits his allegiance is with his Buell and building a Suzuki is out of the question
"I have never thought about switching over," Rivas said.  "I went 7.60s on a Suzuki at George Bryce's school but it just wasn't the same feel. It pulled more like a video game.  The way the V-Twin pulls it becomes a part of you. It's not something you can detach yourself from."
Rivas and Maney have been hard at work all winter trying to keep pace with what has proved to be a rapidly improving category.  Rivas found out just how quickly the class is marching forward at last season's NHRA US Nationals from Indianapolis, IN.
"We improved our performance by a whole tenth from our first Indy in 05 to our second Indy in 06 and we ended up in the same 15th qualifying position," Rivas said. "It goes to show you just how quickly the class is advancing.  It is very intense."
It appears as if Rivas may very well be on the brink of his best year yet.  However, one thing is certain, despite the outcome of the season, Rivas will have a blast.
"It's got that American thump just like a V-8," Rivas said. "It's a V-2, and in many ways is the same. I really enjoy riding it."