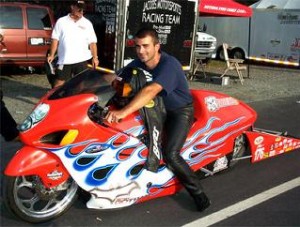 Eddie Krawiec has been named as the second rider on the Screamin' Eagle/Vance & Hines Harley-Davidson factory supported NHRA team, it was announced today.
Krawiec, 30, will join Andrew Hines, 23, on the team that is coming off a third consecutive NHRA POWERade Pro Stock Motorcycle championship-winning season.
"This is something I've been after for a long time," Krawiec said. "It has taken a day or two to realize that it's actually happening. I've been around drag racing for a long time and I hope my past experience is going to help make the transition smooth."
Krawiec, a former AMA Prostar series racer, has been a full-time employee of Old Bridge Township Raceway Park in Englishtown, N.J., since 1999 and has been the drag strip manager since 2001. He has made eight appearances at NHRA national events but has yet to qualify for final eliminations. He's hoping that changes in a few weeks when the NHRA's season opener for Pro Stock Motorcycle takes place at Gainesville Raceway, March 15-18.
"I didn't have the benefit of the knowledge and equipment the Screamin' Eagle/Vance & Hines team has until now," Krawiec said. "I think that is going to make all the difference and I can't wait to get to the first event and be part of this championship-winning team."
Harley-Davidson Racing Manager Anne Paluso said adding any new teammate can present its challenges, but it won't be anything the crew isn't prepared for.
"The team sees a lot of potential in bringing a relative unknown into the sport," Paluso said. "Andrew has three championships, (crew chief) Matt Hines has three championships and (team owners) Terry Vance and Byron Hines bring decades of experience to the team. All of that is going to help Eddie become a more competitive rider. He has a big learning curve to attack, but we have the best team possible in place to make sure we have a solid two-bike team."
Krawiec earned nine victories in 23 final rounds of AMA Prostar competition. His career-best E.T. in NHRA competition is a 7.254-second pass in Reading 2004 and his best speed is a 186.02 mph from Reading in 2005.