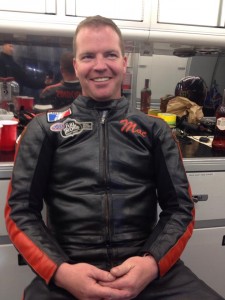 Learning how to properly pilot a 3,000 horsepower-plus, supercharged, high 3-second Pro Mod car is an endeavor that can take a lifetime.
When he's not testing the car, Pro Mod newcomer Mac McAdams, 39, of Harwood, Md. stays sharp on his immaculate Suzuki GS dragbikes – something McAdams  says helps ease the rigors of the steep four-wheel learning curve.
"It's certainly different, but when you are acclimated to speed, everything slows down in your mind," said McAdams, who has over 20 years of motorcycle drag racing experience. "I like going back and forth between the bikes and the car. I feel like I could run them on the same weekend and not miss a beat."
But then again, McAdams is the kind of guy who thrives on a new challenge.
"Eventually I'd like to see myself on a Top Fuel bike," McAdams said.  "I've always wanted to try."
There are few who want to join Mac in the unforgiving and daunting nitromethane-fueled motorcycle class.
In 2014, along with competing on his dragbikes in the MIROCK Series, McAdams towed his blown, 1953 Corvette to the track four times,  producing a respectable best ET of 4.09 at 179 mph.
"We only made five full passes all season and we went to a Pro Mod final at MIR (Maryland International Raceway). I'm happy with that," McAdams said. "It seemed like every time we got the car out we made some big changes that would keep us away from the track for a while. We changed engine controllers and switched to an automatic transmission."
With such a successful start to his Pro Mod career, McAdams is expanding his schedule in 2015 and plans enter about six or seven events within a three hour radius from his home. He is also eager to do something he didn't last season by letting the beastly ride loose for the entire quarter mile.
"I have some new gear sets for the quarter and I'd really like to stuff this thing in the fives," McAdams said. "I just got another engine, so now I have two identical Hemis. We are also changing the blower configuration and repainting the car, changing the whole outlook. I'm pumped."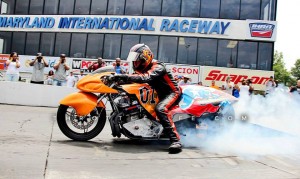 Off-season news that seemed to cause uncertainty in the dragbike world, with the dissolution of the MIROCK series, will benefit McAdams nicely.  Amazingly, the Md. resident and multi-time event winner has never garnered a championship. With a busy schedule running three high-volume collision centers, McAdams has always found it difficult to commit to a series which requires traveling great distances.  The new IDBL (International Drag Bike League), with just five events, all in Md. and N.J., provides the 4.60, Top Sportsman and Pro ET racer an opportunity to chase a title close to home.
"I love it. I have backed the MIROCK Series since its inception, since it was a one-day race on a Sunday. I think losing Rockingham is a great call," McAdams said. "Not only was it far from me, but I quit going because that track is just not what it used to be. I'll be at all five events."
With a strong outing at the MIROCK Fall Nationals last season, McAdams has good reason to be optimistic.
"I'm really excited about how my 4.60 bike is running. My quickest pass is a 4.592, so it's very dialed in," said McAdams, who qualified on the 4.60 pole last season. "We worked the gremlins out of my bracket bike and finished the year by going nine rounds with it. We will have two, fresh bullets ready to run consistent 7.90s."
McAdams is even getting himself a new set of Bates custom leathers for his 2015 championship bid.
"Dawn (Grindle) got me fitted at the last race and I am excited to try them on. I have never had a set of Bates leathers but I have heard great things about them," McAdams said.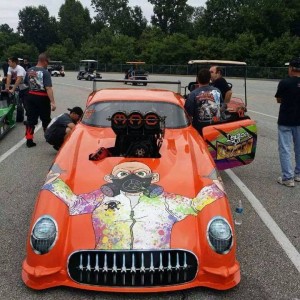 McAdmas is also looking forward to continuing his motorcycle and car rivalry with his longtime friend Rob "Superman" Huinnicutt. The duo takes great pleasure in engaging in some heated and entertaining Facebook trash talk.
"He is always talking smack. But I'll say this, whether we are on four wheels or two wheels, I'm going to beat that guy. I have no doubt," laughed McAdams. "I told him I'll blow my blower off every pass if that's what it takes. I told Camp (Stanley, crew chief) if Hunnicutt is in the other lane, I don't care if we have to stick the pistons in somebody's lap up in the stands. We have to smoke that Cavalier. We have fun with it."
With an opportunity for a career first championship, a chance to put his Pro Mod car in the fives and, of course, more opportunities to whoop his friendly rival Hunnicutt, 2015 looks to be a rousing and enjoyable season for Mac.
McAdams thanked his wife Lisa, daughter Paige, Steve Wood, Micah Mcclintic and Rick Smith for the help with his motorcycle program and Camp Stanley, John Stanley, Leroy Dewdney and Derek Wisooker for the help with his Pro Mod car operation. He also thanked all of the guys at his three shops and the latest addition to his team, Will Rush.
Also, McAdams will soon embark in the powder coating and hydrographic business and looks forward to doing some cool work on drag bikes and cars.  Stay tuned racers.