While dragbike racing is shut down for the winter in the United States, Mohammed Bourashid and his Middle East based-Drag 965 team are having a season to remember.
Not only is Drag 965, named after Kuwait's calling code, leading the BDRC (Bahrain Drag Racing Championship), this past November, Bourashid, 38, of Kuwait City, became only the third Pro Mod/Pro Extreme, referred to as Pro Bike in the Arabian leagues, racer to record a sub-four second elapsed time in the eighth-mile. Bourashid joined Ashley Owens and his teammate Billy Vose in the exclusive three club with an impressive 3.98 at Bahrain International Circuit's immaculate drag strip.
Team Drag 965
Even Drag 965 team owner Sheikh Mohammed Al-Khalid Al-Sabah was impressed with the accomplishment.
"He was very proud. He knows only two others in the world have done it," Bourashid said. "Our entire team was very impressed and that meant a lot to me."
Legendary Pro Mod racer Vose, 54,of Greensboro, N.C., travels to the Middle East to join Drag 965 for the season and had a great view of the unforgettable run.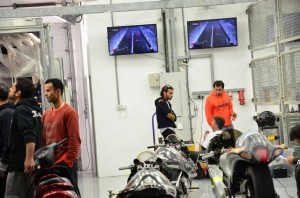 "Me running threes on a GS isn't hard. Getting a 190-pound rider (Bourashid) to do it is a great feat. I was hoping it would have happened last season but we didn't have properly machined cylinders and my pistons were back ordered." Vose said. "The way my GS bikes are setup, Mohammed has dialed-in bracket-like performance that's much easier on parts than the other combos I see."
After the monumental 3.98 run, Bourashid came across the scales at 616 pounds. He feels the team can record 3.90s at 625 pounds as well, the American-based PDRA's (Professional Drag Racer's Association) mandated bike and rider weight.
"It is all about the package coming together. The engine and the chassis performed very well," Bourashid said. "I also ran a 3.99 and we have been in the low 4.0s a bunch of times."
Bourashid, who is No. 2 in the BDRC points behind Vose with two races to go, says it's quite a thrill to host his friends from America. Pro Extreme Hayabusa racer Mike Thyen and Bourashid's beloved frame builder, Walt Timblin, who Bourashid affectionately refers to as "the old man" are also expected to join the team for upcoming races.
"I'm very excited about Mohammed Bourashid running 3.99 and then 3.982 in Bahrain series. The Drag 965 team has been at the top of their game in that series. With that new confidence I know they should do great in 2015 and run more super quick ETs on their two Timblin Chassis bikes," Timblin said. "It was a trip of a lifetime for me to see my bikes complete and win in Qatar. I hope to return for the final race that will crown the champion. Several teams in Qatar, Drag 965, Q80, and also entries from Saudi Arabia use my chassis. I feel very blessed"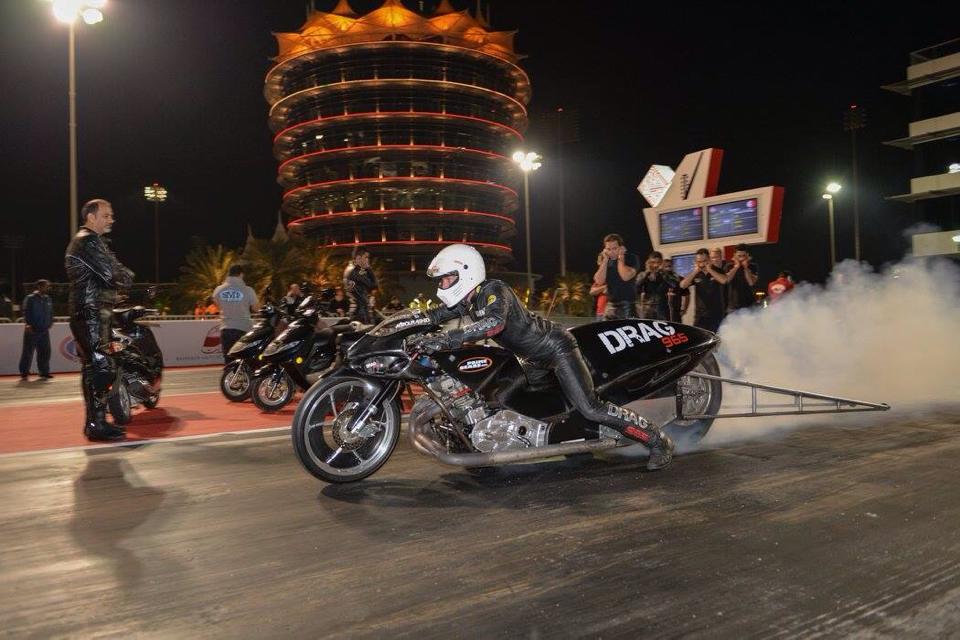 Bourashid feels blessed to have such talented teammates.
"It's a good combination of guys. We are doing the job. I think all of us have the best experience and I am doing a better job riding the bikes," said Bourashid, who hopes to win the season championship. "Winning is very important to me, but it's always tough with Billy over here."
While the team stays busy racing and testing, Bourashid says, just like at the American races, occasionally the crew has some time to go out for a bite, a brew and some bench racing.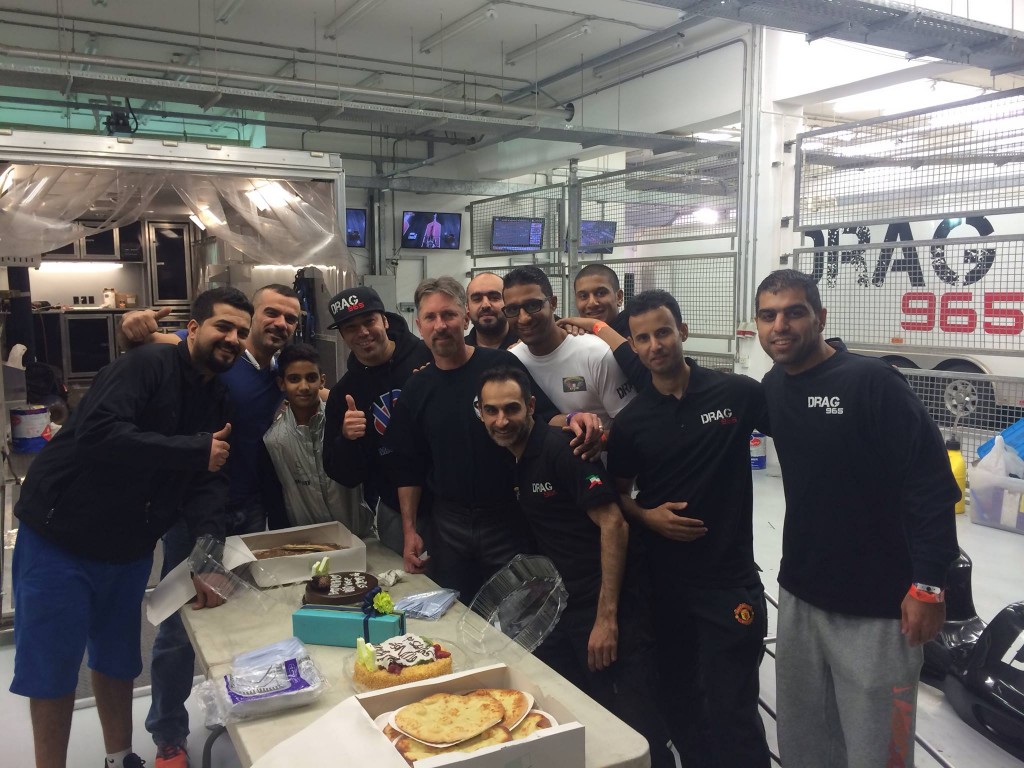 "I love seeing and being around different cultures," Vose said. "I like going to the little out of the way places to eat and shop. But they do have most of the places we have in America, like Applebee's, TGIF's, DQ, KFC, and so on."
Vose is also quick to clear up any misconceptions and point out how similar most of the Arabian racers are to the racers in the States.
"Most of these guys are everyday working people. There's a belief that everyone here is wealthy and that's far from true. Mohammed has a job and a motorcycle business (M.R.B Performance) to support his racing. He also has a working wife," Vose said. "One of my racers is a fireman. That's Mohammed Alawad (over six feet tall and 200 pounds), my big racer. He was runner-up at the last race to Mohammed Bourashid, both running 4.0's in the final."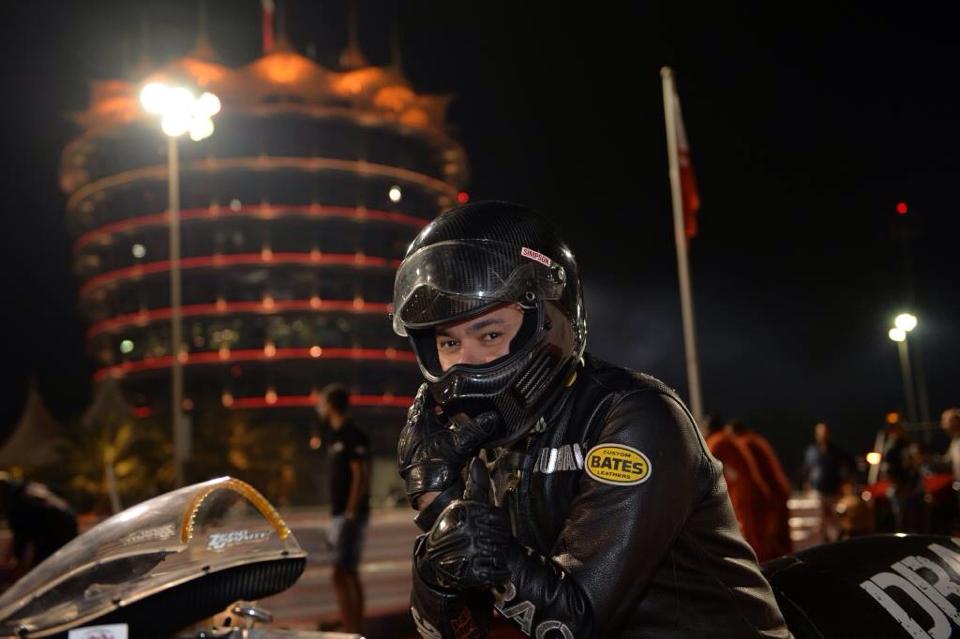 While the people may be similar, and the facilities, in some case are superior, Vose, the first man to put a Pro Mod in the sixes, is quick to point out how different conditions are. Vose says sand and dust are a major issue and days can pass without being able to see a blue sky.
"Track prep has to be done in a way where they can sweep off the sand and dust, sometimes as often as every few runs. It looks like snow on the track! MIR (Maryland International Raceway) and Valdosta (South Georgia Motorsports Park) are quicker tracks than anything over here because of the low oxygen content and quickly changing weather conditions. It makes tuning tricky. It can go from 20% humidity to 90% in a matter of an hour or two. A change in temperature from 80 degrees to 60 degrees is normal during the season, day-to-night. The bulk of the racing is done at night. I've been there at night when 90 degrees was the low with 80% to 90% humidity."
Vose was also humbled by the absence of some of the luxuries commonly taken for granted in the United States.
"No heat in the hotels and you can go to some shops and the toilet is just a hole in the floor. We take for granted getting parts and going to the local track. They have very limited time and places to race. Shipping and duties make most things cost two to three times higher," Vose said. "A major goal over here is to get people away from racing on the streets."
Vose says the overall experience and pride of holding records all over the world is priceless.
"Between my customers and I, we hold records in Greece, the United Kingdom, Australia, Puerto Rico and the United States," Vose said. "One of my guys won the championship in Sweden years ago and set the record."
Bourashid is inviting all racers from America to come give this unique experience a try.
"We have big races, nice tracks and the payouts are so high. It's $10-thousand to win a race and $50-thousand to win a championship," said Bourashid, who travels to the United States in the summer to compete in the PDRA. "I can get a container with three-day Fed-Ex shipping for $3,500. I've heard of people getting their motorcycle over here for as little as $1,000 with economy shipping."
As a major fan of motorcycle drag racing, especially Top Fuel, Bourashid would even like to see Larry "Spiderman" McBride and his record-breaking motorcycle over in the Middle East one day.
"It would be awesome," Bourashid said.
Drag 965 now prepares for the final two BDRC races (Feb. 24-27 and Mar. 3-6) and also the upcoming ADRL (Arabian Drag Racing League) season at Qatar Racing Club, where the team will have access to a new bike.
"A new EFI (Electronic Fuel Injection) Suzuki GS bike will arrive soon. We can do much better. I think it will be much better and much more durable than the Lectons," Bourashid said. "We also have Dan Rudd and MPS helping us with that. I'm looking forward to it."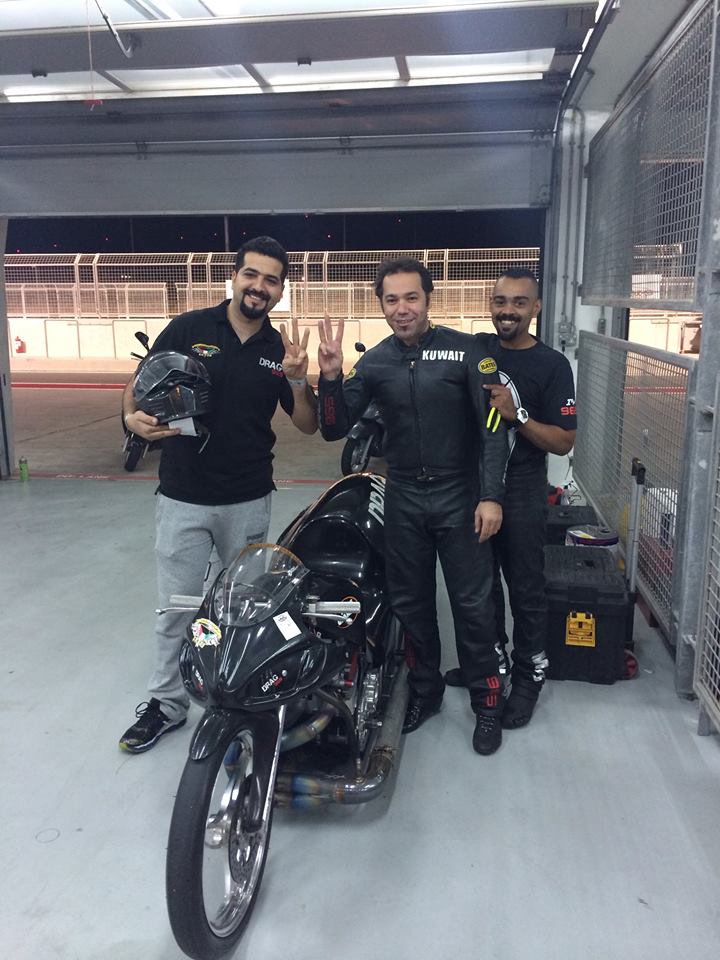 Bourashid thanked team owner Sheikh Mohammed Al-Khalid Al-Sabah , team manager Anwar Alytama, the entire Drag 965 team, and of course his wife.
Bourashid also thanked Falicon and Timblin Chassis

"Walt has the best chassis. I'm staying with him," Bourashid said.