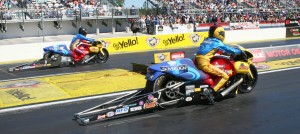 Sovereign-Star Racing's Scotty Pollacheck celebrated the first semifinal round appearance of his NHRA career as he drove to the No. 4 spot in the Pro Stock Motorcycle points standings this past weekend at the Gatornationals in Gainesville, Fla.
"It was a huge deal for me to make it to the semis, because I hadn't done that before. It was an awesome feeling just because we've been working so hard to do that, so to finally win second round and make it to the semis we knew it wasn't some fluke thing that we made it that far," Pollacheck said.
In the quickest field ever for Pro Stock Motorcycle, Pollacheck and new teammate Michael Ray qualified No. 8 and 9, respectively, resulting in an all Star Racing matchup during round one eliminations Sunday. The tight field with barely more than a tenth difference between the No. 1 and No. 16 qualifiers made for a very interesting weekend as the teams watched to see how the new rule changes would affect overall performance in the class.
"The competition was fantastic! I was so happy to see an .80, .82 and .83 out of the three different engine combinations, which totally shocked me," Star Racing owner George Bryce said.
"It felt good just getting into the show," Ray said. "There were a lot of really, really fast bikes that did not make the show. It sucked racing Scotty first round, but when you look at the season as a marathon not a sprint it's good to come out of the first race better than I did last year."
The round one Sovereign-Star Racing teammate matchup resulted in Ray going red against Pollacheck's 6.896 ET at 193 mph.
"As soon as I let the clutch lever out, I knew that I had redlit. I was just jazzed up, excited to be there first round and excited to be racing Scotty. It was more of a self-induced wound than a lack of focus," Ray admitted.
Pollacheck advanced to round two where he faced No. 16 qualifier Chip Ellis on the Savoie White Alligator Racing Buell. Although Ellis got the jump at the line, Pollacheck caught up with him past the 1000-ft. mark to take the win with a 6.894 against Ellis' 6.947.
In the semifinal round, Pollacheck was up against No. 4 qualifier Steve Johnson who set a new Suzuki ET record for Pro Stock Bike with his 6.825-second run during Saturday's qualifying. Pollacheck's 6.885 pass was not enough to take out Johnson, who had a 6.840 and went on to face event winner Hector Arana Jr. in the final round.
"I think, overall, it was a good start to the season," Bryce said. "We came out No. 4 in the points. Michael is a lot further along than he was last year and so is Scotty. That was Scotty's first ever semis in NHRA competition. I was happy with both drivers' performances and our team's performance."
The Sovereign-Star Racing teammates left Gainesville with Pollacheck at the solid No. 4 spot and Ray duking it out with Shawn Gann and Adam Arana for the No. 11 position.
"I think we had a really good team effort this weekend. There was a lot going on with it being the first race and everybody getting back into groove of doing what we're supposed to do. Our team looks really good so far, especially if we compare ourselves to last year when we were much farther behind everyone else at the start of the season," Pollacheck said.
"Considering preseason testing and going to Gainesville this weekend, we've been down the track every time with zero parts failures. Going down the track and getting really good data is better than making one really fast pass and then not getting down the track the next time. So, that's a huge testament to everyone at the Star Racing shop and all the work they've put in," Ray said.
For the most part, the weekend was a successful start to Sovereign-Star Racing's 2013 season as they gauged their competition and continued to find additional improvements for their S&S-powered Buells.
"Michael had a lot more left on the table as far as performance, and so did Scotty. Each time they came back from a run, we found something that could have made us a little faster," Bryce said. "As far as the next few races, I would say that we are gonna be good. I feel confident that we're gonna make more power at home and go faster at Charlotte."
The next race for the NHRA Mello Yello Pro Stock Motorcycle class will be April 19-21 at the Dollar General NHRA Four-Wide Nationals at zMAX Dragway in Charlotte, N.C.
The 2013 Sovereign-Star Racing Team is a partnership between Georgia-based Star Racing and the Hungarian-based Sovereign Racing Team, the 2011 UEM European Pro Stock Bike Championship Team, owned by sugar distributor Jenõ Rujp.
The Sovereign-Star Racing Team would like to thank the following sponsors: Sovereign, Star Racing, Americus Motorsports Complex, S&S Cycle, Daytona Sensors, Worldwide Bearings, CP Pistons, Cometic Gaskets, Quality Tire, and Uncle Hal Gottspeed Racing.
Star Racing Fast Facts:
Based in Americus, Georgia
Six-time NHRA Pro Stock Motorcycle Championships
78 NHRA national event wins with nine different riders
Owned by George & Jackie Bryce
Sovereign Racing Team Fast Facts:
Based in Budapest, Hungary
2011 European UEM Championship Team with rider Jesper Thiel
Owned by Jeno Rujp
Scotty Pollacheck Fast Facts:
From: Medford, Oregon
Job: Owns "Quality Tire" store
Years in drag racing: 27
Michael Ray Fast Facts:
From: New Braunfels, Texas
Job: Harley-Davidson Motorcycle Salesman
Years in drag racing: 11
Caption for "Post-Gainesville" photo:  New Sovereign-Star Racing teammates Scotty Pollacheck and Michael Ray faced each other in round one eliminations leading to Pollacheck's first ever semifinals appearance at the Pro Stock Motorcycle season opener in Gainesville, Fla.