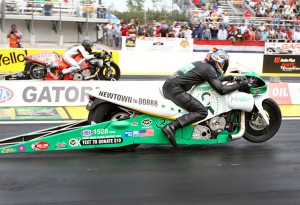 John Hall and the Text "Newtown" to 80888 Buell carried their qualifying success into round 1 of Pro Stock Motorcycle eliminations at the NHRA Amalie Oil NHRA Gatornationals at Auto Plus Raceway in Gainesville, Florida, USA. After a slight advantage at the tree, Hall held off Shawn Gann's top end charge to advance to round two. "I stayed focused, had a decent light, hit my shift points, and the bike ran like it was supposed to," said Hall.
eliminations round 1
(W) John Hall       right lane   .040 rt     6.889 at 191.02 mph
Shawn Gann left lane     .046 rt     6.895 at 193.63 mph
But it was the second round—with a redlight loss to Hector Arana Sr—that Hall wished he could do over. "That was all my fault," said the sophomore PSM racer Hall. "I just got off my game. It won't happen again."
eliminations round 2
      John Hall            left lane       -.180 rt    6.848 at 195.03 mph
(W) Hector Arana Sr  right lane     -.067rt    6.906 at 192.00 mph
"I'm mostly disappointed I couldn't fly the Text "Newtown" to 80888 colors into the semis or even the final," continued Connecticut native Hall. He ran livery on his Buell at Gainesville for this fundraising effort for the United Way's Newtown-Sandy Hook Community Foundation. "Going rounds means airtime for this cause, and I definitely wanted to go more rounds. Maybe we'll run the bike this away again in Charlotte."
Hall will head to Charlotte with an overall good feeling about the Gators, his first event as a part of the Matt Smith Racing team. "Matt and the team gave me a real smooth running bike, and it ran great all weekend."
Better, at times, than Smith's own bike. After qualifying number one and going to eliminations extremely confident, Smith's Buell missed a shift at about the 330 foot mark and allowed sixteenth qualifier Chip Ellis to drive around him. "I'm disappointed for Matt about that," said Hall. "To have a bike that was that strong and have the tranny screw up in the first round, that's tough."
But not tough compared to what the Newtown-Sandy Hook survivors face, so please text "Newtown" to 80888 and make your $10 contribution today.
Find out more about the United Way's Newtown-Sandy Hook Community Foundation at http://www.uwwesternct.org/sandyhook
John Hall would like to thank Matt Smith Racing http://www.mattsmithracing.com/ , Viper Motorcycle Company http://vipermotorcycle.com/, Rush Racing Products http://www.epiflex.com/ , and Dichello Distributors http://www.abwholesaler.com/group04/dichellodistributors/home
John Hall and the Matt Smith Racing team race next April 19-21, 2013 at zMAX Dragway in Charlotte, North Carolina, USA
contact John Hall: jhall451@aol.com
for media inquiries: Tim Hailey timhailey@earthlink.net
for more about the NHRA http://www.nhra.com/
This report was prepared by Tim Hailey
Watch streaming video, look at photos, and read about racing online 24/7 at http://www.eatmyink.com