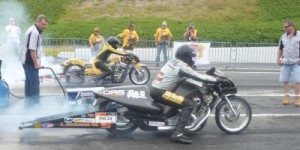 Frank Capone of Capone Racing is now going to represent Team HeadBlade for the 2013 drag race season. "During the winter, Shaun Reno and I had many conversations about the 2013 season. Shaun is not going to race full time this year and after discussions w Todd Greene, President and founder at HeadBlade and with his interest in the marketing and promotional opportunities has decided to support our race program and needless to say we are very pleased to accept his sponsorship offer."
Greene says, "Over the past 8 years we've developed a great relationship with Shaun and his team.  During the off season Shaun spoke to me about transitioning off the bike and letting Frank take over as the main sponsored driver.  Because I have such respect for Shaun, and noting that Frank has been a proud HeadBlader for over a year, it works out perfectly for all involved.  Let's go win some more races in 2013!"
"This decision for Shaun was difficult but he and Ricky Stewart will continue to be instrumental in the preparation of race equipment, tuning and planning of race activities," says Capone.
This weekend, Team HeadBlade/Capone Racing (?) will attend the season kickoff for the AMRA (American Motorcycle Racing Assoc) at   State Capitol Raceway outside of Baton Rouge, LA. The team got very familiar w Cajun cooking on their last trip to Louisiana and are anxious to race after a long cold winter in New England.
March 23-24 AMRA State Capitol Raceway, Baton Rouge, LA
April 12-13 NHRA Virginia Motorsports Park, Petersburg, Va.
April 27-28 AMRA Beech Bend Raceway,NO TF or Nitro Funnybike, Bowling Green, KY
May 30-June 2 AMRA Mason Dixon Dragway, Hagerstown, Md.
June 29-30 AMRA Beech Bend Raceway, Bowling Green, KY
July 19-21 NHRA New England Dragway, Epping, N.H.
July 27-28 AMRA Kil-Kare Raceway, Xenia, OH
Sept. 20-21 NHRA Bristol Dragway, Bristol, Tn
Sept. 28-29 AMRA Beech Bend Raceway, Bowling Green, KY
Capone's team consists of Mark Godin, Richard Murray, Craig Fisher, Lorne Buchanan and Katy Miller.
Capone Racing sponsors and friends supporting Capone include: HeadBlade, G&G Engineering, DAS Performance, L. Buchanan Co., Gannos Machine, Energy One Clutches, Vanson Leathers and all the staff at Capone Landscape.
Capone can be reached at:
781-224-0700