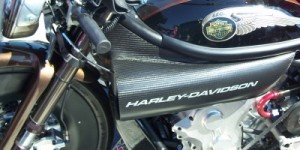 A tradition-rich history is an impormant element of any great motorsports event.
The NHRA Gatornationals from Gainesville, Fla. has never lacked in that quality.
The event is in its 44th year and has hosted some of the sport's most memorable moments. It has always been like spring break for drag racing fans.
It's NHRA's first east coast stop of the year and it's the season-opening race for the Pro Stock Motorcycle class. It is an event that was once dominated by legendary riders and four-time winners, Dave Schultz and Terry Vance.
The first day of the 2013 PSM season, potentially, foreshadowed what could be a very competitive and equal season, with nine competitors, on three different makes, running in the 6.80s.
Most of the pre-season buzz centered around a rule change forcing the Vance and Hines/Screamin' Eagle V-Rod team to run a pushrod-type motor.  In 2012 the Harley-backed squad dominated the season, winning almost every race, setting a new performance mark at 6.72 and capturing the championship.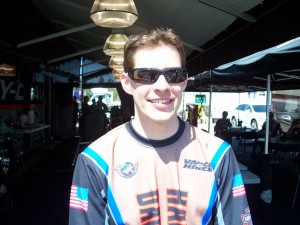 The new rules seem to bring the field closer together.
However,  it was immediately evident extensive off-season labor at the Vance and Hines shop will keep  former champ Andrew Hines and defending champ Ed Krawiec in contention.
Despite the new configuration, Hines posted an impressive 6.88 on the motorcycle's first run at a pre-Gators test session in Valdosta, Ga., and during his first day of official competition at the Gators, Hines lowered his performance to 6.83, to qualify fourth.
"The bike doesn't feel much different, it just sounds different," Hines said.  "As a rider my job is still the same. It's the same transmission, so the shift points have not really changed."
Krawiec's debut was a bit more inauspicious.  The defending champion ran a 6.98 off the trailer and failed to make a run in Q2.
"The motor made a noise that I didn't like so I just played it safe and shut it off," Krawiec said.
One of the category's most outspoken critics over the years, George Bryce of Star Racing, was pleased with the rule change. Bryce won many NHRA championships with greats, John Myers and Angelle Savoie, but felt last season's rules left him without a chance to win.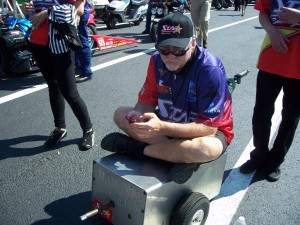 "It's nice to know we both have pushrods now," Bryce said. "This season will be our best chance to win a championship since 2008."
On Friday, Bryce's new addition, Michael Ray, qualified No. 8 with a 6.86 and Scotty Pollacheck qualified No. 9 with a 6.87.
On the first day of the season, no one was quicker than former series champion Matt Smith, who took the pole with a 6.80 at 197 mph.
"I feel like we really made some gains at the last few races last year and we found even more over the winter," said Smith. "We have a great chance to win this year."
Smith remains skeptical as to whether or not the Vance and Hines team is at a disadvantage.
"They have had our motor for the past two years," said Smith, who runs a Buell powerplant. " They know exactly how much horsepower we have and they know exactly what it will take to beat us."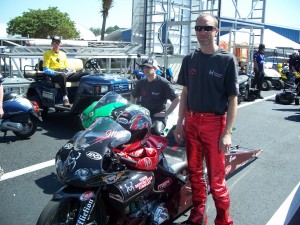 Smith is running a three-bike team this season with his wife Angie Smith and former Star Racing rider John Hall.
The father-son, Lucas Oil-backed team of Hector Arana Sr. and Jr. will also campaign three-motorcycles, with the addition of  Hector Jr.'s brother, Adam Arana. On his very first official pass, Adam Arana was impressive with a 6.91.
Veteran Steve Johnson had the quickest Suzuki on day No. 1 with a 6.86.  Johnson is again competing without a major sponsor and has "Looking for 2013 Marketing Partners" written on his bodywork in several areas.
L.E. Tonglet has come to terms with NitroFish on a deal that will fund his operation for the entire season and will get his Suzuki motors from Vance and Hines. Tonglet's 6.95 was No. 15 on Friday.
As usual, the Gators always bring back some familiar faces.
Multi-time AMA/Prostar champion Chip Ellis was asked to take the seat on Jerry Savoie's Buell until Savoie is healthy enough to compete. Ellis recorded a 6.94 to qualify No. 14.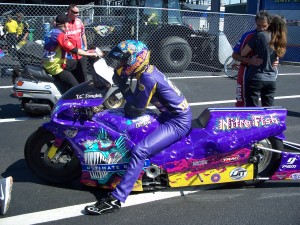 Michael Phillips is hoping to secure enough funding to run the entire season and is keeping his expenses as low as possible in the meantime. Phillips skipped Q1 to save the equipment, but could only muster a 8.67 in Q2.
One noticeable absence from this year's tour is veteran Karen Stoffer, who lost her funding from Geico at the end of last season.
After one day qualifying in 2013, 16 competitors reached the six-second zone, and no one was quicker than 6.80. The two-tenths split could signal the beginning a very competitive and interesting season.
Day 1 results
1) Matt Smith  6.804 at 197.28
2) Hector Arana 6.817 at 195.22
3) Hector Arana Jr. 6.831 at 194.55
4) Andrew Hines 6.836 at 194.66
5) John Hall 6.842 at 193.24
6) Steve Johnson 6.860 at 197.08
7) Mike Berry 6.860 at 195.17
8 ) Michael Ray 6.868 at 195.08
9) Scotty Pollacheck 6.871 at 190.35
10) Adam Arana 6.917 at 193.77
11) Shawn Gann 6.918 at 190.35
12) Angie Smith 6.918 at 188.86
—————————-
13) Katie Sullivan 6.941 at 192.06
14) Chip Ellis 6.945 at 186.87
15) L.E. Tonglet 6.958 at 187.00
16) Eddie Krawiec 6.986 at 185.75
17) Jim Underdahl 7.008 at 188.20
18) Joe DeSantis 7.039 at 189.95
19) James Surber 7.080 at 190.38
20) Freddie Camarena 7.086 at 191.57
21) Redell Harris 7.176 at 187.81
22) Michael Phillips 8.671 at 108.21
Click here to visit the Star Racing website
Click here to view the 2013 Cycledrag photo gallery