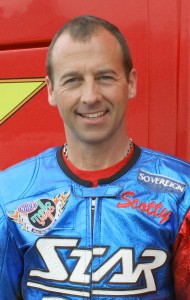 The Sovereign-Star Racing team turned the unique challenges of the Dollar General NHRA Four-Wide Nationals into huge opportunities as their racer Scotty Pollacheck made his first final round appearance and advanced to No. 2 in the points, while also setting the low ET of the event, of his career and of his team's career.
Pollacheck went into the Four-Wide at zMAX Dragway in Concord, N.C., at the No. 4 spot in the points standings after advancing to his first semifinals at the March NHRA Pro Stock Motorcycle season opener in Gainesville, Fla. He would leave the event with a perfect .000 light in the finals and a fraction of an inch from taking second place.
Although it was Star Racing's and their drivers' first time at the Four-Wide event, the Sovereign-Star Racing team earned their best qualifying spot yet with Pollacheck at the No. 2 position going into Sunday's race.
"I feel like the whole team made a lot of progress. Two or three times, we were low of the round, and we don't normally do that," Pollacheck said. "I think if you're comfortable staging under normal circumstances then you'll be fine with Four-Wide, but if you're uncomfortable normally then you'll struggle with it. If you focus on the lights and the tree – and not the fact that there are four people out there – you'll be fine."
Teammate Michael Ray, the No. 6 qualifier, also went into eliminations at a better qualifying position than his previous race with the team.
"We are achieving goals. You have to have little goals to achieve before the big goals and we are achieving our little goals," Ray said.
Pollacheck improved upon his career best and the team's best ET with a 6.834 during qualifying but later posted an even better 6.818/194 mph during round 1 of eliminations to set the low ET of the event and a new record for himself and Star Racing.
"Scotty had the right idea and the right attitude all week in preparing for the Four-Wide, and at the race and it was obvious that it paid off for him," Star Racing owner George Bryce said. "The low ET was a new, small victory for us. We deal with our mistakes and we embrace our little victories. I hope he gets many more career firsts this year."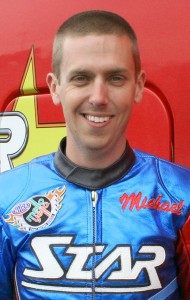 After being the first to leave the line in round one, Pollacheck led the rest of the way to not only take the win against LE Tonglet and Mike Berry but to also post the low ET of the weekend.
"I think we had good conditions as far as the air pressure and weather, but one thing that wasn't good was that we did that into a headwind. I think everything was right for that run; it just all really came together on that one pass. It was pretty cool having low ET of the meet for the first time ever," Pollacheck said.
Pollacheck moved into the final round after Shawn Gann redlit and Matt Smith had to shut down during round two.
The third and final round of Four-Wide Pro Stock Motorcycle included No. 1 qualifier Hector Arana Jr., No. 2 Pollacheck, No. 7 Jim Underdahl and No. 16 Eddie Krawiec. As with the Four-Wide rules, drivers placed first through fourth for the event based on the order in which they crossed the finish line.
Pollacheck had a perfect .000 light off the line, but Arana Jr. pulled around to take the win with a 6.896. Pollacheck and Krawiec both crossed the finish line .024 seconds after Arana Jr. and within less than an inch from each other. Second place was awarded to Krawiec based on his fraction of a second lead over Pollacheck, who took third for the weekend.
"That was kind of tough to take. I just felt like we had such a good weekend the whole time we were there, and it seemed like we deserved more than third place. And to have it that close at the end kind of adds insult to injury," Pollacheck said of the final round.
As he adapts to his new Sovereign-Star Racing team, Ray is assured that a few more runs with this crew will bring him similar results as his teammate.
"I felt like I drove the bike really well this weekend and allowed us to grow. With George, Chuck (Kennedy) and Scotty – they're running really well right now, but they've got 18 months together as a crew and lots of runs on that bike together. I think as long as we keep growing, I'll get to that point. I'm still No. 11 in the points; I'm one round out of the top 10. I say let's get all these growing pains out of the way now," Ray said.
Bryce is also confident that Ray will find his rhythm within his new team.
"This past weekend, Michael was the fourth quickest in the last round of qualifying, and he and Scotty tied on 'back half' performance. He's doing well adapting to the Star Racing style of racing and he has yet to peak," Bryce said.
Although the special circumstances of the Four-Wide Nationals challenged all of the PSM teams and drivers, the Sovereign-Star Racing team was pleasantly surprised by the many small victories that resulted from this event.
"I asked Michael and Scotty to focus on making their own run instead of racing and to try their best to just make them like test runs at Valdosta. That's really hard to do, though, when there are eight stage lights on the Christmas tree," Bryce said. "And it's also important for everyone to remember that this was the first time that anyone from our team had ever run Four-Wide."
The Sovereign-Star Racing team will compete April 26-28 at the O'Reilly Auto Parts NHRA Spring Nationals at Royal Purple Raceway in Houston, Texas.
The 2013 Sovereign-Star Racing Team is a partnership between Georgia-based Star Racing and the Hungarian-based Sovereign Racing Team, the 2011 UEM European Pro Stock Bike Championship Team, owned by sugar distributor Jenõ Rujp.
The Sovereign-Star Racing Team would like to thank the following sponsors: Sovereign, Star Racing, Americus Motorsports Complex, S&S Cycle, Daytona Sensors, Worldwide Bearings, CP Pistons, Cometic Gaskets, Quality Tire, and Uncle Hal Gottspeed Racing.
Star Racing Fast Facts:
·         Based in Americus, Georgia
·         Six-time NHRA Pro Stock Motorcycle Championships
·         78 NHRA national event wins with nine different riders
·         Owned by George & Jackie Bryce
Sovereign Racing Team Fast Facts:
·         Based in Budapest, Hungary
·         2011 European UEM Championship Team with rider Jesper Thiel
·         Owned by Jeno Rujp
Scotty Pollacheck Fast Facts:
·         From: Medford, Oregon
·         Job: Owns "Quality Tire" store
·         Years in drag racing: 27
Michael Ray Fast Facts:
·         From: New Braunfels, Texas
·         Job: Harley-Davidson Motorcycle Salesman
·         Years in drag racing: 11