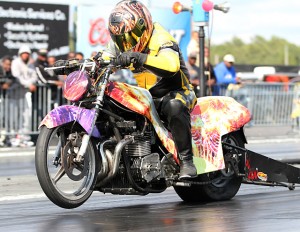 It may have taken a full month to deliver, but Mother Nature and Steve Earwood's Rockingham Dragway track prep crew laid out a record setting buffet for Mickey Thompson MIRock Superbike Series racers to feast on in the rain-delayed opening round of the 2013 season. The April 19-21 FBR Shop Spring Bike Open also saw it's fair share of drama and rising underdogs, as none of the pro class champs made it to the finals, let alone the winners circle.
Three-time Orient Express Pro Street champ Rodney Williford qualified number 1 with a 6.99 and seemed destined for a final round showdown with rival Joey Gladstone of DME Racing. But Williford—who's trying mightily to be the first Pro Street bike in the 6.80s—wheelied wildly on his turbocharged, purple "Nitrous Bike Eater" Suzuki Hayabusa and was unable to chase down Doug Gall in the other lane.
That seemed to open the door for Gladstone to gain some valuable, early season points on Williford. Gladstone was on a MPH record-setting tear, hitting 212.33 in qualifying and a whopping 214.89 on raceday. He had a bye to the final and needed only to start his motorcycle and take the tree under power…easy, right? Not so much. Try as they might, the DME crew could not get the black and blue 'Busa fired.
That handed the win to the unheralded, number 3 qualifier Gall. Through breakage, redlights, and Williford's struggles, Gall was the last man standing, and standing right smack in the winners circle. The Ohio racer is hitting the entire MIRock Series this season and plans to collect more victory hardware.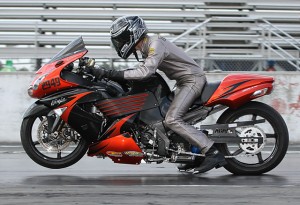 DME Real Street champ Johnny "Turbo" Dobrin wasn't even as fortunate as Williford. A see-saw qualifying battle with Jeremy Teasley saw former champ Teasley pip his rival Dobrin with a way-quicker-than-the-record 7.705. No problem, raceday is another day, right? It turned out the highlight of Dobrin's race weekend was behind him as he launched his Exoticycle turbo 'Busa way early in round 1. "I don't know why I did that," Johnny Turbo said about his redlight foul start. "I'd been having terrible lights all weekend, maybe that was on my mind." The early out meant more anniversary time for Dobrin and his wife Charisse.
Teasley raced his way to the final, where he faced RS Motorsports teammate Chris Moore in an all-nitrous, Kawasaki ZX14 final. Teasley's .040 starting line advantage would prove key in this race, as Moore's quicker 7.86 was unable to drive around Jeremy's 7.88.
Teasley spent a good chunk of time over the weekend setting an unofficial record that has set the motorcycle drag racing community on fire. Over the winter, a group of competitors (including Teasley) started an online smack talking campaign about who would be the first to run an 8.60something on a foot-shift, stock wheelbase, stock motor, no weight added, no MSD SB6-equipped, Kawasaki ZX14R. With the bike entered in Crazy 8s and ET, Teasley chipped away at it on Saturday, running 8.702, then 8.701. Finally it came, an 8.69 followed by an 8.67. Sunday morning, though, is when Teasley really knocked it out of the park with an unbelievable 8.62.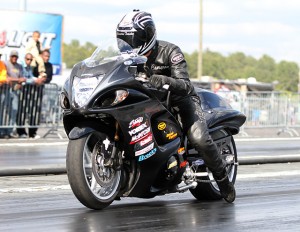 Lest Jeremy be the only heralded member of the Teasley family, younger brother Cameron won his first ever Crazy 8's race on the CarrCraft Racing Hayabusa. His .043 light gave him a big cushion over runner-up veteran Barry Pryer Sr. Cameron also ran his first ever 7 second pass this Saturday on his Real Street bike, making it a milestone weekend for the young Ohio racer.
Defending FBR Shop 5.60 champ "Fearsome" Andy Baumbach is the one MIRock champion who started off 2013 with a win, taking the final over Ben Knight on Baumbach's 48th birthday. Not that it was an easy weekend for the Fairfax Station, Virginia plumbing magnate. Multi-class competitor Baumbach's fleet of racebikes encountered some serious mechanical carnage for an unfortunate birthday present.
Although Knight—yet another Ohio-based racer—failed against Baumbach in 5.60, he prevailed against Mooresville's Chase Sandefur in Sunday's Brock's Performance Street ET final. Virginian Michael Herman Jr. won the class over Stanley Russell on Saturday. Herman's dad, obviously named Michael Herman Sr, won Nitrous Express Pro ET on Sunday over Alan Fields. Saturday's Pro ET race saw the former perennial bridesmaid Terry "T-Bone" Singleton of Georgia don the big, white dress with his win over Mike Rankin, who himself scored the $500 Nitrous Express bonus for winning the most rounds over the whole weekend.
Kenny Cornell won the inaugural Louis Concrete 4.60 index class final over Shubby Claytor. Surprisingly, it was also the first win ever for Virginia veteran racer Cornell. Tennessee's Jerry Turner won Trac King/APE Top Sportsman over defending class champion Boo Brown.
All of these competitors will have little time to prepare or repair their mounts for the next Mickey Thompson MIRock Superbike Series event, which happens this weekend, April 26-28, with the Fast By Gast Spring Nationals at Maryland International Raceway in Budd's Creek, MD.
Results: http://www.mirockracing.com/results/2013/race1-rock/index.htm
Find out more about PJ1 motorcycle products at http://www.pj1.com/
Find out more about the Mickey Thompson Performance Tires MIRock Super Bike Series at http://www.mirockracing.com
Find out more about Rockingham Dragway at www.rockinghamdragway.com
This report was prepared by Tim Hailey. Photos are for editorial use only. Enjoy everything there is to read, see and watch about motorcycle drag racing and more at http://www.eatmyink.com
-end-
High-res images for editorial use are available by e-mailing timhailey@earthlink.net