PMRA dragbike racing is pleased to announce that Pingel Enterprise has signed on to be the Class Sponsor of the newly formed PMRA Nitro Pro Dragster Harley Class for the 2014 season! We are super excited to have Pingel expand their commitment to the PMRA which has allowed us to create a new class for our nitro-burning V-Twin friends. We hosted the Harley's last year as an invitational class and worked hard to find a way to officially make them part of the PMRA class lineup. Pingel has also committed to being an Associate Sponsor of our Pro ET class continuing support from the 2013 season.  Donna Pingel shared, "We are very excited to be a part of PMRA for 2014 and to sponsor the new Pro Dragster Nitro Harley class.  The nitro-burning V-Twins always put on a good show and the spectators love to watch them. This will be a great addition to the PMRA lineup.  We have also regularly sponsored ET classes in many associations throughout the years and we are glad to support the Pro ET class again in 2014.  We wish all the racers to have a safe and exciting 2014 with PMRA."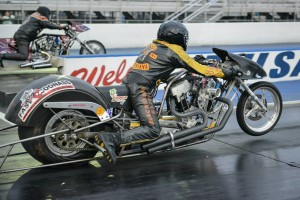 The Nitro Pro Dragster Harley Class will contend for the championship at three races this year.
April 26 – Tulsa Raceway Park
June 28 – Tulsa Raceway Park
Oct 25 – Tulsa Raceway Park
The PMRA is very excited to be partnered with Pingel Enterprise which is allowing us to expand our Class lineup and further the sport of motorcycle drag racing.