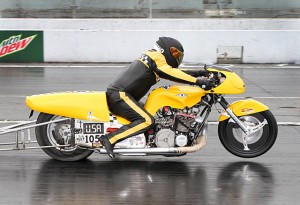 When the world economy plummeted in the fall of 2008, attendance at Mickey Thompson MIRock Superbike Series events at Rockingham Dragway dipped along with it. But if the health of motorcycle drag racing is an economic indicator, then things are looking up. "This is our best MIRock event since 2009," Rockingham owner Steve Earwood said at noon on Saturday, well before the Grudge pits filled and brought along the fans who love them. And while 48 Afterdark Underground grudge bikes may not be the 100+ that The Rock has seen in the past, it's a promising step in the right direction.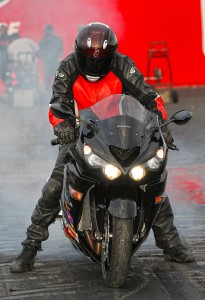 In fact, the Adams Performance Spring Bike Open—the first MIRock round of 2014—was such a feel-good event, that no one even complained when rain, wind and unseasonable cold shut Rockingham down after only one round of eliminations on Sunday. Sportsman purses were split, Pro classes postponed until MIRock returns to The Rock in August, and there was nary a frown in the crowd. Rockingham is the spiritual home of motorcycle drag racing, and The Rock as we've all known it is back!
It's always a good sign when frustrated track staff are trying to clear the starting line of people, and Saturday night the line was clogged like a bad drain. The peak of the evening was the final round of Orient Express Pro Street qualifying, and everyone was packing in to see the 650 horsepower, street tire bikes assault Rockingham's PJ1-prepped quarter mile. In the end it was champion Joey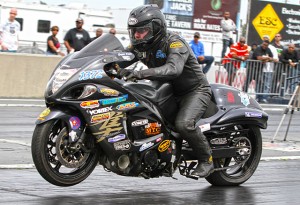 Gladstone and the brand new, turbocharged, DME Suzuki Hayabusa that ruled the class with a 6.98 at 210 mph.
Actually, the DME bikes of Gladstone, Jason Dunigan, Terence Angela and Ehren Litten locked out the top 4 qualifying spots and were all still alive when racing ended on Sunday. "Would've been an all-DME semifinal," predicted DME boss Dimey Eddinger, and they'll get a chance to prove it against Darion "Nanu" Payne, Rendolf Torbed, defending race winner Doug Gall, and John Gover in August.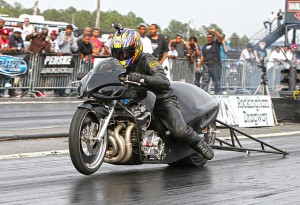 Super Dave Stewart led DME Real Street qualifying on his turbo 'Busa, and will face Cameron Teasley in August's round 2. Perennial Real Street champion Jeremy Teasley (Cameron's brother) faced his owner/tuner Roger Starrette in round 1, as Big Man Starrettte shed 35 pounds to get back in the saddle. Perhaps Starrette needed a sandwich in a hurry, as he redlit against Teasley in E1. Jeremy faces Eddie "Who" Chapman in August, and teammate David Merks faces fellow big man Anibel Merced.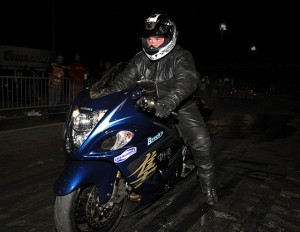 Maryland racer Eran Pielert led Louis Concrete 4.60 qualifying with a 4.615, then advanced to round 2 where he will face Baybay Yarbrough in August. Barry Harvey, Ronnie Smith, Dale Niles, and Kevin White also advanced, but not champion Kenny Cornnell.
Jay Windsor qualified #1 for Trac King/APE Top Sportsman, but fell victim to a somewhat chaotic series of events as weather moved in. First, high winds blew a piece of paper through the lights in his E1 match-up against Robert Parker. A sprinkle then caused a short delay after the burnout in the re-run and Windsor's now cold, big tire spun helplessly when the lights finally came down.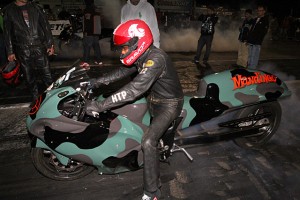 Riding a wave after collecting his Street ET Tournament of Champions trophy, Connecticut Kawasaki Kingpin Bob Carlson qualified #1 in a 40 bike Cycle Connection Crazy 8s field with a perfect 8.880 on the 8.88 index. Kyle Olson qualified #1 in the FBR Shop 5.60 eighth mile index class with a 5.613 on his '12 'Busa.
Saturday night's Nitrous Express Pro ET win went to Tennessee's Dustin Lee over Michael "Ice Cold Killer" Herman Jr. in the final. Fun For All Motorsports racer Ron Arnold beat legendary Virginian Boo Brown in Saturday's Brock's Performance Street ET final. This excellent race was decided at the tree as both racers nailed their dial-in.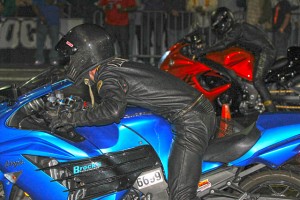 Saturday night's Afterdark Undergound banged with the energy that made The Rock famous. Big Money race of the night was Lavar "Lil' Charlie" Delee on HTP Performance's "Mandingo" vs. Jeremy Teasley on Country's Adams Performance-prepped 'Busa, with Mandingo staging with the back tire. "It'll be whoever doesn't spin," said Teasley, and that turned out to be Mandingo. In other action, Richard Gadson and Chris Moore swapped rides and wins on a ZX14 vs. 'Busa battle.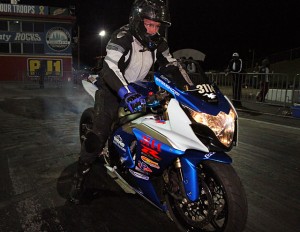 All which means that the MIRock Superbike Series will have to wait 'til August to return to The Rock, but heads to Maryland International Raceway for the Fast by Gast Spring Nationals on April 25-27, 2014. You know where you gotta be!
Find out more about PJ1 motorcycle products at http://www.pj1.com/
Find out more about the Mickey Thompson Performance Tires MIRock Super Bike Series: http://www.mirockracing.com
Find out more about Rockingham Dragway: www.rockinghamdragway.com
This report was prepared by Tim Hailey. Photos are for editorial use only. Enjoy everything there is to read, see and watch about motorcycle drag racing and more at http://www.eatmyink.com