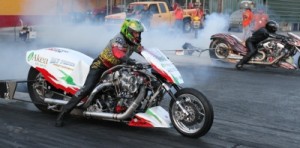 The Ray Price Harley-Davidson drag race team launched the NHRA Harley-Davidson Drag Racing Series with impressive runs at Royal Purple Raceway in Texas on March 7 – 9 to start the teams 2014 race year.
The Akea / Ray Price drag bike continued to perform just as it did all of the 2013 race season.
"The Akea Express ran very strong this weekend. It's like we just picked up from where we left off last year", remarked Ray Price.
Qualifying for the field of nine Top Fuel Harleys took place on Friday under ideal track conditions. Weather conditions were cool and made for producing lots of horsepower. In the first round of qualifying Tommy Grimes twisted the throttle to run a 6.204 at 229.74 MPH to capture the number one qualifying spot.
Due to unstable weather moving into the area and the threat of rain out on Sunday, NHRA made the decision to combine qualifying and eliminations on Saturday. This resulted in Top Fuel Harley teams only receiving one other qualifying run before headed into eliminations. During the second session of qualifying the team tuned the bike to take total advantage of the good air, laying down the quickest and fastest run of the event with a 6.190 at 235.23 MPH. The Akea Express launched to the 60 foot mark in an incredible 1.114 seconds and carried the front wheel off-the-earth for almost 1,319 feet!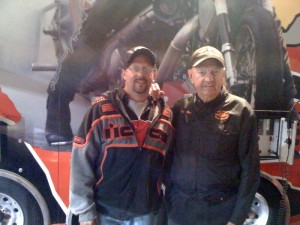 After qualifying the Akea / Ray Price Harley-Davidson race team were confident going into eliminations. With the 1,000 horsepower V-Twin motor tuned for the first round of eliminations Grimes launched hard, but the drag bike shook, then smoked the big rear tire and the engine down as he got out of the throttle. That ended the teams chances of moving onto the next round.
While disappointed with not making it into the next round, the team was pleased with the bikes overall performance and will head back to Raleigh, NC to get it prepared for the next race on their 16 race schedule.
"The team did a great job of tuning the bike while Tommy did a great job of riding the bike to better the number that we ran on Friday. Unfortunately, the track changed and all top four qualifiers, including us, spun the tire in the first round of eliminations", says Ray Price.
The Akea / Ray Price Racing team looks forward to its next race when it heads to Virginia Motorsports Park for the NHRA Lucas Oil Drag Racing Series event April 3 – 5, 2014.
The Ray Price Motorsports team sends sincere thanks to all their sponsors for their support for the 2014 race season. They include our Primary Sponsors: Akea, Ray Price Harley-Davidson, with special thanks to our Associate Sponsor Raleigh H. O. G. and our Support Sponsors: Vanson Leathers, PJ1 Products, RC Components, Nationwide Insurance, CP Pistons, Royal Purple, Barnett Clutches & Cables, Autolite Sparkplugs, Mickey Thompson Tires, Gates Belts, Brown and Miller Racing Solutions, JIMS USA, Industrial Machine Solutions and Wiley X. Additional thanks: Bill Hayes, Hargis Consulting, Ultra Pro Machining and Freddie Robbins.
Ray Price Harley-Davidson – Raleigh, NC – www.rayprice.com www.LiveToRideLonger.com