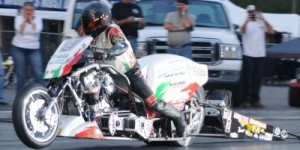 May 31-June 1st is when track owner Steve Earwood will welcome back the Harley Nation to Rockingham Dragway for the AMRA Nitro Naitonals. This weekend you can see hear and smell nitro and ground pounding smoking burnouts.
This all-Harley Davidson event will feature the 220 mile-an-hour Top Fuel bikes, Pro Fuel, Pro Gas and Pro Modified categories along with 7 sportsman classes, bring your leather jacket, helmet, boots and gloves and take a spin down the World famous Rockingham Dragway.
In addition, new nitro racers having just completed Johnny Vicker's Nitro School will be ready to make the jump from gas to nitro and show off for the tons of spectators that come for not only the racing but the party and will be rocking at the Rock on Saturday night with live entertainment in the camping area.
The American Motorcycle Racing Association event will begin with a special Harley Only test-and-tune session from 3 p.m. until 8 p.m. on Friday. Saturday's program will feature pro qualifying starting at 10 a.m. and single elimination finals in all categories will begin at 11 a.m. Sunday.
Adult admission is $20 daily although discounts are available on three-day ($45) and two-day ($35) tickets. Children under six are free when accompanied by a ticketed adult and, as always, parking is free in Rockingham's main lot. Special parking is available for a fee.
The race is expected to attract competitors from more than 25 states including California, Idaho, Massachusetts and Michigan.