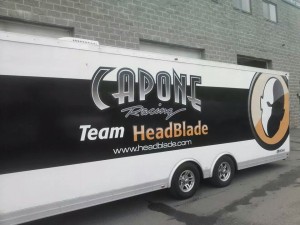 Team HeadBlade/Capone Racing with Frank Capone are in transit with shiny new graphics on their Team HeadBlade race rig. Anything else new? We think you'll be surprised as Capone pulls out last season's new and improved Pro Gas and Pro Mod bikes
Capone says, "Team HeadBlade does have a couple cards up our sleeves, and we hope to have an announcement in the next few races; meanwhile, our bikes are for sale but we're not going far. We've had some good conversations with our current sponsors and they support the changes in our gas program."
Bring 'em to the line –  I'm betting Capone has aces up those Vanson leather sleeves.
Capone's team consists of Mark Godin, Craig Fisher, Lorne Buchanan, Katy Miller and Kelcie Edwards.
.
Capone Racing sponsors and friends supporting Capone include: HeadBlade Inc. G&G Engineering, DAS Performance, L. Buchanan Co., Gannos Machine, Energy One Clutches, PR Factory Store, Vanson Leathers and all the staff at Capone Landscape.