Sunday's first-round pairings for eliminations for the 15th annual NHRA Toyota Nationals at The Strip at Las Vegas Motor Speedway, the 23rd of 24 events in the NHRA Mello Yello Drag Racing Series.  Pairings based on results in qualifying, which ended Saturday. DNQs listed below pairings.
Pro Stock Motorcycle — 1. Jerry Savoie, Suzuki, 6.852, 196.02  vs. 16. Freddie Camarena, Suzuki, 7.030, 191.70; 2. Andrew Hines, Harley-Davidson, 6.909, 194.55  vs. 15. Jim Underdahl, Suzuki, 6.982, 193.49; 3. Michael Ray, Buell, 6.913, 193.63  vs. 14. Mike Berry, Buell, 6.981, 191.02; 4. Eddie Krawiec, Harley-Davidson, 6.922, 194.27  vs. 13. Shawn Gann, Buell, 6.978, 191.73; 5. LE Tonglet, Suzuki, 6.930, 194.88  vs. 12. Hector Arana Jr, Buell, 6.976, 194.13; 6. Karen Stoffer, Suzuki, 6.937, 193.29  vs. 11. Hector Arana, Buell, 6.974, 193.16; 7. Scotty Pollacheck, Buell, 6.951, 192.19  vs. 10. Matt Smith, Victory, 6.972, 191.40; 8. Steve Johnson, Suzuki, 6.960, 192.30 vs. 9. Chip Ellis, Buell, 6.962, 192.77.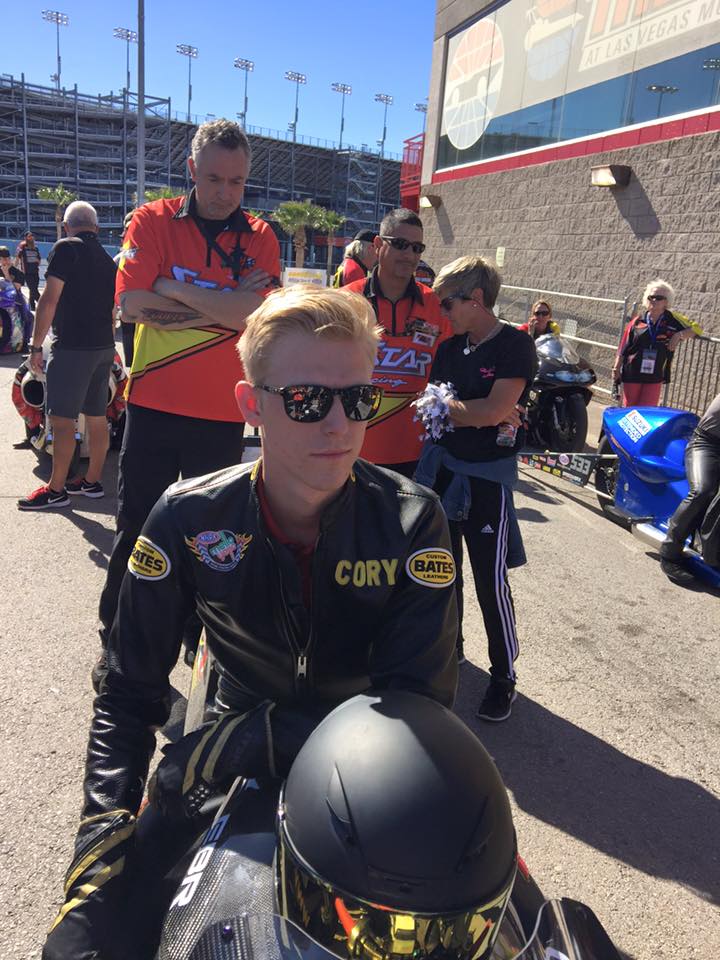 Did Not Qualify: 17. Joe DeSantis, 7.050, 189.92; 18. Angie Smith, 7.074, 188.60; 19. Redell Harris, 7.078, 187.94; 20. Eddie Reed, 7.099, 187.52; 21. Kalle Lyren, 7.100, 189.28; 22. Robert Karlsson, 7.110, 189.39; 23. Katie Sullivan, 7.112, 188.46; 24. Luke Crowley, 7.134, 189.36; 25. Rhett Lougheed, 7.215, 186.82; 26. Melissa Surber, 7.246, 185.59; 27. Lance Bonham, 7.357, 185.21; 28. Cory Reed, 10.762, 185.72; 29. Brian Pretzel, broke.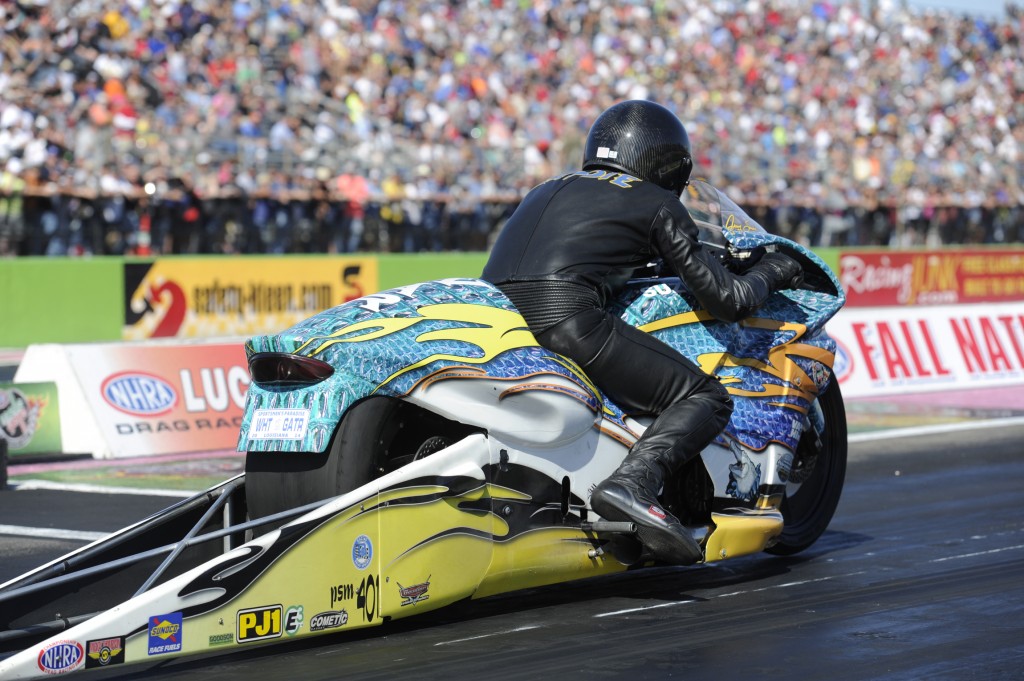 Jerry Savoie continued his playoff hot streak in Pro Stock Motorcycle, riding his White Alligator Suzuki to his third No. 1 qualifying position of the season with a track record time of 6.852 at 196.30. He will face Fred Camarena in the opening round of eliminations as he continues to chase series points leader Andrew Hines, who qualified second on his Screamin' Eagle Vance & Hines Harley-Davidson.
"Tim [Kulungian, crew chief] is smart," said Savoie, who is now only 26 points back of Hines.  "He's a numbers guy. He has a way of getting the bike in that window. We were trying to go a [6.84]. I am proud to be here and if you go about second guessing yourself you will drive yourself crazy. If I get the number one (world championship) spot it will be good. If I don't get it then it's been a great season. I won't beat myself up over it."
Hector Arana Sr. and Hector Arana Jr. qualified 11th and 12th, respectively, for Sunday's NHRA Toyota Nationals at The Strip at Las Vegas Motor Speedway. Most important, the Lucas Oil Buell riders are solidly in the 16-bike field that attracted an overflow entry list of 28 Pro Stock Motorcycles.
Arana Sr.'s best pass came during the second round of qualifying on Friday evening, 6.974 seconds at 192.52 mph. Likewise, Arana Jr.'s best effort was delivered in the same session, 6.976 seconds at 192.74 mph.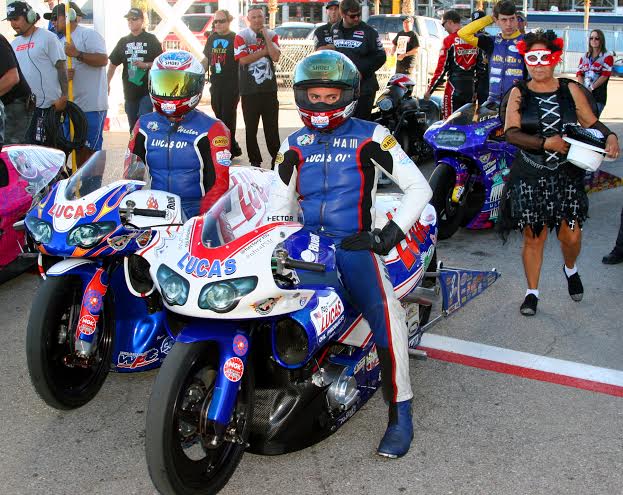 Arana Sr. has been chasing an issue in his Lucas Oil Buell over the summer months and once again it puzzled his team. The bike is fast, just not as fast as they'd like.
"We were consistent but consistently slow," Arana Sr. said. "It's not what we planned, but there's something going on and I have not been able to put my finger on it. We are off. Something is wrong and I can't find it. I've been looking for it, so I'm struggling right now. The (unseasonably-warm) temperature has nothing to do with it. It's something else that's going on, and we haven't found it yet. I've tried everything I thought it wanted and it's not responding. My gut feeling was something else. I'm going to give it that shot tomorrow and see if it responds to that or not."
Arana Sr. will face Karen Stoffer in Round 1. Arana Jr. will meet L.E. Tonglet in the first round of eliminations. Like his father, he, too, is not completely happy with the performance of his bike.
"We still haven't figured it out," Arana Jr. said. "It's pretty frustrating when you had a good tune-up and then, for whatever reason, you get lost. I guess that's part of drag racing. The stronger teams never give up and they come back. We're still down from it, but hopefully we've learned enough during qualifying and gathered enough information for our best educated guess for tomorrow."
As is customary with the Pro Stock Motorcycle class on Halloween during the Mello Yello Drag Racing Series event in Las Vegas, riders and crewmembers dressed in costume, including everything from superheroes to cartoon characters. Not to be outdone, the Arana team waited until the fourth round of qualifying and then arrived in the staging lanes cloaked in traditional Dia De Los Muertos attire. The ensemble was a big hit with fans.
"We've been doing this at least five or six years," said Arana Sr. "It's become a tradition. Everyone asks, 'Are you guys gonna dress up?' and they want to know what we're going to be."
Eliminations for the NHRA Toyota Nationals are scheduled to begin at noon on Sunday and will be televised on ESPN2 at 8 p.m. ET.