Lucas Oil Buell riders Hector Arana Sr. and Hector Arana Jr. experienced somewhat different days at the NHRA Toyota Nationals at The Strip at Las Vegas Motor Speedway. Arana Sr. went to the semifinals while his son exited the event after the first round of eliminations.
Arana Sr. faced Karen Stoffer in the first round and won the race as she fouled on the starting line in the right lane. Posting an elapsed time of 7.03 seconds (191.67 mph), Arana Sr. earned lane choice for the second round of eliminations against Mike Berry.
Arana Sr. chose the right lane for the second round of eliminations and dispatched Berry, who posted a .155 reaction time and then lost power on his way down the track. For the record books, Arana Sr. clocked in at 7.051 seconds at 190.98 mph.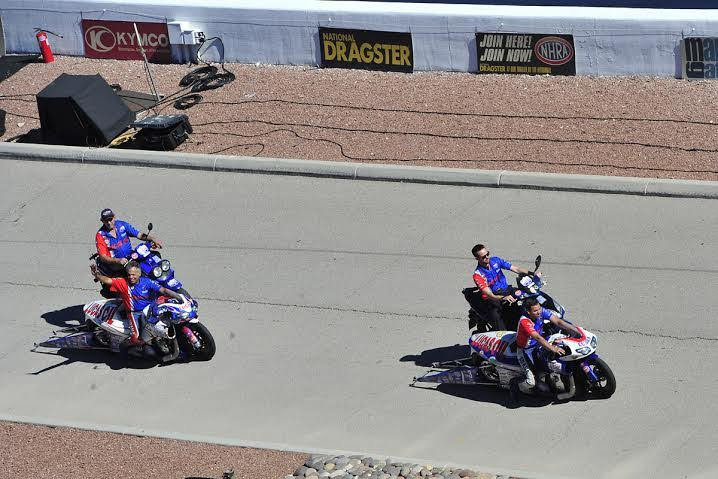 Arana Sr. was paired with Andrew Hines, who qualified in second place, in the semifinal round. Hines pulled a better reaction time and won the match, 6.973 at 191.92 mph to 7.001 at 191.54 mph.
Does being able to go three rounds in Las Vegas indicate the team is getting a handle on whatever is creating inconsistencies in their motorcycles?
"No. Sometimes you need luck in this sport," Arana Sr. said. "I was fortunate. We still have a problem. We definitely have a problem. We should run better than this. We take it as it comes. We'll just keep going forward and we'll find it. We're going to go over this bike with a fine-toothed comb. We have to find the problem because we can't go into next year not knowing what's going on."
Hector Arana Jr.'s day was not as long as his father's. Arana Jr. faced L.E. Tonglet in the first round of eliminations. Tonglet, who qualified fifth, posted a slightly better reaction time and beat Arana Jr. to the finish line, 6.945 at 192.96 mph to 6.970 at 193.21 mph.
"We did our homework and were able to make some tune-up calls. We ran our best pass of the weekend but it still wasn't good enough," Arana Jr. said. "My lights were good and consistent all weekend. I was happy with my performance. We're going to have to go home, study it, and try to figure out why these bikes aren't running.
"The bikes were running really strong in the beginning of the year, so maybe we have to start going back to the older parts that were on the bike. We have to figure this out. We have some tune-ups that look pretty good where they should be running the times and they're not. The clutch is working good, the bike is leaving nice, so now we have to go back to the engines. Obviously, it's the power at this point.
"Considering all the problems we were having we were still able to get my dad to the semifinals," Arana Jr. said. "We had luck but it takes luck. We'll go back, figure out what's going on, and start again. At Pomona, I'm just going out there, I want to spoil somebody's day and try to get the last win like I did last year."
Arana Jr. leaves Las Vegas in fourth place in points, 171 behind leader Andrew Hines. Arana Sr. currently is in eighth place, just 23 behind Karen Stoffer (seventh place) and 38 behind Matt Smith (sixth place).