When Pro Stock Motorcycle officially became a professional category in the National Hot Rod Association, Ronald Regan was President, a Ford Mustang could be purchased for less than $10,000 and Lethal Weapon, the original, was one of the most popular movies at the box office.
The year was 1987, and although the Pro Stock Motorcycle class had existed for much longer, it was not until then that the NHRA added the two-wheel, naturally-aspirated machines to its marquee pro lineup of Top Fuel, Funny Car and Pro Stock Car.
1987
2015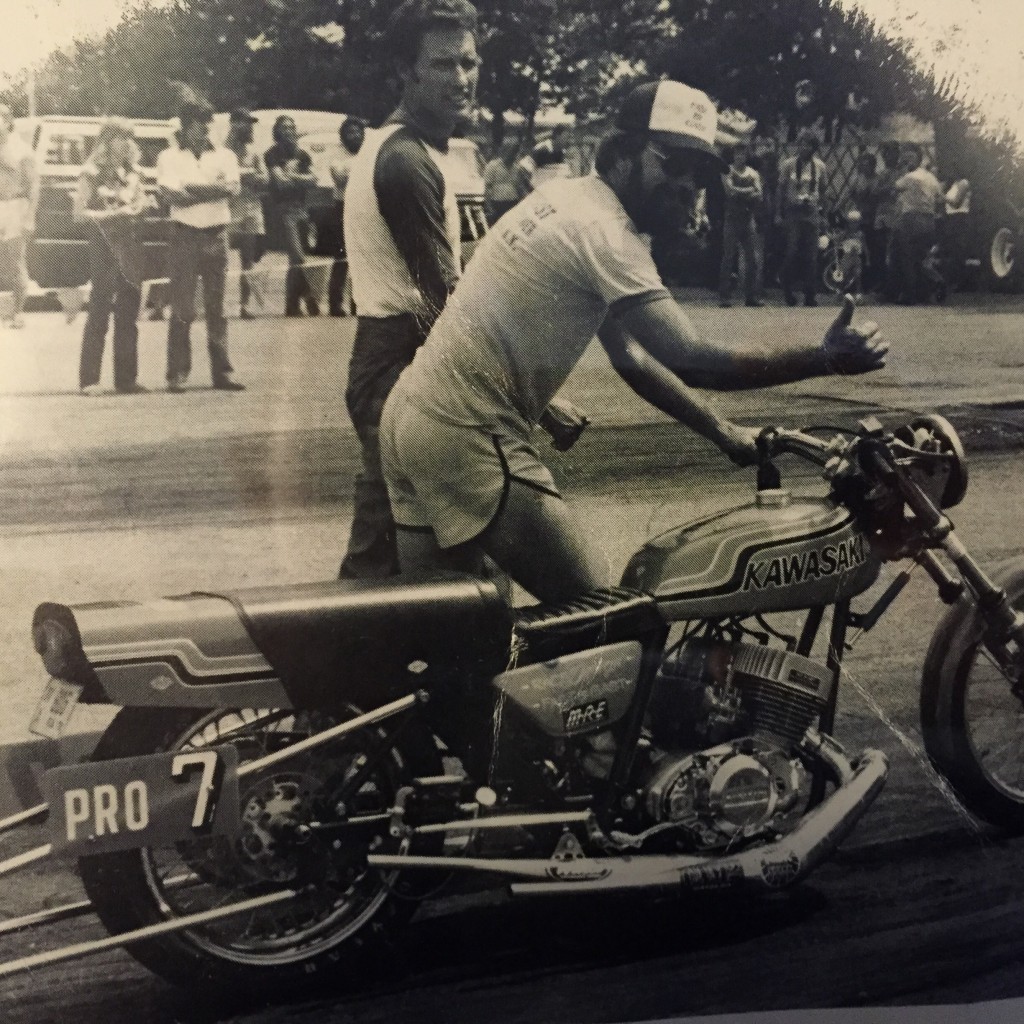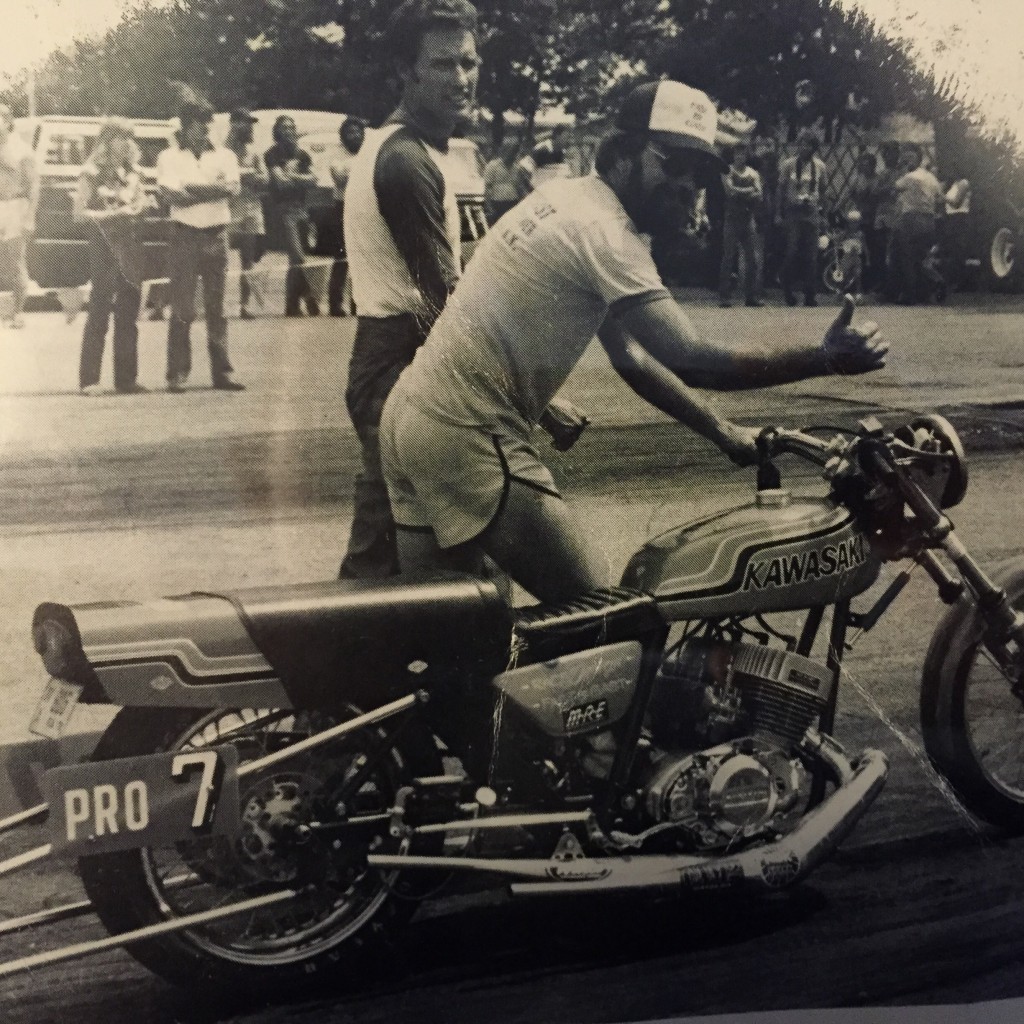 "The very idea for Pro Stock Motorcycle quickly followed the inception of NHRA's Pro Stock Car in 1970. The bike guys said that's a cool idea; stock chassis, a few motor mods, stock body panels. In the beginning it was two-strokes and four-strokes. All four Japanese brands were represented. The four-strokes used to have a 900 c.c. limit and the drive train parts were very fragile," said drag racing historian and TV personality Bret Kepner. "It was a very sportsman-like class from around 73-'83."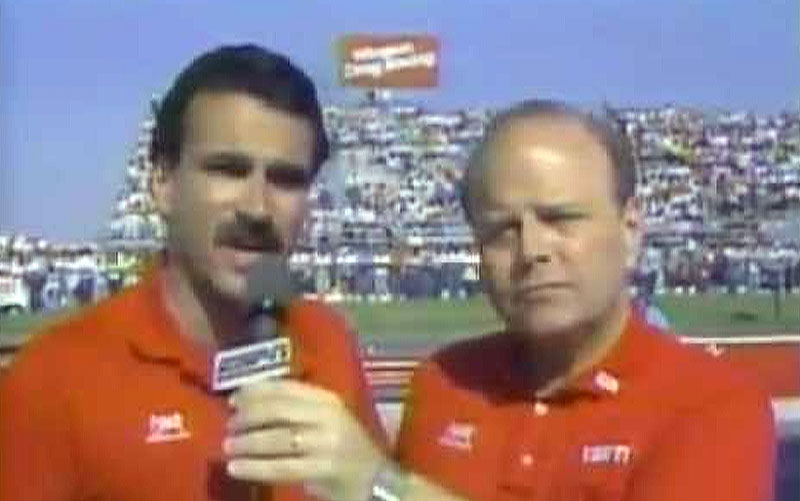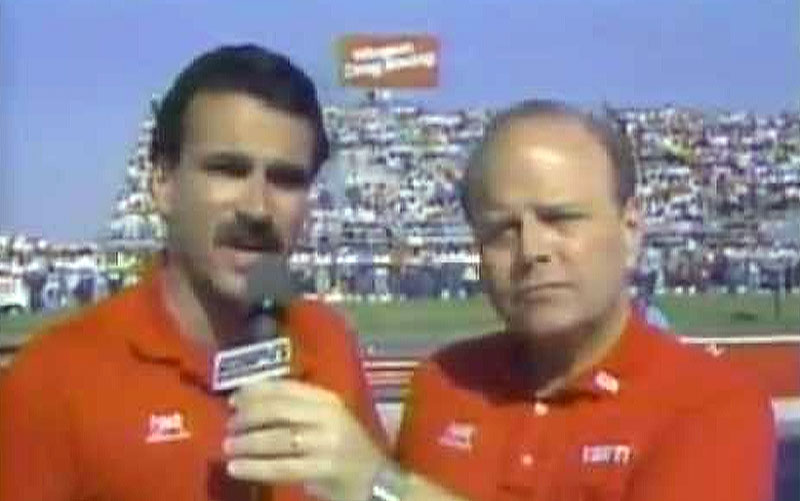 Now in its 30th anniversary season, much has changed. The state-of-the-art machines are more than a full second quicker and more than 40 mph faster. In fact, the field is on-pace to officially break the 200 mph barrier.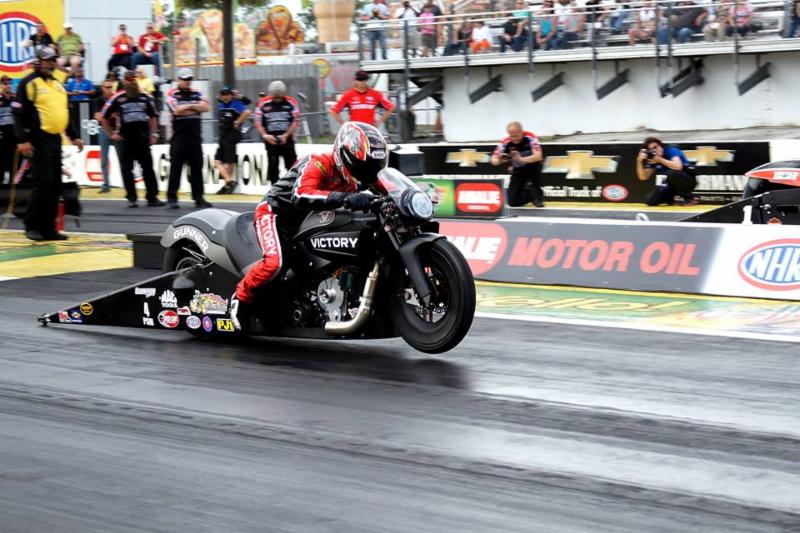 "To me that's the last real barrier in drag racing and whoever does it will get a lot of acclaim," said Lewis Bloom, a NHRA TV host since 2001, who started announcing drag races in 1974.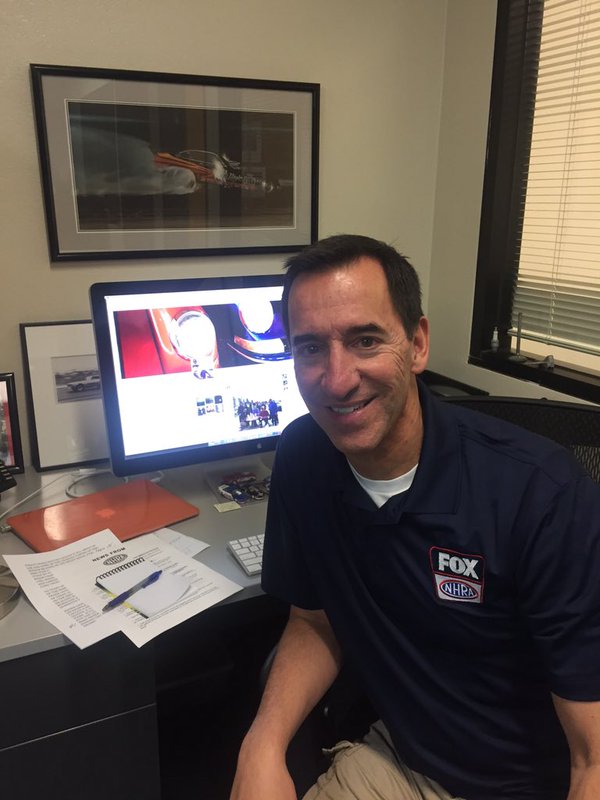 National Dragster senior editor Kevin McKenna added, "It appears likely it will be broken and there are perhaps as many as a half-dozen riders with the ability to do it. They just need the right conditions."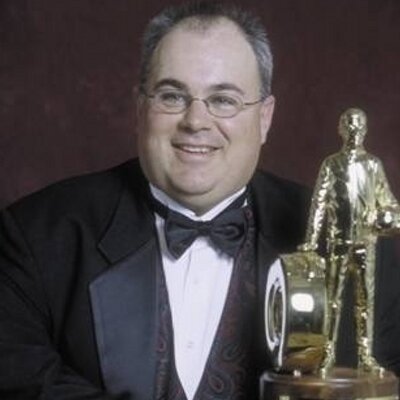 Kepner believes the much-anticipated speed barrier could prompt class changes.
"NHRA does not want those bikes over 200 mph. It is a real life speed limit and once somebody goes that fast there will be rule changes," Kepner said. "The rules are set up right now that the only way it could happen is at Gainesville in 500-foot below air. It's neat it has remained an unattainable goal."
Chip Ellis, who started drag racing in 1989 on a Kawasaki 600, has been with four different NHRA PSM teams. He came painfully close to being the first to break the six-second barrier and does not want to miss 200 mph.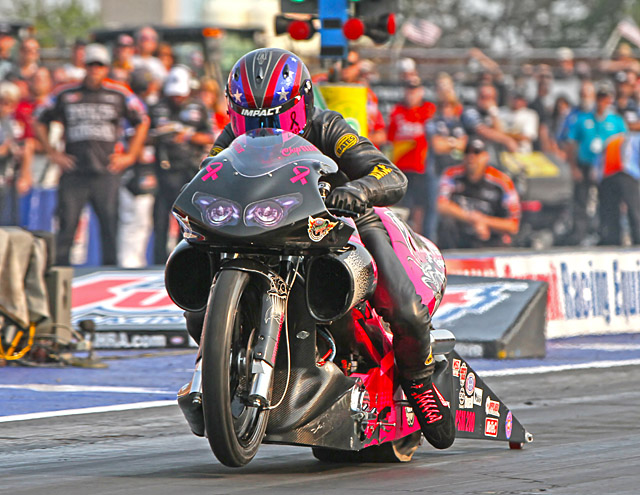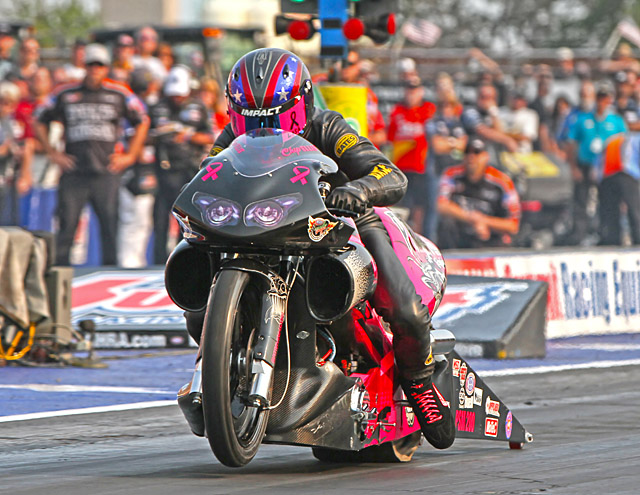 "My bike didn't shift into high gear or we would have been the first six. (Andrew Hines ran the first six moments later) We were the second in the sixes at Chicago in 2005. I don't want to be the second to 200 mph," Ellis said.
Ellis is not afraid of big speeds. Along with legendary racer Steve Rice, he won an AMA Prostar Funny bike Championship on a turbo-charged, big-tire bike that he went 6.59 at 229 mph on. Less than 13 years later Ellis is nearly as quick on his Junior Pippin Pro Stock Buell at 6.76.
"It shows you how far technology has come," Ellis said.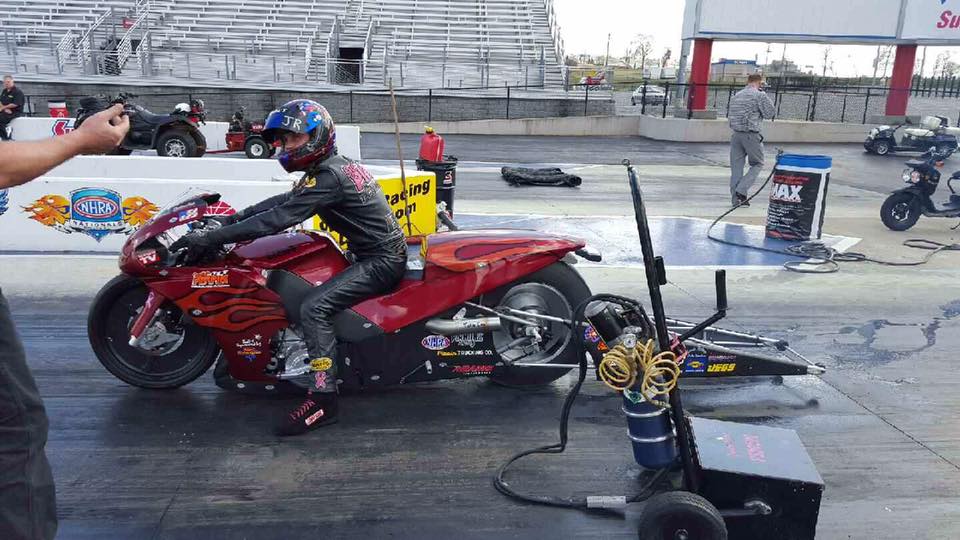 Today's marvels of two-wheel engineering are constantly improving and evolving.
"It was street bikes and homemade wheelie bars. Now it's all-billet motors and electronic fuel injection," said three-time NHRA tour winner Michael Ray, who will return to the class full-time this season with UPI Performance and Matt Smith Racing. "It makes it tougher than ever. If you get an invitation to the banquet at the end of the year and a top-10 number, you have really earned it."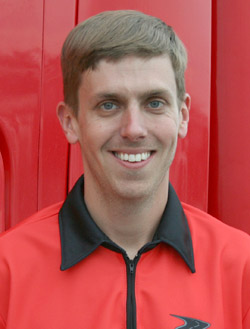 No team has been more dominant in the class than Vance & Hines. The legendary Terry Vance and Byron Hines rose to worldwide fame through their early racing efforts. With riders Matt and Andrew Hines– brothers– and Eddie Krawiec, the team has captured more than a third of the championships with 11. Not to mention Vance & Hines has built the motors of several other winners and champions.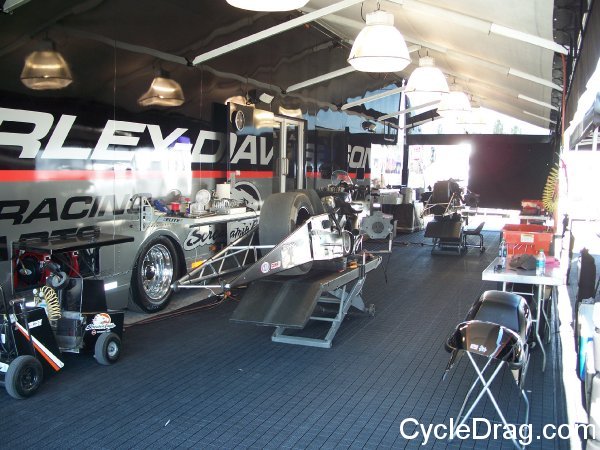 Andrew Hines ushered in the era of the Harley-Davidson V-Rod when he won his first title in 2004, snapping Suzuki's long reign of dominance. In 2015 Andrew Hines captured his fifth title.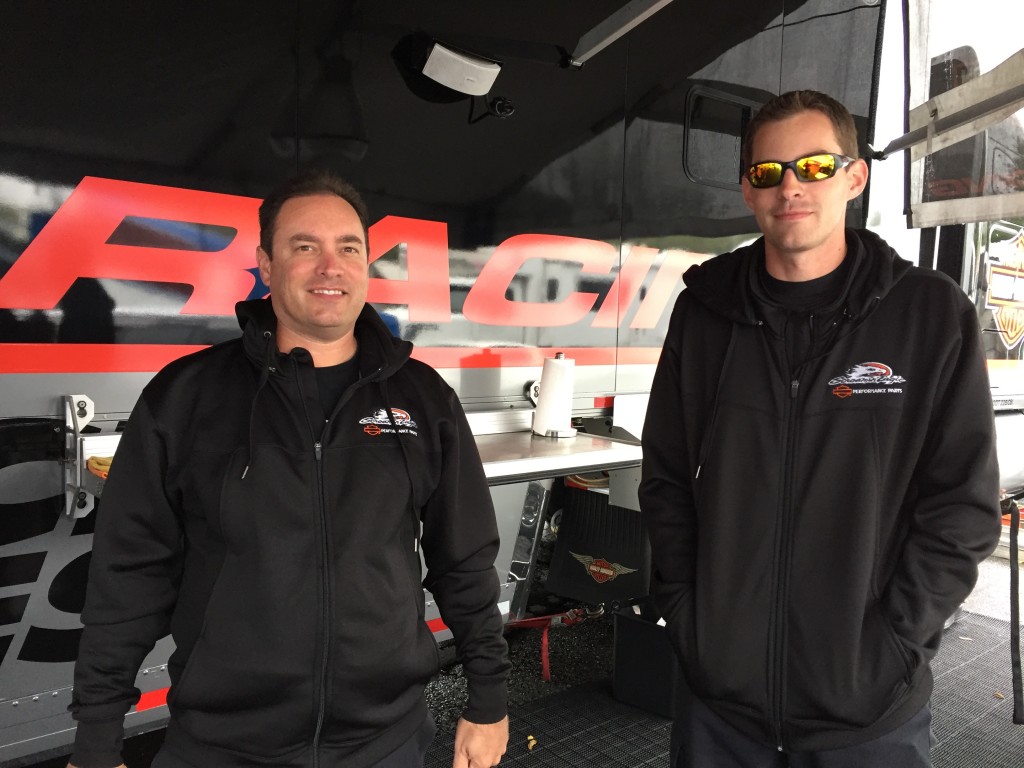 "It's nice to be the points leader, leading after the first race. It takes a little pressure off. You know, the first — the hardest win to get is the first one of the season it seems like," Hines said in regard to the 2016 season.
Not far behind Hines last season was his teammate Eddie Krawiec, a three-time series champion in his own right. Krawiec, the former track manager of Old Bridge Raceway Park in Englishtown, N.J., has followed the class for a long time, getting his start on a self-funded Suzuki in 2004. In 2003 the late Brian Schultz, son of class legend Dave Schultz, rode Krawiec's bike.
Krawiec says a lot has changed in just the past decade.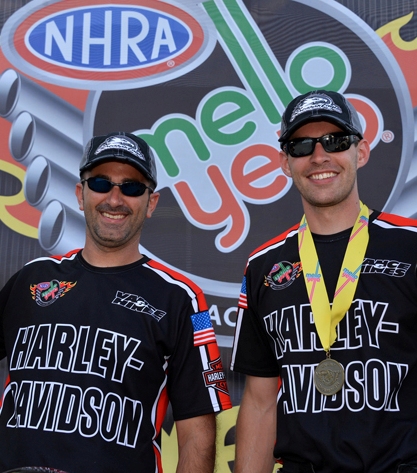 "You always knew who the top ten racers were going to be. And the ones who couldn't make it to every race would be fighting for the 11 and 12 spots. Now there are so many great motorcycles, you can't set anything. When there are just thousandths of a second separating the pack, anything can happen," Krawiec said. "The class has grown by leaps and bounds in the past five years just in elapsed time (E.T.). The level of competition is at a point that it's never been. There are no gimme rounds. You can't plot out the ladders like you used to."
As an employee of Vance & Hines, Krawiec has a hands-on approach to the development of many of the Suzukis in the class as well. He's impressed with the current parity.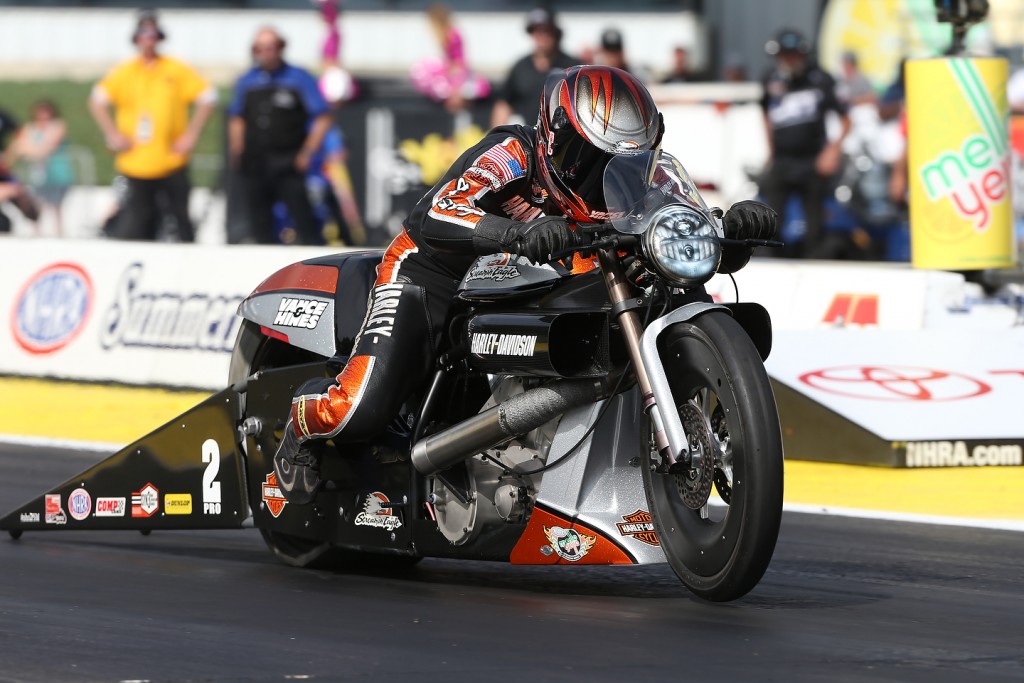 "I still believe the Suzuki is the dominant bike right now. I think it is the package to have. There is nothing more exciting than getting to see the stuff you work on go out there and kick butt," said Krawiec. "On the other side I think you will see some gains on the V-twin stuff too. It's only been out since 2002, so it's still being developed. The Suzuki has been out there since 1985. It's impressive that the Suzuki put out a motor more than 30 years ago that is still competitive right to this point."
Much has changed on the Harley-Davidson V-Rod since Vance & Hines debuted it with rider G.T. Tonglet at the 2002 Gatornationals.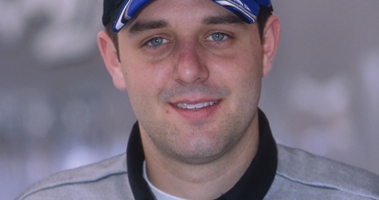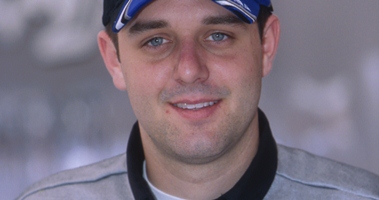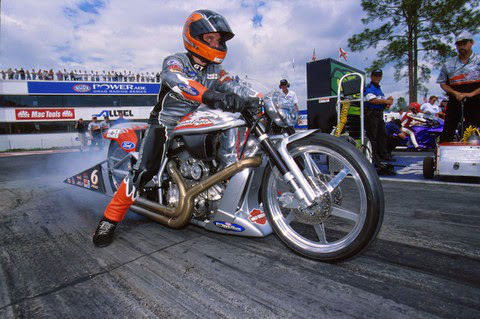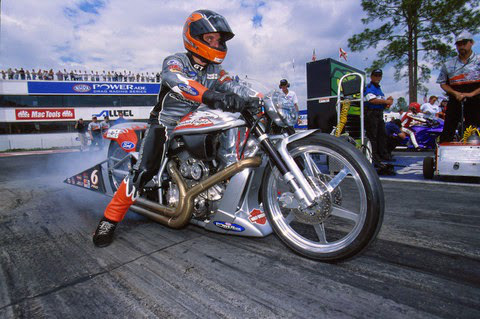 "It's made leaps and bounds. I remember the first pass we went 7.55 and it felt like it couldn't get out of its own way," said Tonglet, who won three races on the V-Rod from 02-06. "Byron (Hines) is one of the smartest men in the world when it comes to motorcycle drag racing and he made that program what it was today."
2002 NHRA Gatornationals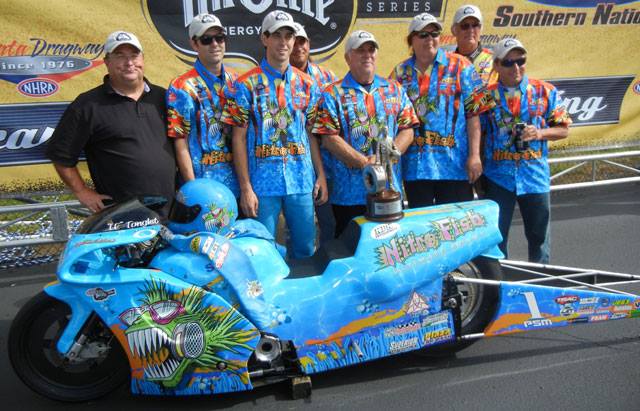 Now G.T. helps his younger brother and 2010 Pro Stock Motorcycle champion L.E., who will again campaign his Nitro Fish Suzuki. L.E. is the only racer since 2004 to win a championship on a Suzuki in a class the respected manufacturer once dominated.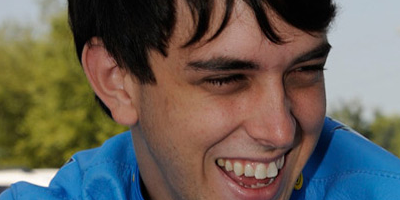 "All the stars aligned that season. It would be great to do it again," L.E. Tonglet said. "It's still very possible to win a title on a Suzuki."
Prior to Tonglet's championship run, the last team to win a championship on an inline four-cylinder, was one assembled by Trim-Tex Drywall Products president and longtime motorcycle drag racer Joe Koenig.
Koenig nearly became the first to put a Pro Stock Motorcycle in the sixes, setting a record of 7.02 in AMA Prostar in 2002, thus earning the nickname "7.0" Joe Koenig.
In late 2002 Koenig drafted his dream team by hiring class journeyman Scali, known for great driving skills, and longtime Fast by Gast crew chief Earl DeGlopper. At the final race, the Trim-Tex Drywall Products Suzuki held off Sampey by 78 points to win the title.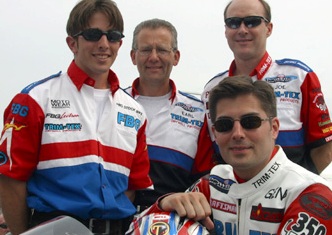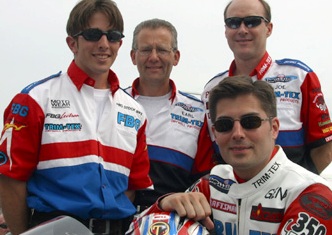 "Anyone who thinks it's easy to win a championship has no idea," said Koenig, who has gone on to win sports car championships as well. "We put everything we had into it. It was a total commitment. Geno left his job as a successful Lexus salesman, Earl left Fast by Gast, and I took myself off the bike to put every resource I had into helping the team. It look a lot of hard work and dedication by a lot of talented people, many of them from Trim-Tex."
2003 NHRA Gatornationals
Also in 2003, inspirational, double-amputee Reggie Showers pulled off one of the most remarkable feats not only in the class, but in all of motorsports when he won the NHRA's most illustrious race, the U.S. Nationals from Indianapolis, Ind.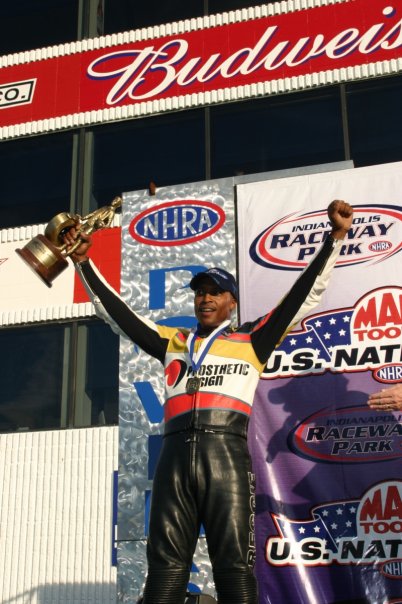 Bill Stephens, an automotive TV host/commentator who worked with the NHRA from 1994-2014 recognizes the importance of the brand rivalry.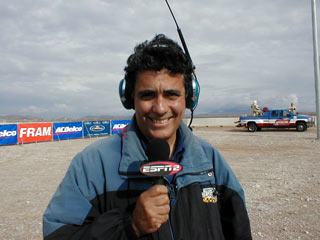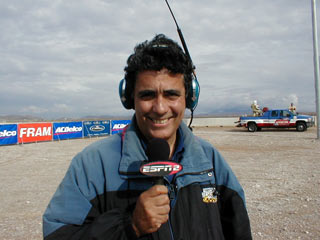 "The fast Asian street bike culture seemed to come into its own in the 1980s and it seemed to translate well to the drag strip and people who rode. It drove the engine of Pro Stock motorcycle," Stephens said. "The emergence of the Vance & Hines Harley-Davidson V-Rods and the Buells were big factors in the growth and popularity of the class."
The closest machine to catching Hines and Krawiec last year was the Suzuki of Jerry Savoie, who entered the final race still in championship contention.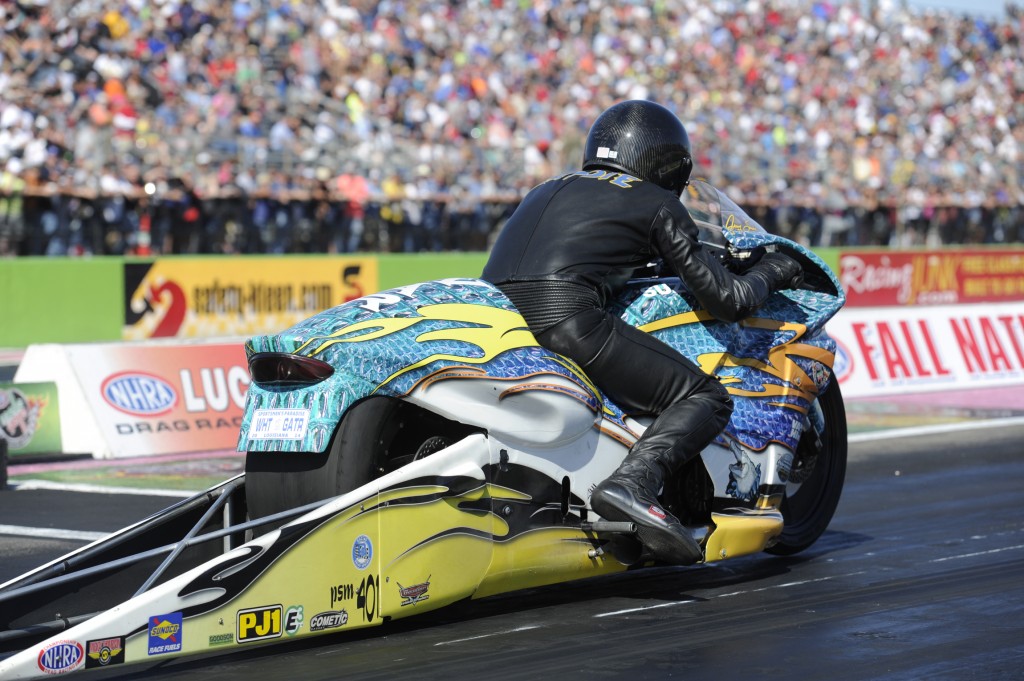 "We had enough horsepower to win. Missing the championship did not bother me because I have never been that close in my career. Just being in it was enough. Now I'm going to be hungry for it this year," said Savoie, a four-time NHRA winner who is a customer and a competitor of Vance & Hines. "I had never run Vance & Hines before and from the outside looking in I always heard some guys complain saying they were not getting the power. Well I have my own dyno and I can tell you those guys are not playing those games. I don't feel any negativity whatsoever. I feel like we are getting the power it takes to win a championship. Anytime we want to try something new, they are always willing to help us. It says a lot about their character. When they had the four-valve Harleys they were making a lot of power. Now they are struggling just like us to stay ahead of the game."
Since making his debut in 2011, Savoie has been a force in the class. He says the team put in a lot work over the off-season on engine combinations and aerodynamics.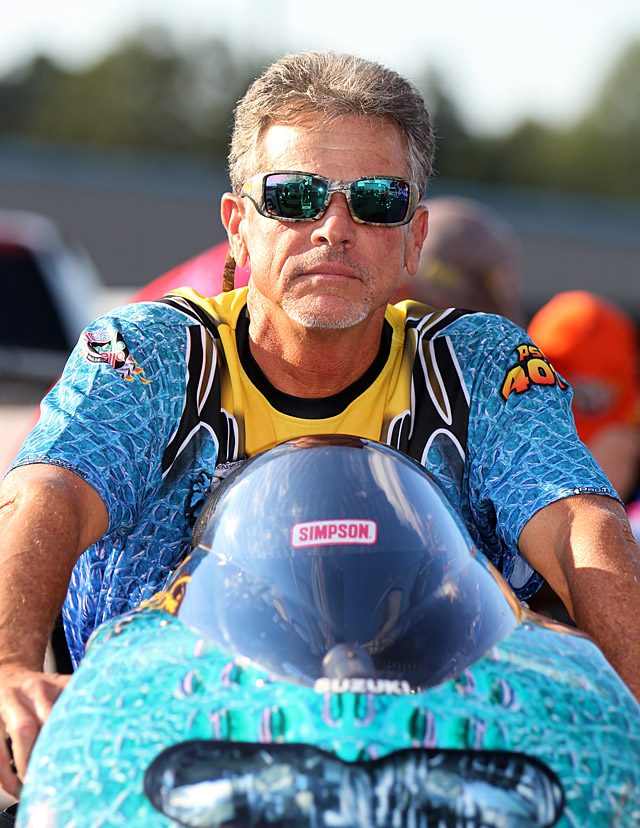 "Tim (Kulungian, crew chief) did not take one day off the entire winter and it shows. The guys who work hard are the ones who come out and shine," said Savoie, who is very encouraged with the progress his team has made learning the new electronic fuel injection system in three years. "The fuel injection gives you the opportunity to do so many other things, how much fuel in between gears, top of the gear or bottom of the gear, you can give it what it wants if you find it, but good luck finding it. We are going to do the best we can."
Savoie's effort got plenty of peoples' attention last year.
"I'm very impressed at Savoie's 6.74 pass in Dallas. It was not mine-shaft Maple Grove. It was warm," Bloom said. "It was one of the most amazing runs I saw all last year and one of the best moments of the season. I put it right up there with all the three-second Funny Car runs."
Star Racing's George Bryce is a six-time class champion as a team owner and was also a competitor himself.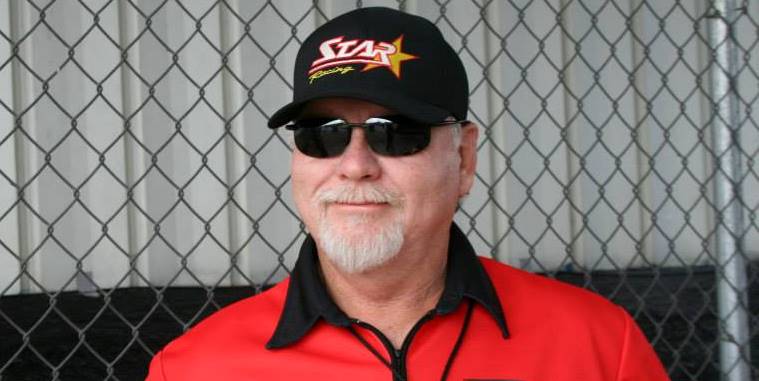 "Just winning a race now is almost like winning a championship back then," Bryce said.
Bryce says the way the motorcycle class is valued by the NHRA has increased just as greatly as the E.T.s the machines run.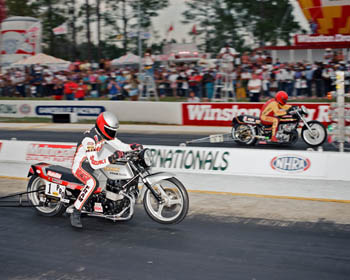 "When we first started racing we never knew when we would qualify. We would just sit in the lanes and wait for something to change in the schedule. We would all put our gloves and helmets on and the guy working in the lanes would point to Stock or Super Stock instead and we would all take our helmets back off and sit there some more," said Bryce, who captured his first Pro Stock Motorcycle win in Ennis, Texas in 1987. "What's great today is every time John Force and the nitro guys go to the lanes, we go with them and we have exactly the same amount of time on the track as they do. We run right when we are supposed to."
Bryce points to television coverage as something that took Pro Stock Motorcycle and the number of people who wanted to get involved to new heights.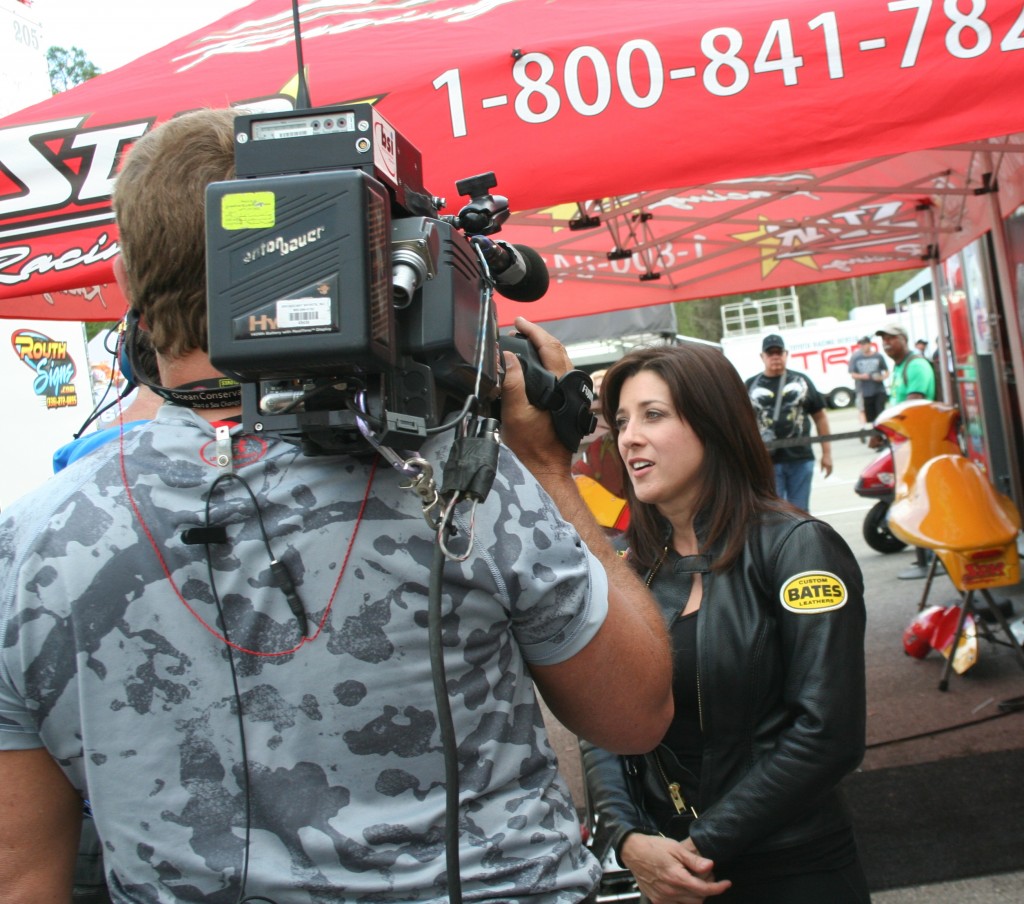 "It is a pinnacle class for motorcycle drag racing and is looked at by the entire world," Bryce said. "I believe having the Fox Sports 1 TV package will make our class grow even more than it ever has. Racers are going to get more exposure than ever."
It was announced throughout the first two races with Fox Sports 1, following decades with ESPN, NHRA's TV audience grew by about 300-thousand people.
Ken Adelson, vice president and executive producer for the new FS1 TV show said, "We think Pro Stock Motorcycles are an incredibly important part of the sport and we want to give them the attention they deserve. Motorcycles are a key part."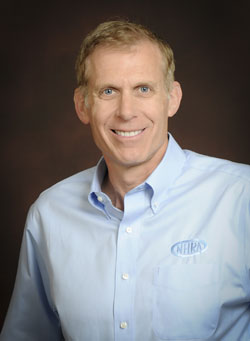 Adelson has more than 30 years of television experience, which includes working as a sportscaster and working with the NBA.
"We want to take people inside the sport. I think you will get to know more about the riders themselves. We will learn more about the bikes and how they work," Adelson said. "The fans can probably relate to motorcycles maybe more easily than anything because so many people ride them. I think we can connect with a lot of people who will appreciate these kinds of speeds."
The nation's quickest motorcycle drag racer at 5.74, Top Fuel legend Larry "Spiderman" McBride is a big fan of the class and watches the television coverage whenever he is not working on his nitro bike.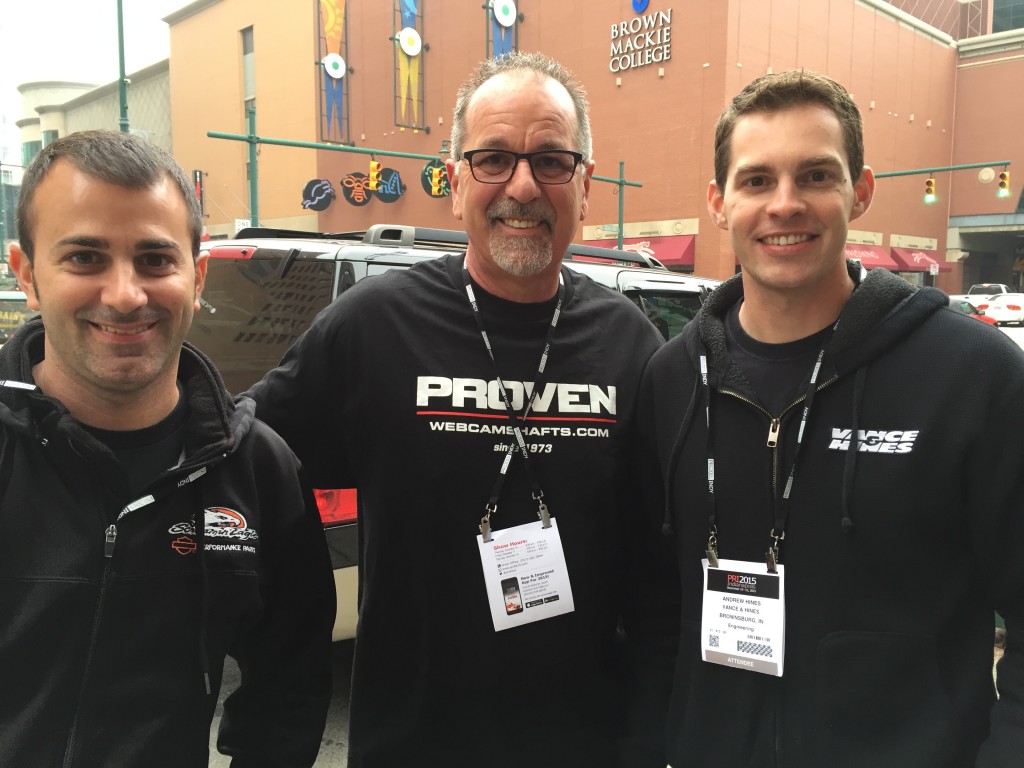 "I think the new Fox Sports TV coverage is great for the class," McBride said. "I'll be watching for sure."
Bryce agrees.
Bryce also says it's hard to measure exactly how much more popular PSM racing is today.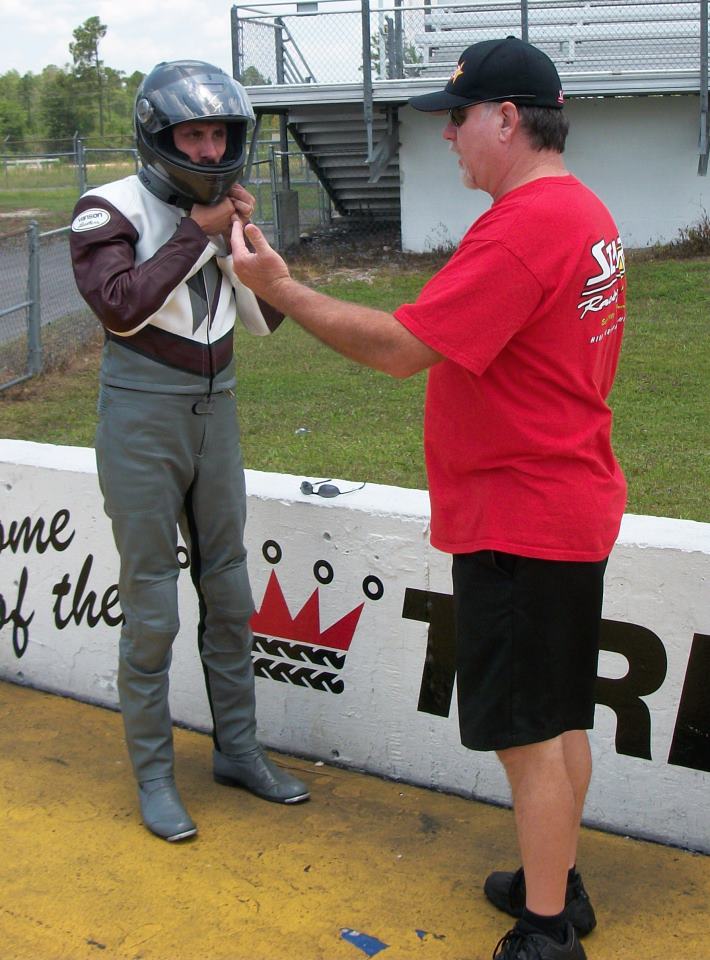 "We didn't have Facebook or Twitter back then. Today it's easy to see people aspiring to it. People want a Pro Stock Motorcycle license," Bryce said. "Pro Street and the sport bikes are very popular now, but I can tell you the majority of those people would love to race NHRA and that's just the bottom line."
Three-time NHRA world champion Angelle Sampey is perhaps the most famous rider in the history of the class. In 2001 she surpassed Shirley Muldowney to become the NHRA's winningest female driver. After finishing in the top five for 12 consecutive seasons, Sampey took a hiatus in 2008.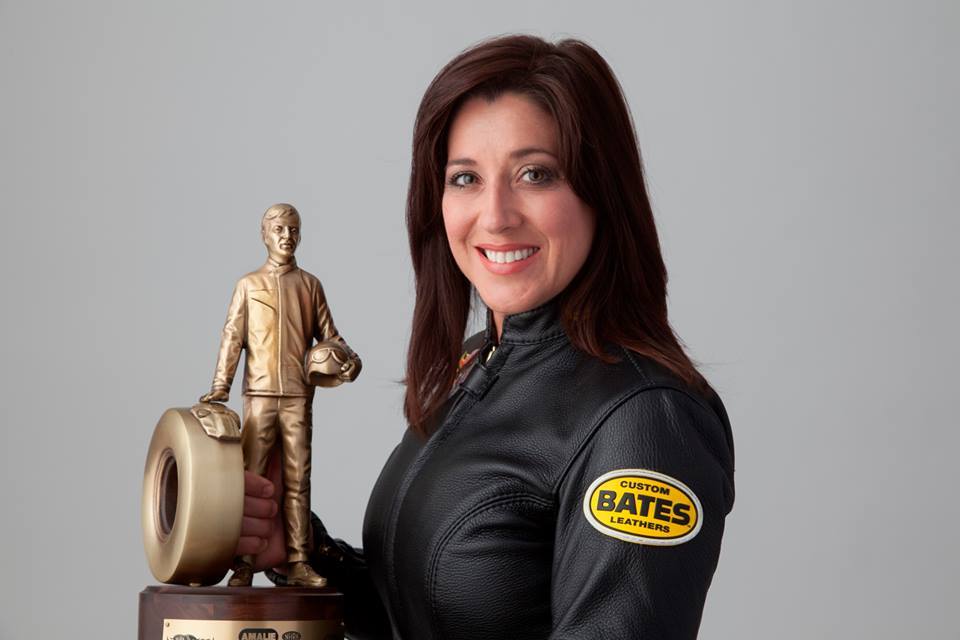 Sampey is extremely driven to capture her long-awaited fourth title and says her mindset has changed a great deal over the years.
"I want to win as bad as I ever did but it's different. Before my retirement I couldn't breathe if I didn't win. It was everything. Now I have so much that's good at home," said Sampey, happily married, a mother and a business owner. "This time I'm having a lot more fun. I want to win and share it with my family."
Sampey has also seen the class change greatly since her pro debut in Denver in 1996.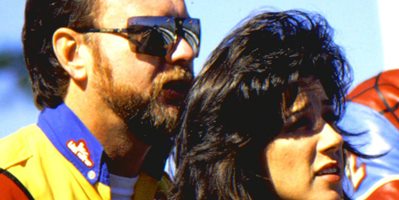 "When I first started racing it seemed like only a few people could win. Now anybody, at any given time, can win a race. You have to do everything right, every round," Sampey said. "When I started first round was easy. I mean you really had to mess up to lose first round. Now first round is just about equivalent to a final. It used to be a ridiculous thought to think we would not qualify. Nowadays my goal is to just get in, and get in the top-half of the field."
Like she did for much of her career, Sampey will race with a teammate this season.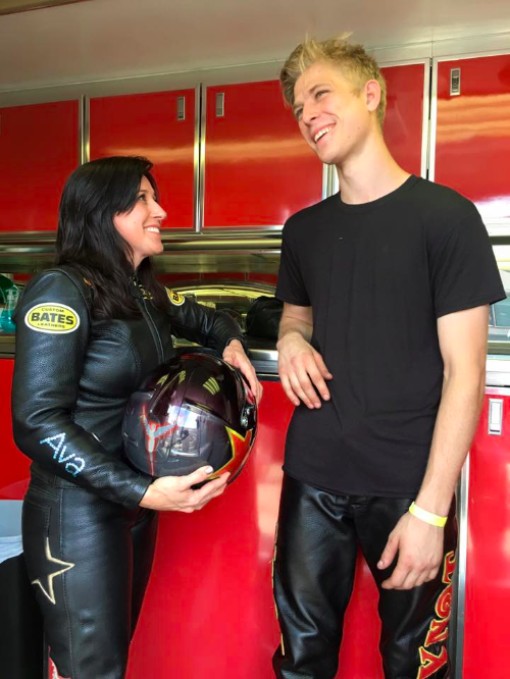 "We are going to have a lot of advantages with a two-bike team. Cory (Reed) is a rookie, but he does not act or drive like one. Having a teammate makes it fun and easy. I always loved my years with John (Myers) and Antron (Brown) and Cory is so similar to both of those men," Sampey said. "We are going to help each other go rounds."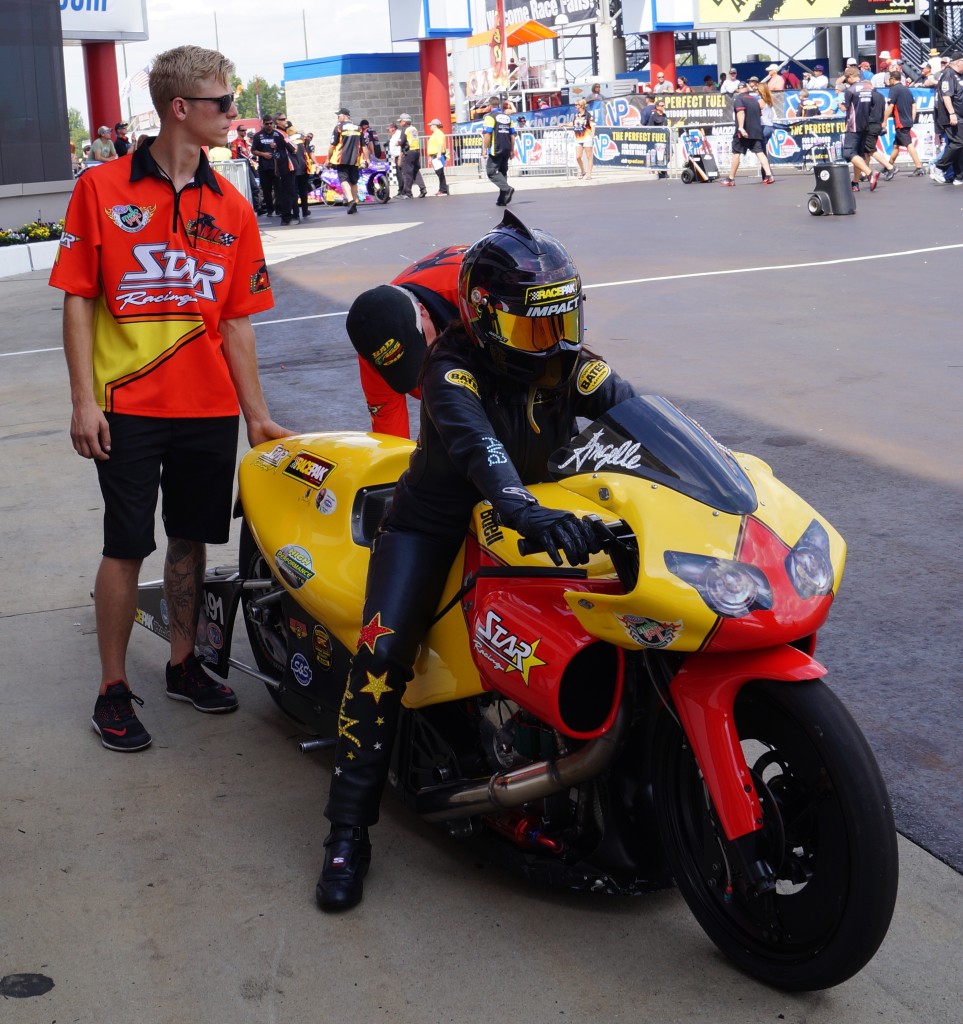 Sampey was uncomfortable and felt like she struggled on her motorcycle last year. She's excited Star Racing has custom made one to fit her petite stature.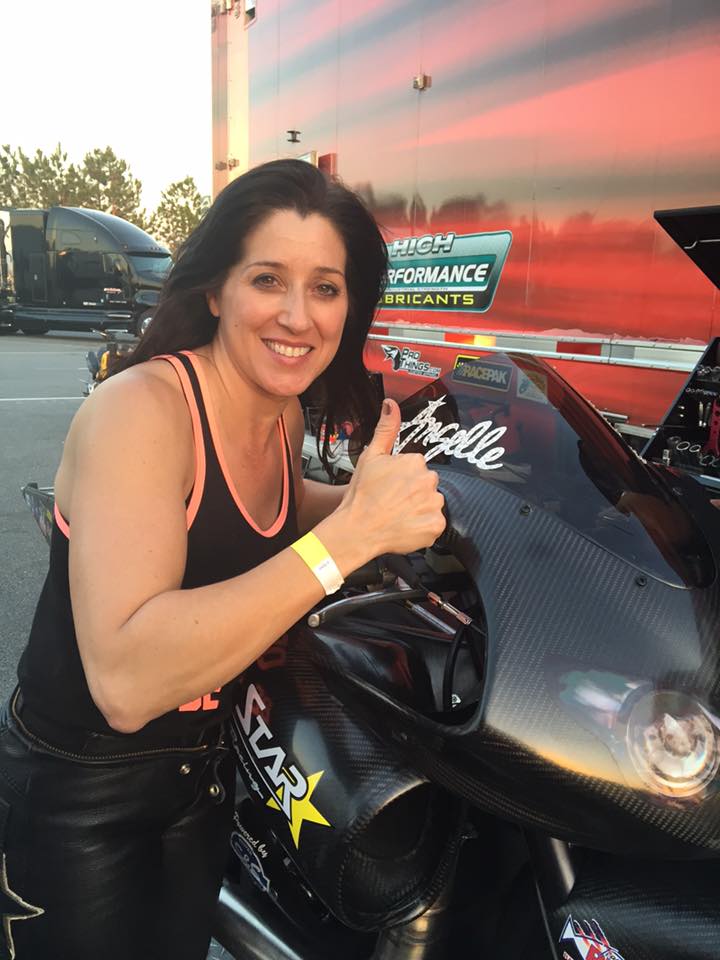 "George says it's a little condensed, compact version for his Cajun rocket," laughed Sampey.
Angelle's first burnout on her new bike.
Angelle goes 6.86 on very first pass on new bike.
Sampey is also excited Jim and Annie Whiteley, Reed's parents, of Precision Service Equipment, LLC have come on as a major sponsor.
"I'm extremely appreciative. They have given us a great rider in Cory and they are giving us the opportunity win more races," Sampey said.
A true motorcycle talent, Reed, a former motocross and professional Arenacross racer who grew tired of the serious injuries that came along with the massive jumps, is steadfast for a new venture which, although involves much faster speeds, is a sport Reed deems much safer.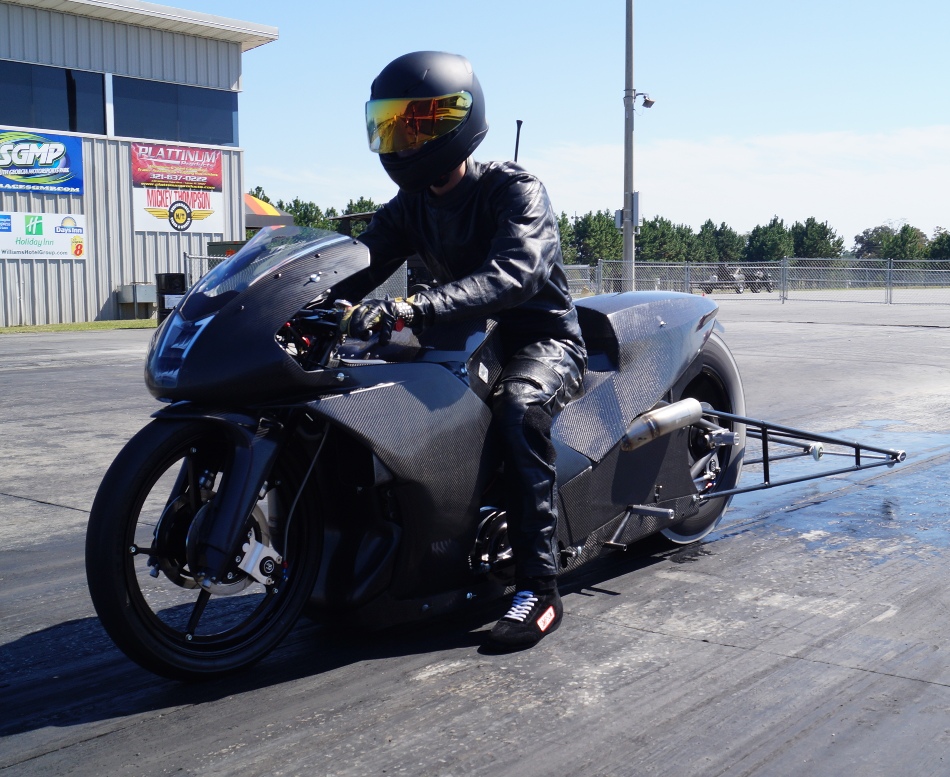 "There are not 40 other guys going after you, banging into you. You are not competing with anyone for the same corner," Reed said. "I learned so much from dirtbikes. For six years I rode six times a week, every week, unless I was hurt. The bike skills in general are helping me in Pro Stock. It is certainly just as competitive in its own way. The sixty-foot has been the biggest challenge to learn."
Cory Reed testing.
Reed is eager to make his mark in the sport just as he did in the dirt.
"I think I have the best teachers with Star Racing," said Reed, who finished in the top-five at several amateur motocross nationals. "My goal is to qualify in the top-half at every race and get past first round. With dirtbikes, I developed a mindset that taught me to be calm. I think that will help. I have a lot to learn but I'm optimistic."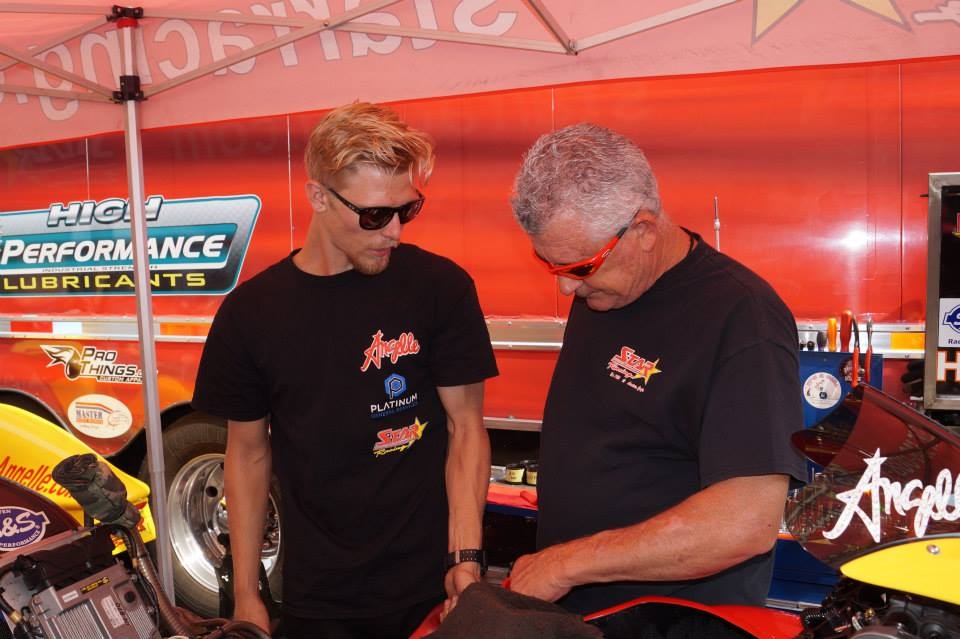 Nobody has made more Pro Stock Motorcycle passes than veteran Steve Johnson of Birmingham, Ala. Johnson's quirks and eccentricities make him one of the most entertaining characters in the sport. From entering the very first Pro Stock Motorcycle race by air-freighting his bike to the track and pitting out of crate, to 29 seasons of memorable interviews, Johnson has stood out.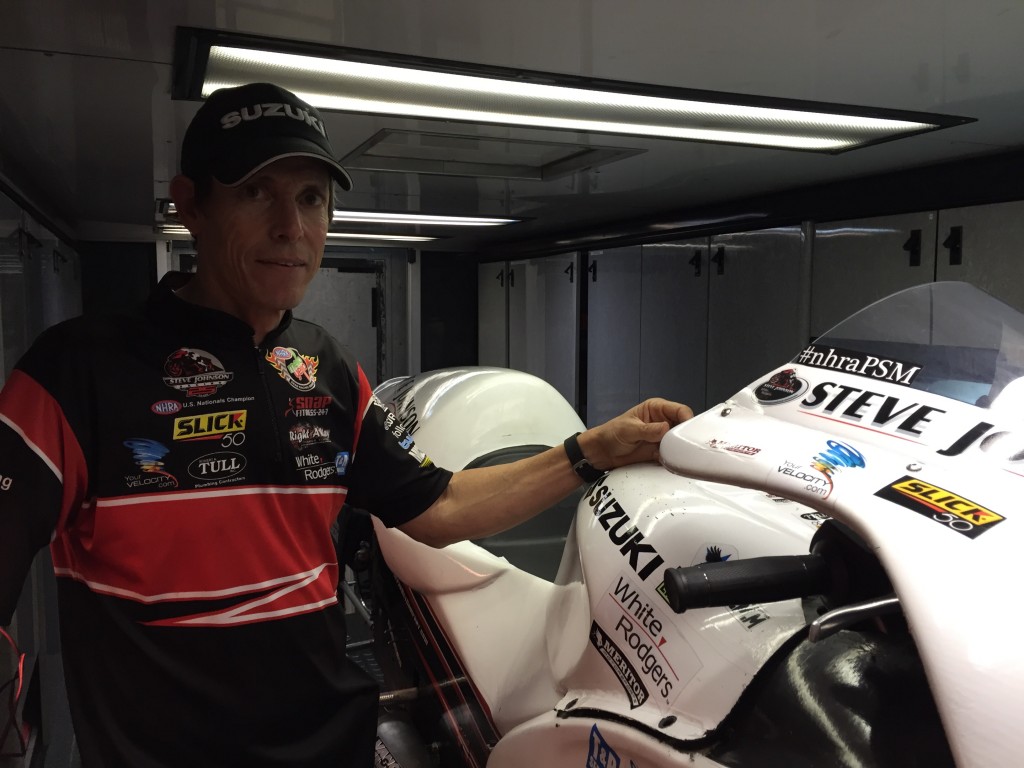 "Over and above we are entertainers. A million dollars is worth nothing if you can't share it with people. Being shy and introverted is the furthest thing from my mind," Johnson said. "If I qualify No. 1, I promise to deliver a rap song based around that weekend's qualifying performance. I did that in Englishtown a while back."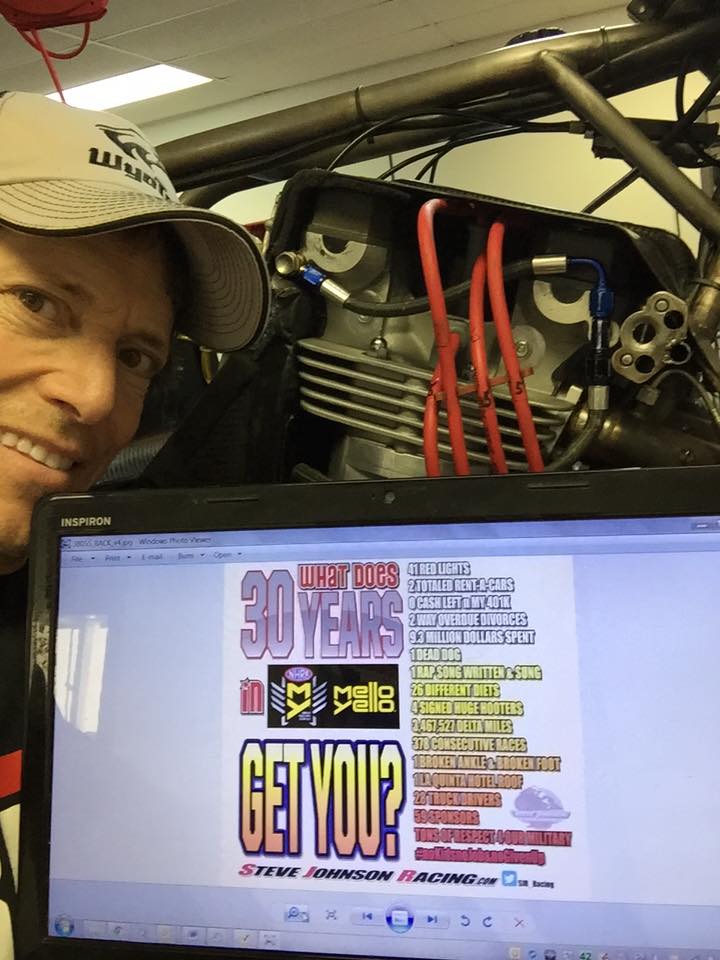 Johnson has also been a great ambassador of the class, once representing it in an organization called Pro2.
"I love to let people see what we are doing and tell them about a $40,000 engine, that makes about 400 horsepower," Johnson said. "I like to let them understand that it costs anywhere from $150,000 to $750,000 to run a motorcycle competitively."
Johnson credits a 10-year partnership with Slick 50 early in his career for teaching him the business side of the sport.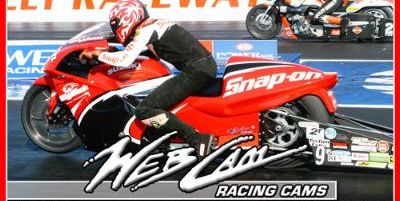 "I was in their meetings and involved in their sales and marketing," Johnson said. "I was so fortunate to learn to learn a lot of stuff from very smart people. Dale Earnhardt taught me how to invest in my diecast."
Johnson had a major sponsorship with K&N from 2002-2004 and Snap-On and WyoTech from 2006-2010. He's currently seeking another partner.
"Right now we are extremely financially challenged. We need to work smart and work hard," said Johnson, who opted not to spend on preseason testing. "I'm looking at the big picture. People have no idea what it even takes to keep an 18-wheeler on the road. Vance & Hines and my NASCAR buddies have one guy who is paid to maintain the truck, do the paperwork, the inventory, the maintenance and clean it. It's a full-time job."
Johnson says keeping the truck on the road is just a small part of his duties.
"We rev to 14,000 RPMs on these motorcycles. These engines need to come apart after every race. As good as the Vance & Hines engines are, stuff is going break," Johnson said. "Then you have another whole side of developing relationships. I'm closing in on 3.5 million frequent flyer miles. It's a lot of travel going to appearances, functions and meetings. Throw in bookkeeping and keeping your shop in one piece and it is a lot."
Johnson has remained loyal to Suzuki for his entire career, earning his first win in 2004. Johnson missed the Countdown last year, but has qualified three times and has finished as high as third in the points (1995). It's the quest for a number one plate that has kept him going longer than anyone.
"Larry Dixon is a buddy of mine and he's got three of them damn rings. I'm to the point now where I just want one. Just tell me where I can buy one and I'll go get on with my life. I'll get married and have a kid," joked Johnson. "There is nothing cooler than popping a clutch at 10,000 RPMs, having the front wheel in the air to half-track and trying to steer that motorcycle at almost 200 mph. There is nothing more fun."
Johnson loves what he does and never considered doing something else.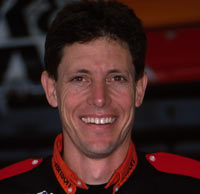 "Really the only other thing I know how to do is cook burgers at McDonald's, and that's a scary thought, smelling like French fries every day," Johnson said.
Two-time series champion Matt Smith, along with his wife Angie, had a productive off-season, announcing multiple new sponsorships, following Smith's fourth place finish in 2015. Smith, son of Pro Stock car legend "Tricky" Rickie Smith, has been dragbike racing since 1996 and got his start in NHRA PSM in 2003 on a rented Shawn Gann Oakley bike. Smith will never forget his first race on a former Paul Gast Suzuki Hayabusa at the Gatornationals in 2004.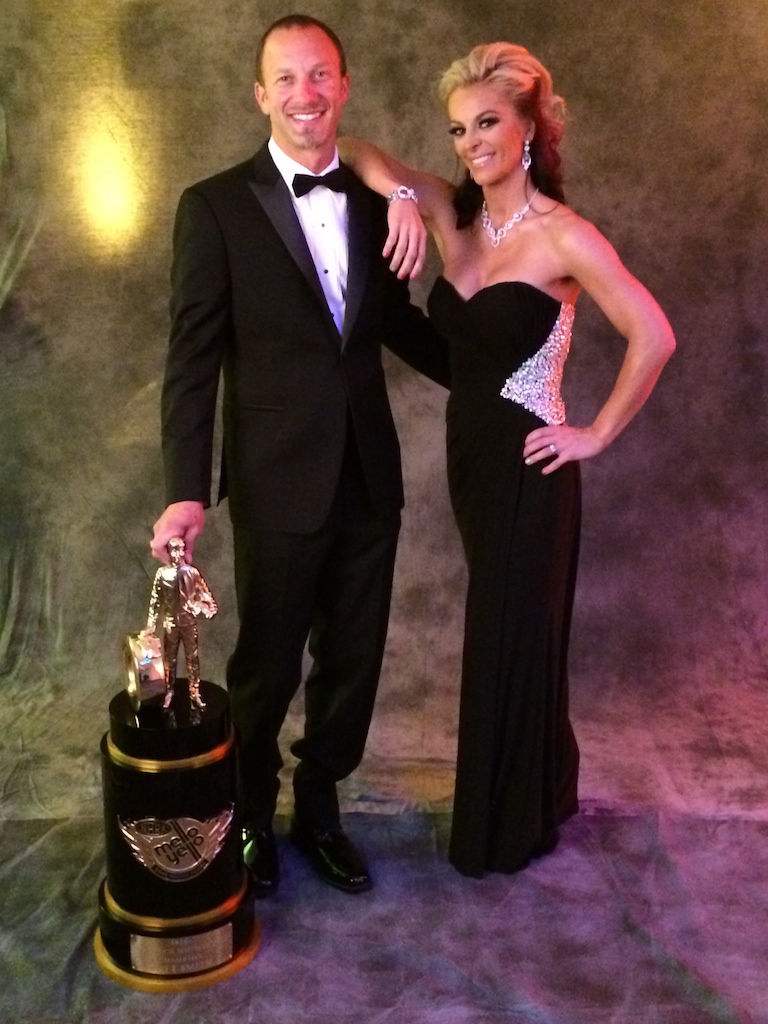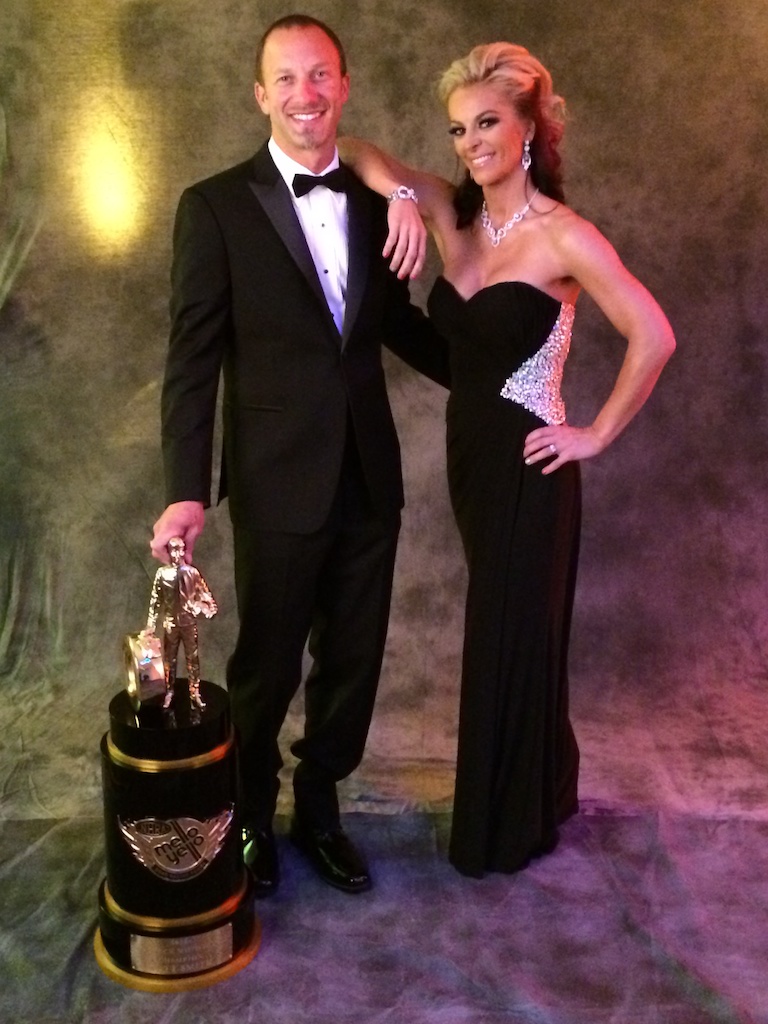 "I qualified 17th and I was devastated," Smith said. "That was the last time I have not qualified."
Smith has found major success crossing over to the V-twin platform. Both of his titles came aboard Buells. A momentous achievement, in 2015 the Smiths introduced a new manufacturer to the class with Victory, a popular American motorcycle company with its final assembly facility in northern Iowa.
Matt Smith Seat Cam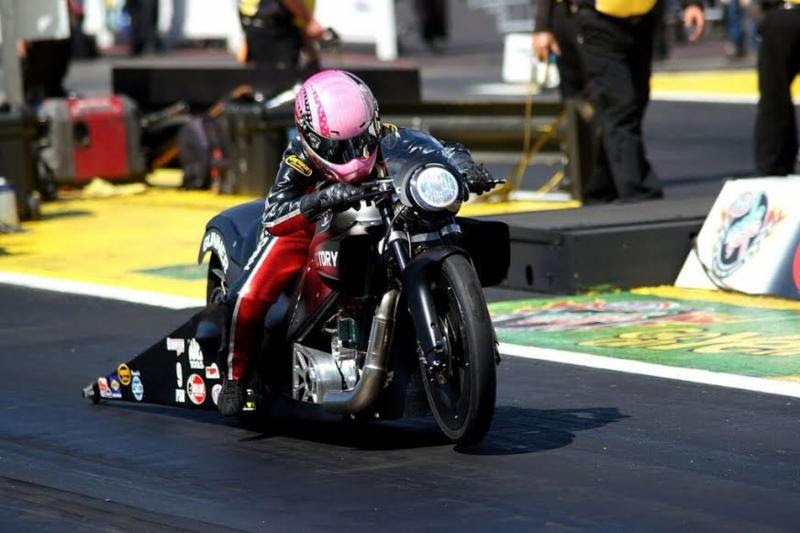 "The V-twins are very unique and very popular. The fans like the noise," Smith said. "It's been a great relationship with Victory. It's been the biggest sponsor in the class of the past two years and it's great to have another manufacturer involved."
Angie Smith is very proud of the sponsorship and was impressed with the way Victory sought out a team to partner with.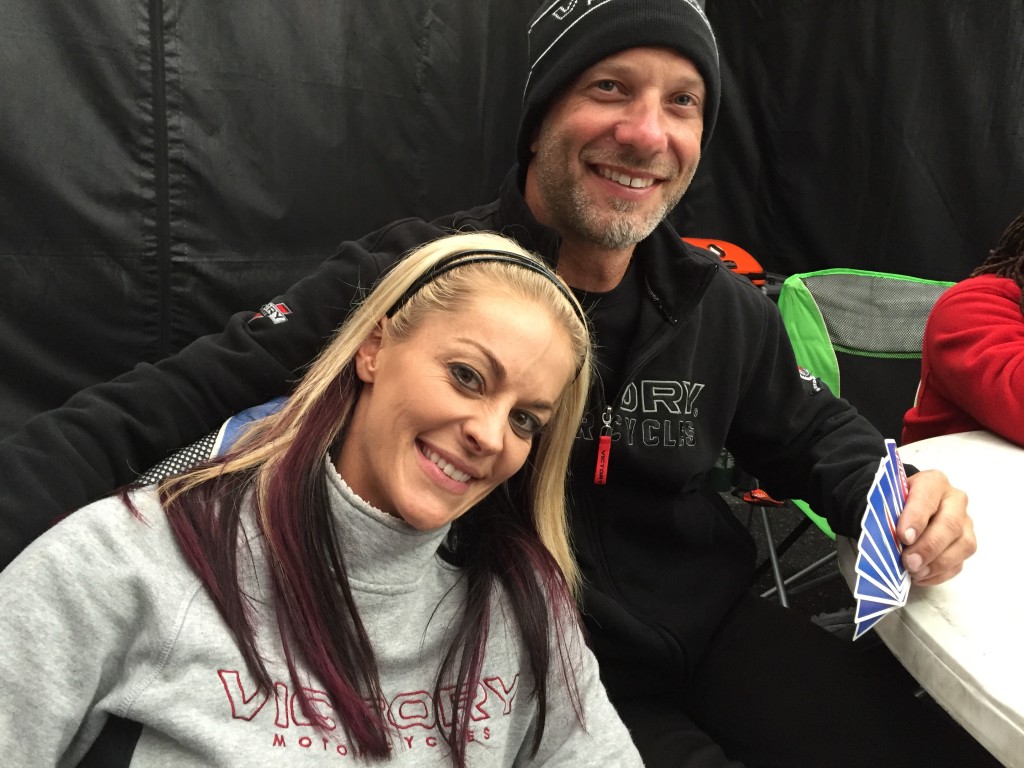 "They interviewed three different teams at the track. Six different people came into our lounge and asked us some great questions. The questions were all spur of the moment with no time to prepare. Questions like, what is most important to you at the racetrack and how would you handle certain situations." Smith said. "They told us they liked our team because it was unique and we worked hard. They were pleased with our first year and I think this year will be even better. We are going to promote their product and help them sell bikes."
Smith said last year presented a challenge in quickly developing the aerodynamics for the new Victory bodywork, which does not include a massive front fairing like what is in use on the Suzukis and the Buells. Smith says the team made great progress this winter.
"We have a little headlight and a little windshield that makes it very difficult. If you take your hand and stick it out the window when you are going 60 mph on the highway it blows it backward. Try doing that at 195 mph," Smith said. "We tested in February and ran really well with our new stuff. I think we can shock some people."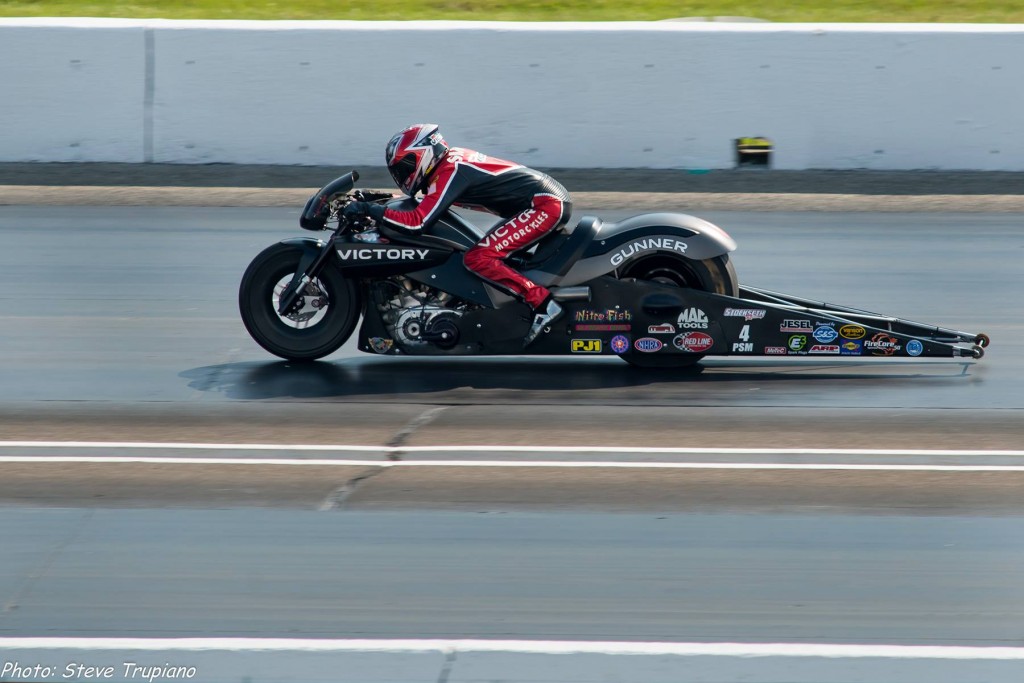 Angie Smith, a former standout in regional motorcycle drag racing circuits like MIROCK (now the IDBL), has seen steady improvement and captured her first win in 2014. As a lifelong fan she has also seen the class steadily improve.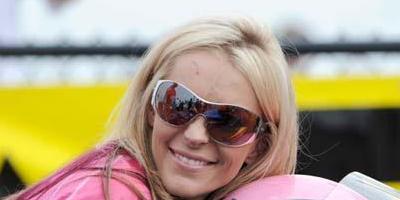 "All you have to do is look at the entry list at the end of last year and the beginning of this year to see how healthy our class is. Alongside Pro Mod we have the most entries out there in a pro category. The motorcycle class is making a huge impact. When you have another respected manufacturer like Victory coming in it speaks volumes for our class."
Smith credited his involvement with Victory and Mark Stockseth, Elite Performance and Lucas Oil, as something that greatly helped the off-season development.
"I've worked night and day since Pomona to get this stuff ready," Smith said. "We have 12 bullets ready to go run."
Some of those bullets will be for Ray and Scotty Pollacheck who will be parked right next to Smith at all the races.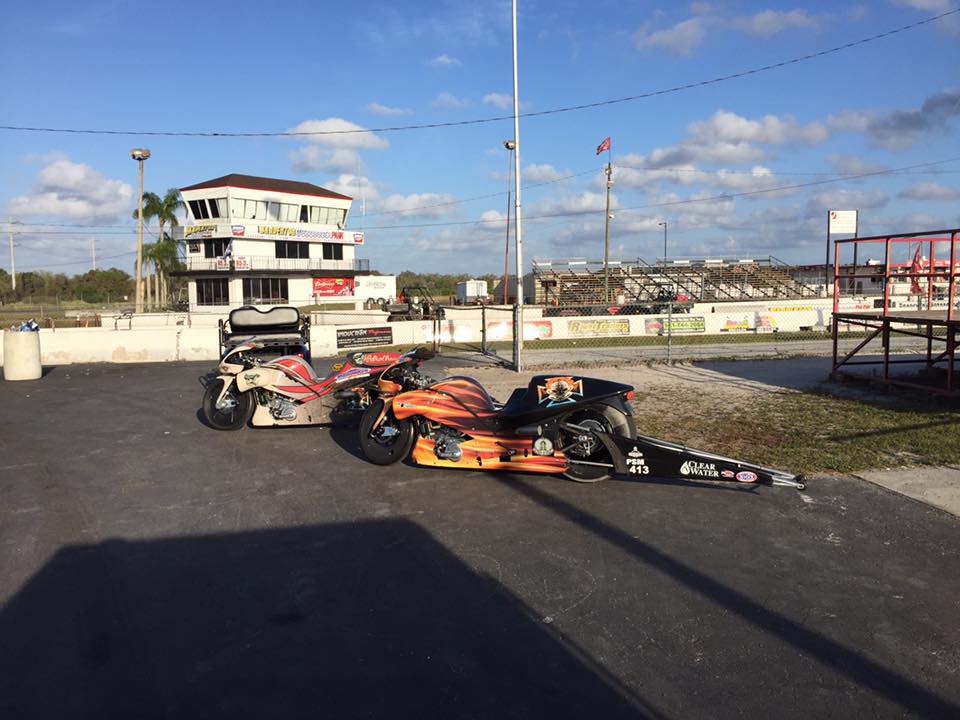 "I told Matt the last time I left the class that I'm not going Pro Stock Motorcycle racing without him. I think he's fair, I like the way he tunes and we communicate well" Ray said. "Scotty and I have our own operation because stuffing four bikes under one awning is just way too much. Matt will come by and check on us and if we need anything, his trailer is our parts warehouse."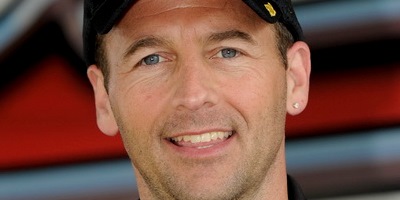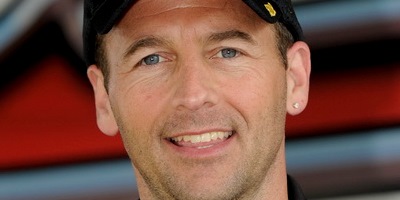 Pollacheck made his debut in 2010. He's been to five final rounds and is hungry for his first win.
"That really drives me. At a race in 2014 I had the quickest bike and a .009 light in the final but the thing wouldn't shift into third gear," said Pollacheck, who has also been a finalist more than once at NHRA's Four Wide Nationals. "I think our new team is awesome. We are all good friends and have raced together a lot. It's a good fit. Petrolhead will be helping us out again."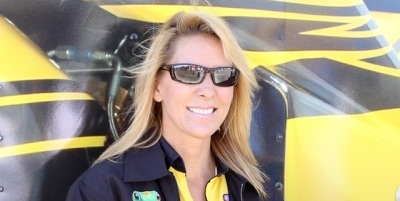 Eight-time event winner Karen Stoffer finds herself in a unique situation in 2016. Stoffer, who made her debut at the U.S. Nationals in 2002, raced under the banner of major sponsor GEICO from 2004 to 2012. Stoffer has watched the marketing side of the sport constantly evolve.
"In racing you periodically change who your partners are. NHRA went from cigarettes and beer to sports drinks and motor oil" said Stoffer, who never gave up her full-time job as a GE technology process expert. "The demographics of the NHRA fan base are changing and I think what NHRA is doing is changing with them. I am one who likes change. With GEICO we had a great deal, and now we are trying to get another one."
Stoffer and her team's love for PSM has driven it back into the class with associate sponsors including, Big St. Charles Motorsports, a respected dealership out of St. Louis.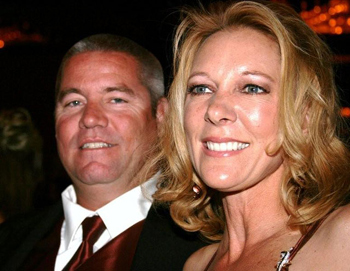 The biggest challenge her team faces this year is competing with just one engine – adversity the team thrived on last season.
"Dirty Harry did us great last year," Stoffer said of the Vance & Hines-built Suzuki GS-based motor. "I think there is something to be said for going out there and racing with what you have and racing smart."
Karen's husband and crew chief Gary Stoffer, has had to change his game plan quite a bit since the days of having five engines at his disposal with GEICO.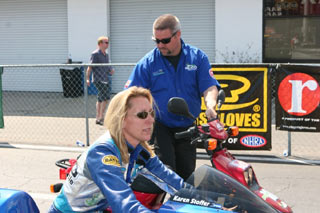 "I'll play it safe but I also want to win. I can't get too crazy with timing because it's all I got," said Gary Stoffer of the $40,000 dollar engine. "I always had a favorite engine with the GEICO bike and I kept it."
The team says catastrophic engine failure is the only scenario that could derail its plan to compete at all 16 events.
Also, the Stoffers will again be teaming up with Greg and Jim Underdahl and say they could share motors in an emergency. With Underdahl switching to electronic fuel injection the teams will be able to share more data as well.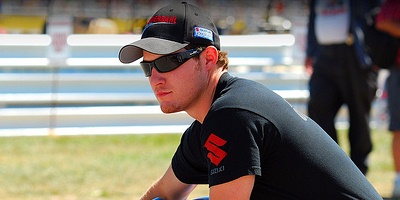 "We had the fuel injection on three years ago but we had to take it off because it had too much weight to it," said Underdahl, who at 150 pounds is one of the category's heaviest riders. "With the new fuel injection system you are able to take quite a bit of the components off and just run one system."
Underdahl says he has been in love with the sport since he was a young boy.
"I remember coming with my dad when I was 10 years old and helping him change clutches," said Underdahl, who helped his father when he was a full-time rider on the tour in the late 90s. "The class is a lot more competitive. I'm confident the Suzuki platform is right there with everyone else."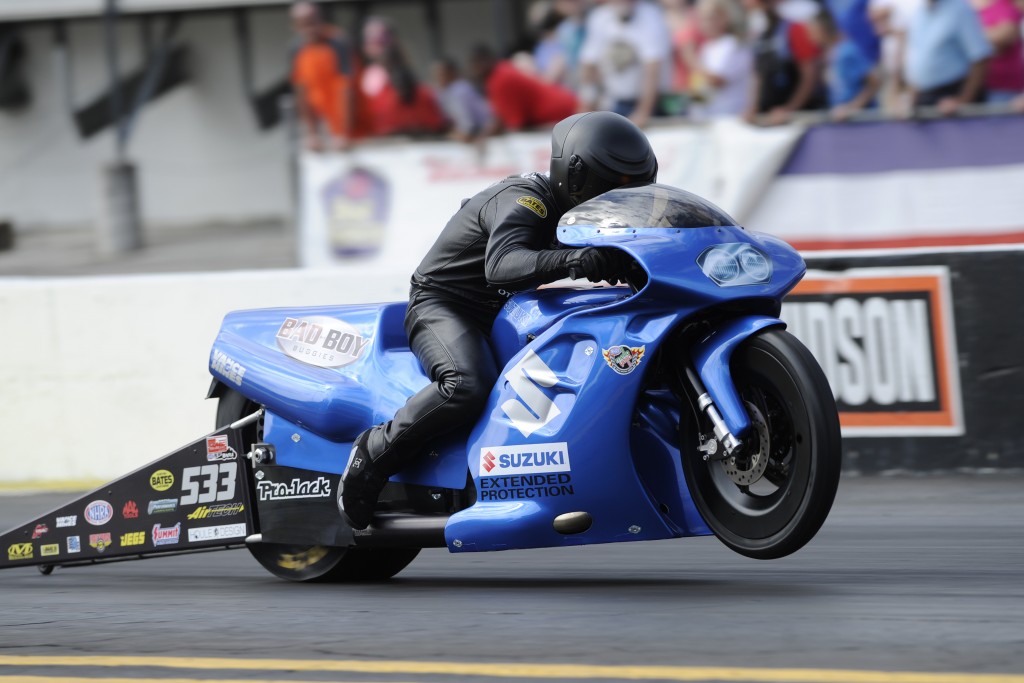 Jim Underdahl testing with his father.
Another talented Suzuki racer, Katie Sullivan now enters her eighth season of PSM racing and points to Stoffer as somebody who inspired her to get involved.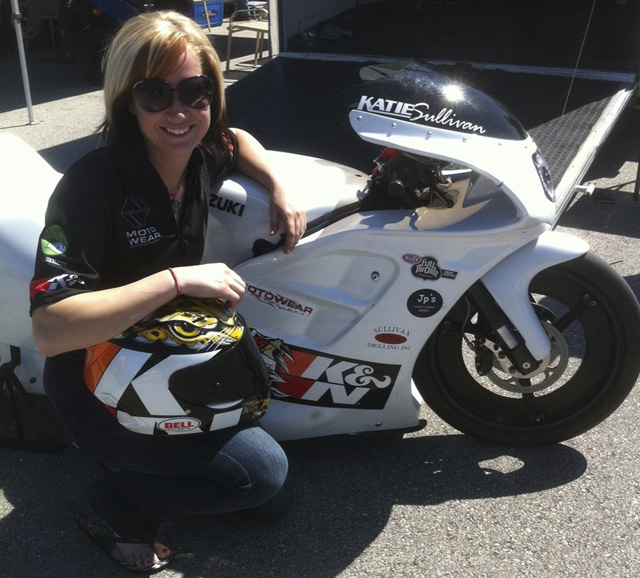 "I idolized her. I remember the first time I met her when I was 16 and bracket racing. I could barely talk to her because I was so starstruck," Sullivan said. "Then my first round very racing Pro Stock Motorcycle was against her. We both went red, but I ended up winning. It was hard for me to believe."
Sullivan knows how difficult it is to find sponsorship. Perhaps her most important deal was one she cut with her father when she was still in high school.
"My dad told me he would pay for me to go to one Pro Stock Motorcycle race. Now here we are eight years later," laughed Sullivan. "The people are what make it so fun."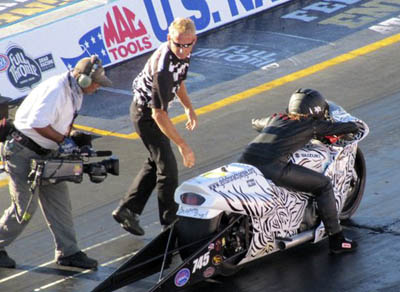 It's a true father-daughter operation, as Sullivan and her dad do all the work between races, getting their motors from Rhett Lougheed of Chino Hills, Calif.
"When you do this out of your own pocket it's mentally challenging to deal with the highs and lows. In 2014 in Vegas we qualified fifth and went to the semifinals. The next race we didn't do well. It's a constant roller coaster," said Sullivan, the northern California-based racer. "The high points make you want to keep going. I always knew it was hard watching it from the outside as a little girl. I never knew how hard it really was until I started racing."
The dichotomy of Johnson, a 55-year-old male, and Sullivan, a 25-year-old female, epitomizes the tremendous diversity evident in the class.
"At some point this season, it is possible that we might see as many as seven or eight female riders in the class," McKenna said. "There is also a great interest outside of the United States. Historically, the class has hosted riders from Sweden, Finland, Australia, Japan, New Zealand, and The Netherlands."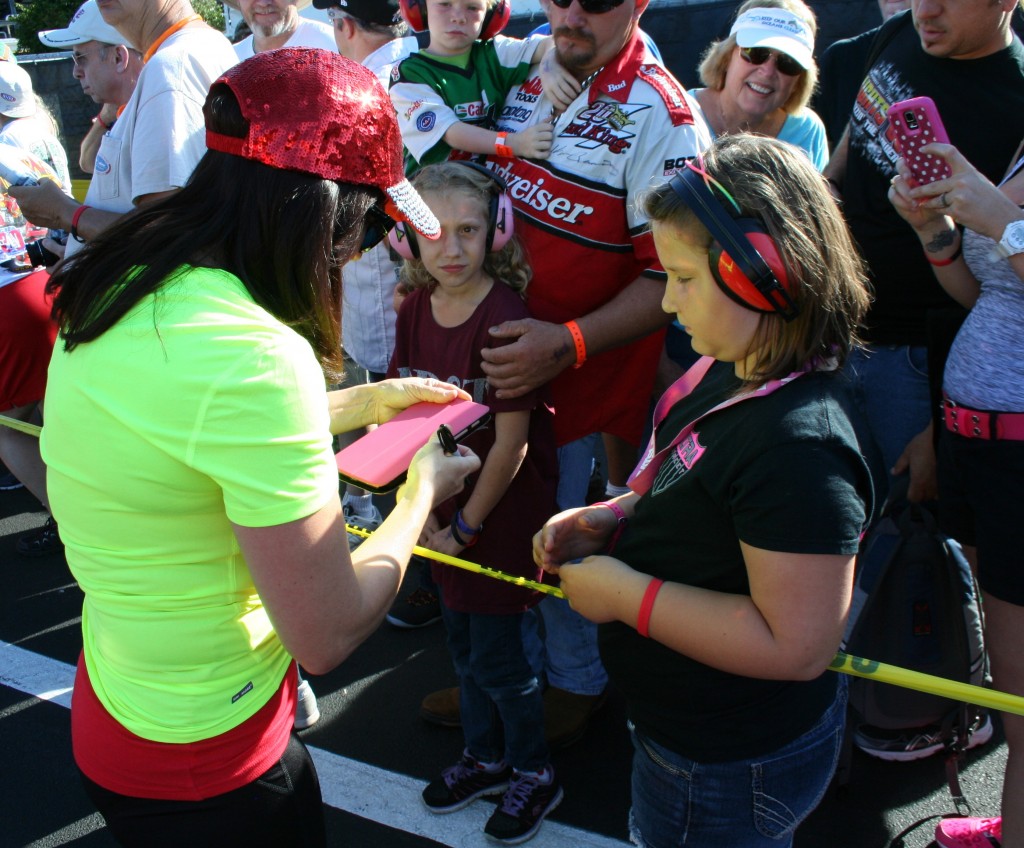 Bloom says it's the unique personalities that drew him into the class.
"It's a bunch of folks from diverse backgrounds," Bloom said. "I was not always the biggest bike fan. When I started announcing at Englishtown there were hundreds of cars and about 20 bikes. When the bikes ran it was my lunch break. Once I understood who the people were and what it took, I really appreciated it. I love the people and personalities."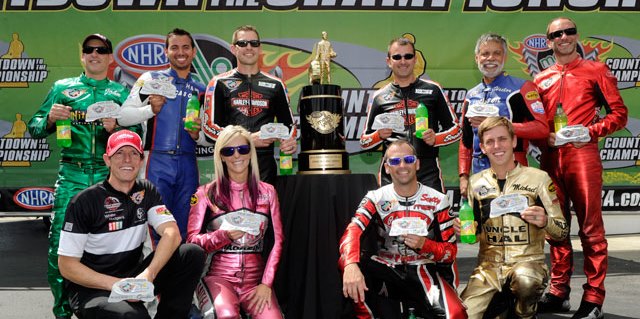 Even competitors from other forms of racing are crossing over. Brian Pretzel and Joseph Riccardi come from a snowmobile background. They purchased Underdahl's old chassis and some Vance & Hines power and plan on going to 10 events. They represent a small team doing its best without a major sponsor.
Brian Pretzel test pass.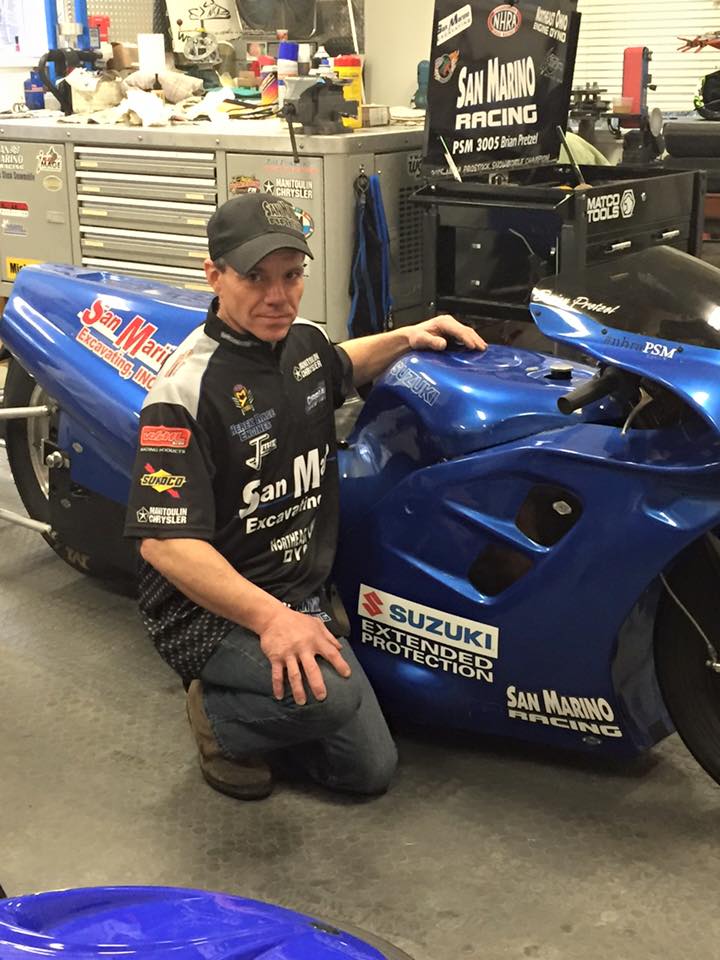 "We won't go out west,"Riccardi said. "It's tough we don't have the resources the other teams have but we do have brand new power."
Riccardi is realistic in setting his goals.
"I think if we qualify for all the races we are headed in the right direction," Riccardi said.
Kepner is impressed with how close the racing is.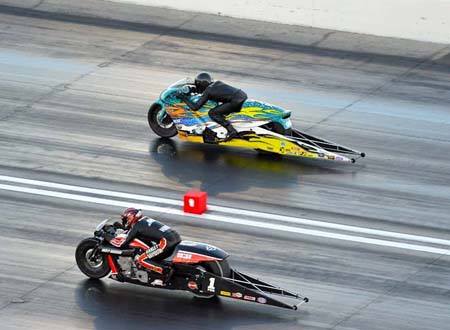 "The last three to four years the rules have been adjusted to make it close and they have been very successful. When you put a 16-bike field together with a .15-second split, everyone does have a reasonable chance to win. Like every other class in drag racing, as far as the quality of racing and the closeness of the competition, it's never been better," Kepner said. "It's not a socialist system where everyone has an equal chance to win and it's never supposed to be that way. The people who work the most, spend the most money and have the best talent are always going to win. The heath of the class, courtesy of Harley-Davidson's continued support is such that they can still draw 26 or more bikes which put them right there with the biggest entry list in professional drag racing in the last 10 years."
Kepner has a theory for what ignited the interest in the Pro Stock Motorcycle class.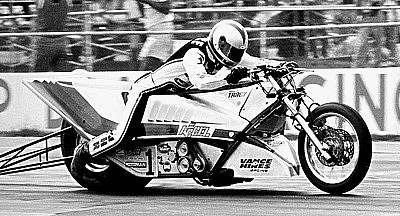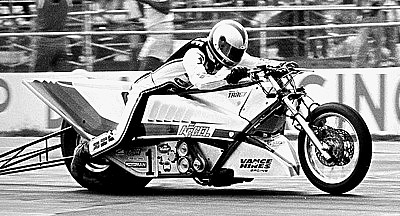 "In August of 1984 Terry Vance took his big silver Suzuki Top Fuel bike out to Orange Country Raceway (Calif.) for a Wednesday test and tune and went 6.98 at 203 mph. That basically killed Top Fuel Motorcycle. Many competitors were running older bikes and Vance came out with a purpose built chassis with a Funny Car tire and an engine that received not only all the knowledge of Vance & Hines, but also all the knowledge of the Suzuki engine designers. That was it, suddenly all these guys across the country with older bikes were out of luck. That was the basis for Pro Nitro and Pro Drag in the Harley classes. Suddenly Top Fuel was just out of the question for almost everyone but Vance & Hines and the class became a horribly segmented mess," Kepner said. "The manufacturers, Suzuki specifically, put a lot of effort into Top Fuel and that was only good for three or four NHRA exhibitions a year. So they started looking more for something that was representative of what they sold. That's when Pro Stock Bike got a lot of attention. The manufactures got involved and that is what carried the class."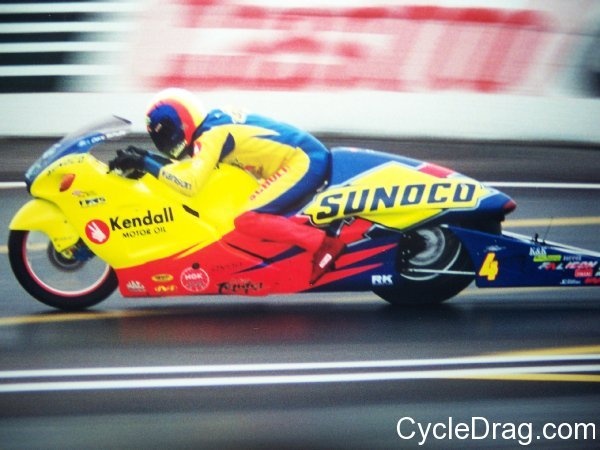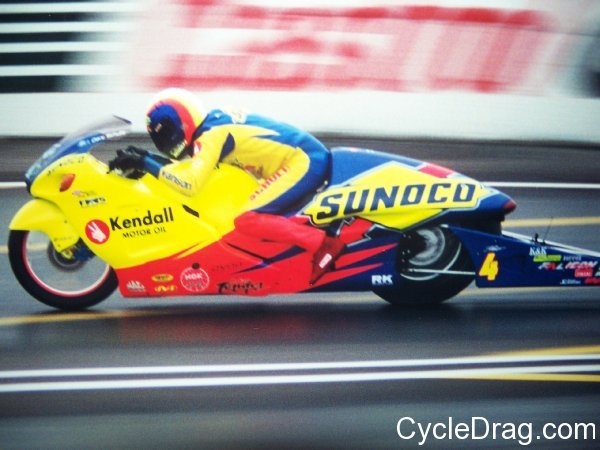 Nearly 15 years after his untimely death due to cancer, the category's first official NHRA champion Dave Schultz, still leads the class in wins at 45 and leads the NHRA in consecutive wins in a season at eight, a run that included a staggering 34-consecutive round victories. Schultz was named to the NHRA's list of 50 greatest drivers.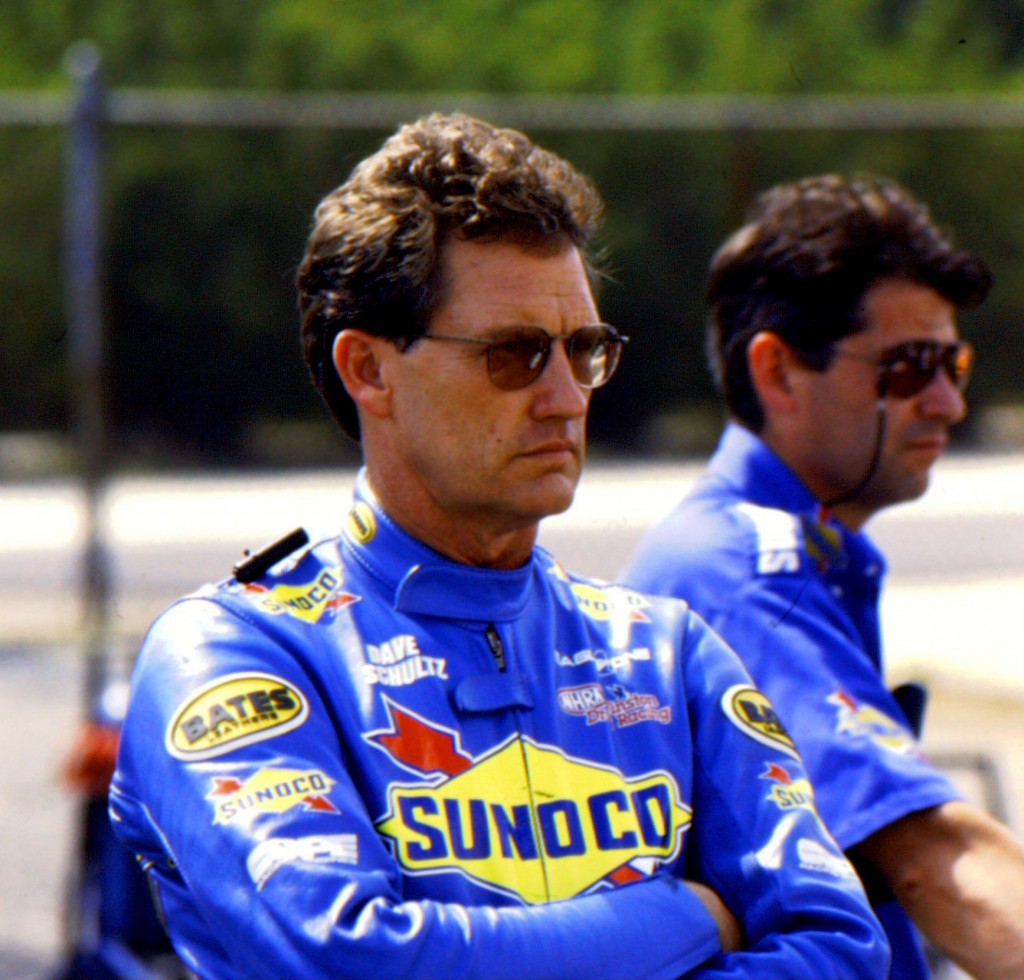 "He was ahead of his time. He had great power. He had a great partner with Greg Cope and he was always focused and driven to be the best. His win in Houston when he knew he was going to die was probably one of the most heroic things I've ever seen in drag racing," Bloom said. And with competition like John Myers, it wasn't like it was a cakewalk."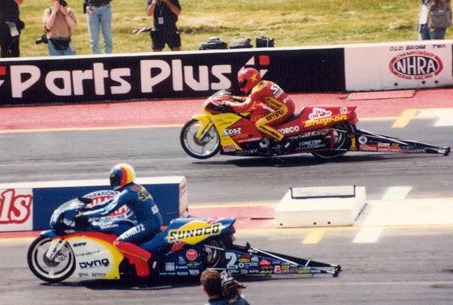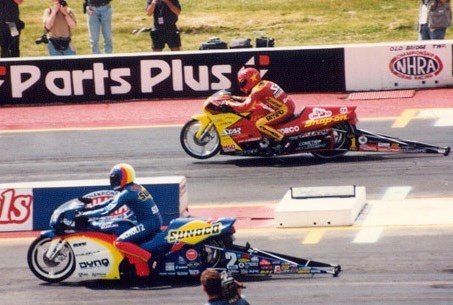 Myers and Schultz had one of the greatest, most memorable rivalries in NHRA history.
"I think that tremendous rivalry was one of the reasons the class rose in popularity in the early days. Even the people who were not interested in motorcycles would make a point to watch Schultz and Myers race. They always seemed to be in each other's faces, maybe not literally but certainly on the racetrack. It was a lot like the John Force – Al Hoffman rivalry in Funny Car," Stephens said. "I think the sport is in desperate need of more rivalries like that. They get fans buzzing, people taking sides and get people emotionally invested. It was good for the category for a long time."
1997 U.S Nationals semifinals.
Perhaps another epic rivalry will soon be born; one we are still talking about at the 50th anniversary season on the class.
For now, enjoy the show.
Complete List of NHRA Pro Stock Motorcycle Champions
1987 – Dave Schultz
1988 – Dave Schultz
1989 – "Pizza" John Mafaro
1990 – John Myers
1991 – Dave Schultz
1992 – John Myers
1993 – Dave Schultz
1994 – Dave Schultz
1995 – John Myers
1996 – Dave Schultz
1997 – Matt Hines
1998 – Matt Hines
1999 – Matt Hines
2000 – Angelle Sampey
2001 – Angelle Sampey
2002 – Angelle Sampey
2003 – Geno Scali
2004 – Andrew Hines
2005 – Andrew Hines
2006 – Andrew Hines
2007 – Matt Smith
2008 – Eddie Krawiec
2009 – Hector Arana
2010 – L.E. Tonglet
2011 – Eddie Krawiec
2012 – Eddie Krawiec
2013 – Matt Smith
2014 – Andrew Hines
2015 – Andrew Hines