The NHRA, Harley Davidson Drag Racing Series, held at New England Dragway, in Epping, NH is in the books.  The race was held on Saturday, July 20, 2013, with weather hovering the high 80's accompanied by high humidity giving racers challenging conditions.  During qualifying on Friday,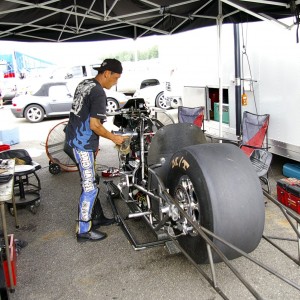 temps hit 102 with track surface temperatures reaching 140 degrees F.
Fourteen Harley Davidson powered drag bikes entered five classes of racing for this HD-DRS race.  Six bikes qualified in Top Fuel, two in Pro Dragster, three in Street Pro, two in Pro Gas, and one lone motorcycle entered into the class of Hot Street.
In qualifying for the contested classes, Tak Shigamatsu of Ehime, Japan set the pace for Top Fuel bikes with a 6.298 pass at 225mph in the blazing hot conditions on Friday.  In Pro Dragster, Dale Niles, Purlear, N.C. recorded a 7.37  @ 171 mph for the number one spot in P/D.  Bruce Croneberger III, of Cressona, PA, went 8.860 @ 151.92mph to secure the top spot in Street Pro.  In Pro Gas, Frank Capone, of Wakefield, MA, locked in the top spot with a 8.55 @ 152.64mph effort.
In Top Fuel motorcycle, during Saturday's eliminations, Doug Horne defeated Drums Brancaccio with a 6.437 elapsed time to Larry's 6.46.  Horne's razor sharp .004 reaction time left Drums on the starting line when Larry's very good .028 reaction time was just not enough to deal with Horne's rapid response.  Doug posted 219 mph on the pass to Larry's 217 that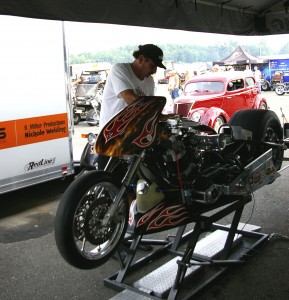 was just not enough to catch the Mike Romine tuned machine of Doug Horne.
With the next pair up, fans saw Tommy Grimes, racing for Ray Price Harley Davidson, of Raleigh, N.C. defeated Bob Malloy of Elkton, Md.  Tommy went 6.30 to Bobby's 6.33 but due to a glitch, Malloy's bike did not respond to the hit of the throttle.  Tommy's reaction time was a .077 to Bobby's unusual .232 RT.  In a post race interview, Bobby commented, "The bike just didn't respond when I twisted the throttle.  It hesitated, then went, but it just wasn't right.  The incremental numbers were off by a tenth on the 60', and the 330' times.  Then the bike posted a 232 mph terminal speed that we've never seen before.  That makes this the world's fastest high gear bike on the planet.  Why it did that, for the moment, we're not sure."
In the final pair of Top Fuel eliminations, it was number one qualifier Takeshi Shigamatsu versus Chris Streeter of Ohio.  Streeter was at this race in support of the Harley Davidson Racing Series and the class of Top Fuel he so dearly loves. Chris entered the race with his Pro Fuel bike to race against and with the Top Fuel giants.  His 150 cubic inch P/F bike was no match for the 200 inch monsters of Top Fuel and he knew that going into this event.  But to support the racing series and the nitro Harley brotherhood, Streeter lined up against the number one qualifier.  Tak laid a 6.30 @ 220mph pass on Streeter who responded with a 6.71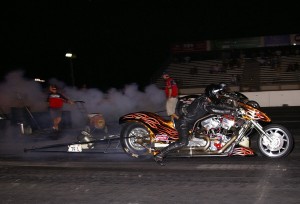 elapsed time, his best of the weekend, but it was not enough to hold off the man from Japan.
As round two of racing in T/F bike unfolded, due to the six bikes entered in the race, an unbalanced ladder resulted, giving Tak a bye run into the final round.  The semi-final round real duel was between Doug Horne and Tommy Grimes of Ray Price Harley Davidson.  Tommy posted a .041 reaction time, that was bettered by Horne's .039-RT.  As the bikes left the line, Horne just pulled away from Tommy, who just could not out run the Mike Romine prepared machine.  Doug held the throttle to the stops and the bike responded with an awesome 6.23 elapsed time that held as the quickest pass of the event in Top Fuel bike.  Mike chose to advance the ignition seven degrees before the pass and adjusted the rest of the settings to compensate for additional power and his combination held.  This set the stage for the final round of the day in Top Fuel.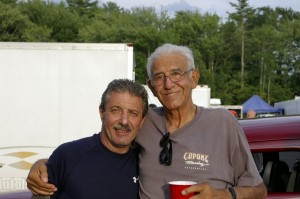 When Tak lined up against Horne in the finals, his bike was set on KILL by his crew chief Don Johnson of NJ.  As the bikes left the line, shortly after the launch, Tak's bike spun the tire and that was it for Horne, who just pulled away.
After the race, Doug commented, "So far this season, we've entered six races, we've got four wins, we've been to five final rounds and we've logged four number one qualifiers.  I am with an AWESOME race team."  The Horne Concrete sponsored bike is prepared by Mike Romine of Sturgis, Michigan, who not only built the bike, but tunes it for Doug Horne.  This win put Doug slightly ahead of Tommy Grimes in points with seven races completed in a ten race series.
In other action, Dale Niles, of Purlear, N.C took on Rich Vreeland of Bloomsburg, Pa to settle up the Pro Dragster class.  Dale and Rich were the only racers entered in P/D, a class that worked hard to get Harley Davidson's attention to be included into the HD-DRS.  Dale was the number one qualifier and he took out Vreeland by posting a 7.37 elapsed time to Rich's 7.56.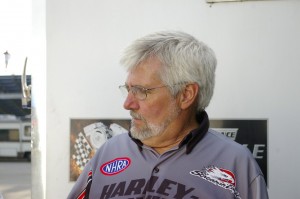 In another class that only had two bikes entered, Pro Gas, Sam Hurwitz of Newton Mass, defeated Frank Capone of Wakefield, MA in their only round of racing.  As the bikes left the line, Capone suffered a transmission failure and Sam motored on for the win.  As fate would have it, Frank knew he would have the only bike entered in the class for this race, so he offered his second bike to Sam so he'd have someone to race against on race day.  In effect, Frank hired his own assassin for this race.  Sam ran a fine 8.744 in the final round and interestingly enough, he ran an 8.747 on his final qualifying round run.
In Street Pro, Bruce Croneberger III, of Cressona, PA, went 8.844 @ 150.1mph to defeat Nick Gonats of Youngstown, Ohio who ran a game 8.994 @ 150.1.  There were only three bikes entered in Street Pro, Mike Motto of Jacksonville, N.C. also gave his best effort to the class.
In Hot Street, Bruce Croneberger III, of Cressona, PA, entered a valid H/S bike which was the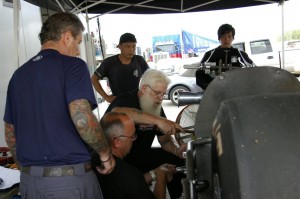 Fan attendance, like the Harley drag bikes at this race were less than what the race operators had hopped for.  While sudden rising gasoline prices hindered travel for some racers and fans, the extreme heat also worked against race promoters who sought to put fans in the stands: there were less than one-thousand spectators noted in attendance on Saturday for the Harley Davidson Drag Racing Series eliminations.  Few people, if any, are willing to sit in 100 degree heat, with high humidity, to watch any sport.