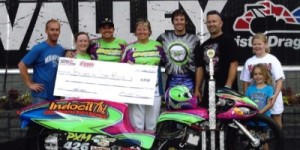 In all the years of motorcycle drag racing which I can actually remember since the mid 80's, I don't ever recall a schedule like 2013 with so many options of dates, places and events to choose from! The 2013 Motorcycle Drag Racing season has boiled over with choices (and that boiling started last December)! I understand we are already approaching the end of June; however, I still want to point out the bulk of what was and is still out there for us to choose from. Whether you are a sportsman or a pro, there are so many races this season; I find it hard to think anyone could complain that there isn't a lot that fits your program.
Before I begin to lay out all of the racing options for the 2013 season, I need to make my first disclaimer; I am not an expert in anything I am about to talk about nor does Grothus Dragbikes have any affiliation (monetary or politically) with any of the organizations we are about to talk about. If we want the sport to continue to grow, we need to take advantage of and support the races that are being promoted for motorcycles instead of complaining about everything that is wrong with these events. Get off your couch and your keyboard, and then put your money where your mouth is and race! These organizations are going through a lot of work to offer these racing opportunities to us!
I need to lay out what I think are the outright facts before I go any further. If you disagree with them, that's your choice; however, if you can't agree in principle to what I am about to say, it may be worth your while to stop reading now because in my mind you will never understand how these organizations, or tracks, will be able to sustain themselves year after year and offer you these opportunities.
#1: Each and every one of the organizations & tracks who promote these events needs to operate them like a real business. They need to make a profit. Yes, that means they may be making money off of you and everyone who drives through the gate. They will not and should not ever pay out all they take in; again, they WILL NEED TO PROFIT if they are to stay in business. If they don't take in more money than they pay out, the organization will die and go out of business. Racing organizations and track operators are not charitable organizations; they promote these races for varying reasons (I will leave that for another story).
#2: Rain is good for growing food and lawns but bad for motorcycle drag racing.
#3: It's a lot of work to promote and run a race; believe it or not, you don't just rent the track and then count the money you take in.
#4: A promoting organization who doesn't own a race track needs to somehow pay to use the race track; whereas, an event put on by a "track" who owns the track will still have some overhead for putting on the event. Translation, promoting organizations will have a much harder time covering their bottom line vs events run by tracks.
2nd Disclaimer; all of the information contained herein may not be 100% accurate. I will do my best to accurately describe the options you have to choose from this season.
3rd Disclaimer; most of these events are geared towards racers east of the Mississippi while including states such as Texas, Oklahoma, Kansas, Missouri, Iowa, and Minnesota.
Okay, having said that, I am going to alphabetically outline all of the racing opportunities in order to be fair and impartial to everything out there for us.
ADRL The American Drag Racing League- 9 National Events featuring 1/8 mile racing for Pro Extreme Motorcycles running gasoline & nitrous (Pro Mod)
AMRA American Motorcycle Racing Association-8 Events for Sportsman & Professional classes
Derby Race Screamin Eagles 53rd Annual Derby Event in Louisville, Kentucky.
This event features Pro Mod and several Sportsman classes at the
Ohio Valley Dragway. Held the same weekend as the Kentucky
Derby.
Drag Bike Nationals Kim Wood & Tim Fleming who own South Georgia Motorsports Park are promoting 2 events at their own Valdosta SGMP facility and feature Sportsman & Professional classes.
Manufacturers Cup 7 of the larger aftermarket parts companies who promote a National Event Points Series featuring 4 events with both Sportsman & Professional classes. Bradenton Florida 2X, Virginia and Indianapolis.
Megabike Series Music City Raceway in Nashville features 2 events for motorcycles on Sundays to include Sportsman & Pro Mod bikes. Pinkeys Annual Bike Bash is held over Labor Day weekend featuring the same classes as the Megabike events.
MIROCK This Superbike series includes 9 events in 2013 with racing held at Maryland International Raceway, Atco Raceway & Rockingham Dragway. This series includes several Sportsman and Professional classes.
NHDRO Brian & Niki Welch has expanded the No Hatin Motorcycle Racing Organization to 5 events in 2013 and features both Sportsman & Professional classes.
NHRA NHRA Screaming Eagle Motorcycle Series (10 events in conjunction with select NHRA Lucas Oil Drag Racing Series held across the country) Also 7 NHRA Divisional Races where the winners advance to Pomona to race for a National Championship.
PMRA PMRA is celebrating their 20th season with 6 events featuring Sportsman & 1 Professional open class. The races take place at Thunder Valley and Tulsa Raceway Park.
2-Wheel Speed Series These 4 events are held at Byron Dragway in Byron, Illinois and feature Sportsman classes.
Huntsville Dragway TT & Angelia Jones are now in control of this facility and have made tremendous improvements to the surface. TT has promoted several big money Pro Mod bike events in the last several seasons with sportsman and Pro Mod always on their menu.
This list does not include any of the Eddyville Iowa, Canadian Racing or Albany
Georgia special events; nor any of the local events put on weekly by NHRA or
IHRA owned tracks.
When Grothus Dragbikes began to look at the tremendous amount of events available on a National/Regional level, I began to think we were up against a double edged sword. Here is what I mean; there are so many events to choose from, the pie in which the organizations and track operators have to draw from is only so big. Translation, only the strongest organizations will survive this abundance of events we have to choose from. Motorcycle drag racing is a small community and there is only so much money to go around. I hope all the organizations stay in business and are able to continue to provide us with all of these choices, only time will tell.
The ADRL appears alive and well with healthy bike counts for PXM. The question is, can anyone derail the McKinney/Owens freight train which has run out of control for the last 4.5 seasons. The other question is this; will the lack of Manufacturer/Contingency money ever come into play with keeping PXM alive in the ADRL?
MIROCK has a stranglehold on the East Coast racer and is thriving. They are primarily no box racers with fast bikes all around. Jason Miller runs the track and seems to really have it figured out.
PMRA has solidly found a footing in the red dirt of Oklahoma/Texas/Kansas/Missouri and is celebrating 20 years, congrats!
The Derby Race has been around for 53 years and an unbelievable gathering; we went last year and couldn't wait to go again this year except for the rain.
Music City Raceway & Pinky are holding their own with their bike races but have had to adjust their purses in the last several years based on declining attendance.
I don't really know enough about the AMRA to comment on; however, I believe one of the Harley race organizations folded shop prior to the 2013 season.
2-Wheel Speed is still trying to find their niche without Dan & Greg at the helm.
This leaves the last three to talk about which are ManCup (Cup), NHDRO and Drag Bike Nationals.
Manufacturers Cup:
The Cup's goal (at least the way I understand it) is to provide a National Championship Points Series for motorcycle drag racers. I'm not so sure if the majority of racers value a National Championship Series like they did when Prostar & IDBA were at their best. Maybe the Cup should conduct a national poll and see if they are on track.
Personally, I thought 3 ManCup events was a perfect number. They added a 4th this year which I wasn't really big on. I thought they had a great thing going with the first and last event of the year taking place in the south where it was warm; whereas, us northerners always planned to go south in the spring and fall when it was cold up north. The middle Indy race was a Monster event hosted with NHDRO, an excellent addition to their schedule; just not well enough time managed last August with 2 rounds of buy backs, multiple oil downs and the cone demolition contest. The Cup realized their mistakes and has fixed the time management issues which were evident at the Fall Cup Race @ SGMP. Oh by the way, every oil down costs the promoter $500 and every cone repaired is around $75.
No Hatin Drag Racing Organization:
Founded in 2010 by Brian & Niki Welch, they are really solidifying their place in providing us Midwesterners top shelf events. I thought 3-4 NHDRO events was a good number of events for the season; however, in 2013, they went to 5 which I'm not sure I like. I feel like having 5 events are watering down the uniqueness of these events and I hope it doesn't hurt their attendance numbers. These events are well managed, extremely organized and seem to be making everyone happy. It is a great series which I hope stays alive and well.
The Drag Bike Nationals @ SGMP:
Kim & Tim (sister/brother) own and operate SGMP, one of the nicest facilities in the nation, bar none. The racing surface is phenomenal; the pit area is exceptional, great concessions, electric hookups and the list goes on. SEMDRA ran an all motorcycle program at SGMP for 10 years up until the end of 2011; so SGMP has had experience with bikes on a regular basis. In 2012 they tried to carry on the SEMDRA experience without much success. After the 2012 Cup event, SGMP and the Cup group could not come to terms, thus the emergence of the Spring & Fall Drag Bike Nationals @ SGMP.
Having so many events to choose from allows us to get our racing fix in, in a number of ways. Whether it is running for a National Points title, regional series title, or just attending some close events mixed in with some traveling, you need to do what feels right for you and your pocketbook.
We all have to decide on what it is that we are going to spend our money on, and most of us spend our entertainment dollar on motorcycle drag racing. We need to spend our disposable income wisely and race within our means first and foremost.
Having said that, the organizations' and promoters also need to keep a close eye on their bottom line for its long term health and stability. The manufacturers will always be around building and selling parts, that is as long as we keep racing and spending our money with them on the parts and services they provide. Remember, it isn't always about how inexpensive you can buy something. Reputable companies who have been around for a long time and stand behind their parts may come at a higher cost; but the service they provide will be worth it in the long run. Grothus Dragbikes tries to support the companies who give back to the sport we all love.
It will be interesting to see how the ManCup vs Drag Bike Nationals rivalry plays out. Grothus Dragbikes chose to support the manufacturers group who stepped up and organized in 2010 when AMA Dragbike wasn't able to stay alive. We have known these manufacturers since the mid 1980's and believe they have the best interest in mind of the motorcycle drag racer in the long term.
Speaking primarily from a monetary standpoint for the racer, it is great to have the first and last National events of the 2013 season on top of each other. As long as the payouts are the same as they were this spring, they are great for the racer. The down side of big payouts for events going head to head is that quite possibly, one or both of the organizations health may suffer in the long run. Regardless of which side of the fence you sit on, just go out to have fun and race somewhere!
Only time will tell. …………Ed Grothus-No Excuses www.grothusdragbikes.com