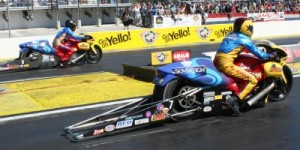 Sovereign-Star Racing teammates Michael Ray and Scotty Pollacheck remain in the top five overall points standings for the NHRA Mello Yello Series Pro Stock Motorcycle class after a difficult weekend at the Mopar Mile-High NHRA Nationals in Denver, Colo.
Ray, who has claimed two national event wins for the team this season, kept his No. 2 position in the points standings behind points leader Hector Arana Jr. Pollacheck, who has advanced to three final rounds this year, also held onto his No. 5 spot with only 11 points, or less than one round, between himself and No. 4 John Hall.
The Mile-High Nationals is considered by most teams to be the most challenging race of the season since Bandimere Speedway's 5,300-foot elevation presents unique challenges when tuning the engines and preparing the vehicles. The high elevation and high temperatures decrease horsepower dramatically, resulting in much lower elapsed times (ETs) and slower speeds than normal.
"It's almost like we didn't even go there, since the points didn't change. The track is beautiful, the Bandimere crew did a wonderful job, but I'm glad I only have to race there once a year. This weekend we learned enough to do better there next year, but I've closed the book on Denver until then," Star Racing owner George Bryce said.
Ray's S&S-powered Sovereign-Star Racing Buell made its best qualifying pass right off the truck during the first session on Friday. This 7.289-second ET was enough to earn Ray the No. 4 qualifying position going into Sunday's eliminations.
Pollacheck fought his way up from No. 12 to the No. 7 qualifying position as his motorcycle gradually improved its performance during each session.
He went on to post his best ET of the weekend in round one eliminations Sunday with a 7.301-second pass against No. 10 qualifier Eddie Krawiec's 7.332. Unfortunately, Krawiec's .012-second reaction time against Pollacheck's .046-seconds gave Krawiec's Screamin' Eagle Harley-Davidson the boost it needed to earn the holeshot win with only inches separating the pair at the finish line.
"It seemed like pretty much every lap the bike got a little better. The only time it didn't go faster was with a huge head wind, so that was definitely good. My reaction time on the tree first round was not good, though. It wasn't like I had a horrendous light or anything, but Eddie (Krawiec) just had a better one. It's definitely no fun to lose like that," Pollacheck said.
No. 4 Ray, whose motorcycle had struggled with a spinning tire throughout several qualifying sessions, faced No. 13 qualifier Steve Johnson on his Wyotech Suzuki in round one eliminations.
Once again, the troublesome tire spun near the start of Ray's run. He tried to continue the pass and close the gap between himself and Johnson, but it was too late. Johnson won with a 7.309 ET against Ray's 7.597-second pass.
"We looked at the bike after it smoked the tire so badly in qualifying but didn't really see anything strange. We thought maybe it was just a freak thing. Then, first round Sunday it did the same thing spinning the tire. I tried to catch Steve (Johnson), but we just ran out of racetrack. It was a bummer and we wanted to run better, but at least we were in a good enough position where we could swallow that pill without it hurting us in the points," Ray said.
The Mile-High Nationals marked the first race this season that a Sovereign-Star Racing motorcycle did not advance to the second round of Sunday eliminations.
"Since last season, I had forgotten how it felt to walk away from first round without a winner. That was not our style; that wasn't how we normally do it," Bryce said.
Despite this challenging weekend, the team remains confident going into this weekend's race in Sonoma, Calif., as they continue to develop one of the new cam chests from S&S Cycle.
"The greatest thing about last weekend in Denver is that we only made two runs on one of our great motors, so we didn't break any parts. This weekend, we're back to real racing at sea level, and I'm excited that we're gonna go really fast. We're having to learn a little bit and get ready for the next chapter of the season, but we have a really fast bike right now," Ray said.
"It's a real testament to our guys working on the bike to be able to take that new engine with that new cam chest that we've never had and to get it running that well right out of the box. That was really impressive that we've never had one on the track before, and we just showed up without testing it and ran well," Pollacheck said.
The Sovereign-Star Racing teammates will compete this weekend July 26-28 at the NHRA Sonoma Nationals at Sonoma Raceway in Sonoma, Calif. This race is one of only two left for the motorcycle class before the six-race NHRA Countdown to the Championship begins.
The 2013 Sovereign-Star Racing Team is a partnership between Georgia-based Star Racing and the Hungarian-based Sovereign Racing Team, the 2011 UEM European Pro Stock Bike Championship Team, owned by sugar distributor Jenõ Rujp.
The Sovereign-Star Racing Team would like to thank the following sponsors: Sovereign, Star Racing, Americus Motorsports Complex, S&S Cycle, Daytona Sensors, Worldwide Bearings, CP Pistons, Cometic Gaskets, Quality Tire, and Uncle Hal Gottspeed Racing.
Star Racing Fast Facts:
·         Based in Americus, Georgia
·         Six-time NHRA Pro Stock Motorcycle Championships
·         80 NHRA national event wins with 10 different riders
·         Owned by George & Jackie Bryce
Sovereign Racing Team Fast Facts:
·         Based in Budapest, Hungary
·         2011 European Motorcycle Union (UEM) Championship Team with rider Jesper Thiel
·         Owned by Jeno Rujp
Scotty Pollacheck Fast Facts:
·         From: Medford, Oregon
·         Job: Owns "Quality Tire" store
·         Years in drag racing: 27
Michael Ray Fast Facts:
·         From: New Braunfels, Texas
·         Job: Harley-Davidson Motorcycle Salesman
·         Years in drag racing: 11