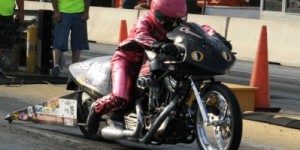 Team HeadBlade/Capone Racing with Frank Capone and guest rider, Sam Hurwitz, Newton, MA, took another Wally for the team at the NHRA Lucas Oil Drag Racing Series New England Dragway, Epping, N.H.   
Capone, "Hurwitz has raced at NED for 20 years. He also raced Pro Stock NHRA for 5 years on a Suzuki. We needed a spare rider and looks like we picked a good one. The Pro Mod bike I was on had some transmission problems in the finals and though I qualified #1 with a  8.55ET at 152 mph.  I couldn't quite take the win against our teammate this weekend when Hurwitz powered over our wounded tranny with a 8.72ET at 156 mph."
Capone encourages all their fans and friends to watch Team HeadBlade Sept. 20-21 NHRA Lucas Oil Drag Racing Series Bristol Dragway, Bristol, Tn. for the Harley-Davidson Drag Race Series.
July 27-28 AMRA Kil-Kare Raceway, Xenia, OH
Sept. 20-21 NHRA Lucas Oil Drag Racing SeriesBristol Dragway, Bristol, Tn
Sept. 28-29 AMRA Beech Bend Raceway, Bowling Green, KY
Capone's team consists of Mark Godin, Craig Fisher, Lorne Buchanan, Katy Miller and Kelcie Edwards.
.
Capone Racing sponsors and friends supporting Capone include: HeadBlade Inc. G&G Engineering, DAS Performance, L. Buchanan Co., Gannos Machine, Energy One Clutches, PR Factory Store, Vanson Leathers and all the staff at Capone Landscape.
Capone can be reached at:
781-224-0700
Friend—Frank Capone and Holly Keller on Facebook.