The weekend was already going to be big enough with race winners and crowned champions. Then NHDRO's Fall Fury Finale got upsized by adding the conclusion of August's rained out Summer Celebration. The Midwest's last big motorcycle drag event of the year was definitely going to be huge, but no one could have guessed how big the news coming out of Lucas Oil Raceway near Indianapolis on September 26-28 would be.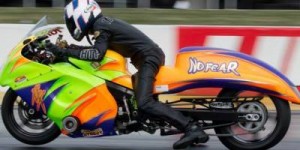 The news-making started right away on Friday evening. With the scoreboards off for Friday's hand-clutch Shootout, Jeremy Teasley made a shakedown pass on the John Drake-owned, Rodney Williford-tuned, fluorescent "No Fear" turbocharged Pro Street Suzuki Hayabusa. It looked like a good 60 foot, but then the bike picked the wheel up and drifted left towards center. It seemed hopelessly out of the groove but Teasley kept the throttle twisted. No times on the boards, so everybody drifted away and bikes kept coming for test n' tune.
A buzz started to spread through the crowd, and then online. Teasley and "No Fear" had run the sport's first ever 6.80 pass on a street tire—and deep too, at 6.86.
But that was testing in the cool of night and unofficial. How would the bike respond in the heat of day when it counted for McIntosh Machine & Fabrication Pro Street qualifying? Even better. Williford left the tune-up the same (expecting a .90) and the bike ran even quicker—a 6.843 that would get backed up and stand for the new record.
Bud Yoder ran a good-looking 7.04 in that round, good enough for second and stunningly 2/10ths off the pace. And that's the way it would go through the rest of the weekend, with Teasley sweeping the rain-delayed August win, the Fall Finals win, and the Pro Street championship. Frankie Stotz made it interesting on Sunday, busting deep into the 6s with a .91 in the semis. But he and August runner-up Doug Gall would have to settle for second place. Friday was Teasley's birthday and this was his weekend.
In an ironic twist, NHDRO tech director Joe Marasco thoroughly tore both Tealsey and Stotz's bikes down at the end of the event. Known for his own creative interpretations of the rules of racing, Marasco laid a sharp eye on both machines and found them legit
John Chant out of the Quicktime Racing won Pro Street B, and Gabe Fredrick won the always-exciting Dunigan Racing Pro Street Shootout on Saturday night. 2013 champion Gall runner-upped in the Shootout as well.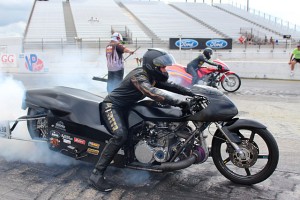 Michigan medical tool sharpener Mark Paquette secured his second straight Schnitz Racing Pro Comp with his own tool of choice—a badass black, turbo/methanol, Kawasaki funnybike. Paquette qualified number 1 with a low ET 4.04 at 195 mph in the eighth mile, and like Teasley won both races. Keith Lynn runner-upped in the August final on Saturday aboard his classic Kawasaki funny, and Richard Gadson played that role on Sunday astride the Cooper Performance nitrous pro mod.
Greg Mallett came into the weekend as the August race Route 21 Top Gas number 1 qualifier and won that event on Saturday, securing the championship as he did so. "Chicken Head" Chad Otts qualified number 1 for the Finale, which was won by former Prostar stud Ronnie Woodall over fellow former AMAer Doug Fisher.
Teasley also picked up Satuday's Catalyst Racing Composites Crazy 8s win over Jason Rearick. Ben Knight won Sunday's race with a better light over a breaking out Gall, who tied Teasley in points but lost the championship on a tie-breaker. With two championships under his belt, Teasley's weekend was getting even better. Clark Proctor qualified number 1 for the Finale.
Proctor won Sunday's Millennium Trailers 8.90 Super Comp final over Arnold despite Ron's razor-sharp .012 light. Ohio's Jeremy Himes was number 1 qualifier. Brian Selner won one for the wheelie-bar guys on Saturday, and in fact took the championship, protecting it from Crazy 8s invaders.
Teasley wasn't through winning. Riding Big Joe Holt's 'Busa, Jeremy won Sunday's tight Tsukigi Racing Streetfighter final over Chris Claudel. Dante Hardy qualified number 1. The August race was won by John "Spooky" Markham over Cory Craig. Fun For All Motorsports racer Ron Arnold scored the Streetfighter championship.
Claudel did get a win against Teasley though, in the August Kevin Dennis Insurance Street ET final. Arnold beat Ben Knight in a .005 to .007 reaction time battle on Sunday, and Ted Thompson beat Knight in Saturday's final. Still, Knight—the hardest working man in motorcycle drag racing—won the Street ET championship.
No, the fix wasn't in . . . Scott Kauffman—Mr. G&G himself—actually earned the G&G Metal Spinners Pro ET championship. But Kauffman didn't score a win this particular weekend. Brett Engel's .008 light wasted Mark Musselman on Sunday. Shannon Clem beat Michael Maday on Saturday, and "Exciting" Rod Bland took the August win over Larry Hunter.
Was it possible for Teasley to win anything else? Indeed it was, as he took the Friday Night Fights win over Gall. NHDRO's first hand-clutch, street-tire, heads-up, eighth-mile, no-time shootout off an instant-green-light event was a winner.
So everything was going Teasley's way on his birthday weekend . . . until it wasn't. Riding CJ400's Kawasaki ZX14 that he won Friday's Shootout with, Teasley lost a Port-Tech Grudge race to OSR's Money Mike Studebaker. The red hot OSR combo also took a win over Gadson on Bud Light Lime.
But the big race of the night was a  "James at 15" stack match-up between Gadson on "Lawd Have Mercy" vs. Teasley on the MSP-built "Texas"—two long wheelbase, small slick, nitrous 'Busas. Reaction times were similar (Gadson's .067 to Teasley's .061). Gadson's bike out-60ed Teasley's, then both front wheels came up at about 100 feet. Teasley fought "Texas" away from the centerline, laying over on the pipe and showering the big end with sparks while Gadson lit the winlight.
NHDRO's notorious Big Bikini Throwdown lived up to the hype, with models of every wheelbase and displacement laying it all on the line for the win. In the end it was NHDRO regular Juicy who earned the crowd's raucous approval.
The 2014 season went by quick, but the Fall Fury Finale's family reunion atmosphere and good times ended the year with bang. Perfect weather and the hard-working Lucas Oil Raceway staff made for an amazing weekend of world records and close racing. NHDRO promoters Brian and Niki Welch will reconvene the Midwest's largest motorcycle drag racing series beneath KD Kanopies in 2015, and the winter cannot go by quickly enough.
Find out more about the NHDRO at http://www.nhdroracing.com/
NHDRO thanks Schnitz Racing http://www.schnitzracing.com , McIntosh Machine and Fabrication http://www.mcintoshmachineandfab.com , Route 21 Racing Apparel http://www.route21.us , Catalyst Racing Composites http://catalystracingcomposites.com , Tsukigi Racing http://www.tsukigi.com , Millennium Trailers http://www.milltrailers.com , G&G Metal Spinners http://www.ggmetalspinners.com , Kevin Dennis Insurance http://www.bettercoverages.com , Port-Tech http://www.porttechheads.com/index.html , and KD Kanopy http://www.kdkanopy.com .
This report was prepared by Tim Hailey. Enjoy everything there is to read, see and watch about motorcycle drag racing and more at http://www.eatmyink.com