Closing in on a potential NHRA Mello Yello Drag Racing Series championship, Pro Stock Motorcycle rider Hector Arana Jr. is putting in extra time at the shop this week to make sure he's prepared for the NHRA Nationals at Maple Grove Raceway.
After a blown engine during the first round of eliminations in St. Louis put Arana Racing into thrash mode for the rest of the weekend, the entire team has more work than usual ahead of them before moving on to Reading.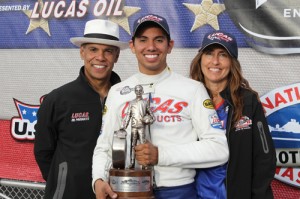 "I don't know why all of sudden we're having issues first round," Arana said. "That's two weeks in a row for me now and it's just annoying. We had a flawless first half of the year, but as soon as we get to the Countdown it seems like everything wants to act up.
"We're a really strong team though. I know we'll work through it, get everything figured out, and be ready to go for the next race."
Already with a plan of attack in progress, Arana is confident in their ability to get all the bikes prepped and ready in such a quick turnaround time.
"We were able to assess the damage to the motor before we got home," Arana said. "We did that so we could order the parts ahead of time. That gives us time to figure out what we want to do so when we get to the shop it's only a few minimal things to do there."
With already one win at Maple Grove Raceway in 2011 over Matt Smith, Arana is ready to add another one to the record books at the track, where perfect conditions will lead to broken records.
"I'm really looking forward to having a good, cool track," Arana said. "It makes for ideal conditions to put down fast passes.
"Hopefully, we can get a good motor together for Reading so we will be able to take full advantage of the good air."
Qualifying sessions are scheduled for 1:15 and 4:15 p.m., Friday, and 11:15 and 2:15 p.m., Saturday. Eliminations will start at approximately noon, Sunday, with both qualifying and elimination action broadcast on ESPN2 on tape-delay basis.