With his sophomore NHRA Mello Yello Drag Racing Series season coming to a close, Pro Stock Motorcycle rider Adam Arana hopes that his growing riding experience continues to pay off during the NHRA Nationals at Maple Grove Raceway, Oct. 2-5, in Reading.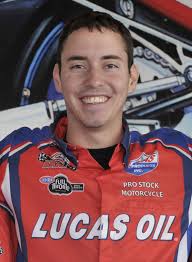 With reaction times comparable to any veteran, the ProtectTheHarvest.com/MAVTV Buell rider is ready to take his skills to the next level. Wanting to improve on his overall e.t., Arana continues to work on bettering his bike along with the rest of his family.
"We have a lot of work to do on all the bikes after Gateway," Arana said. "The motors need to be up to our standards for the rest of the season. We'll look at the chassis of my bike as well as it could be an issue. We're just not 100 percent sure what it is.
"Hopefully, when we review all the video we have from this last weekend we'll find something."
While he had a much-improved performance at Gateway Motorsports Park, Arana is still focused on his main goal of finishing all four rounds of qualifying in the top "fast" half of the field.
"Qualifying in the top half of the field seems to be my nemesis," Arana said. "It's frustrating but I'm going to keep trying to reach my goal before the end of the season.
"I know you can win from any place on the ladder, but I can't remember how many rounds this year that I have had the better light than my opponent and I've still lost because they've run better than me. It happened to me against Matt Smith in Epping (N.H.), my dad in Norwalk (Ohio), and the first round in Gainesville (Fla.). It just happens over and over and I'm ready to make a change."
Qualifying sessions are scheduled for 1:15 and 4:15 p.m., Friday, and 11:15 and 2:15 p.m., Saturday. Eliminations will start at approximately noon, Sunday, with both qualifying and elimination action broadcast on ESPN2 on tape-delay basis.