Following its annual journey to legendary National Trail Raceway, the Midwest's largest motorcycle drag racing series—NHDRO—returns home to Indianapolis and the Big Daddy track of them all. NHDRO's Mid Season Sizzle will positively scorch Lucas Oil Raceway on the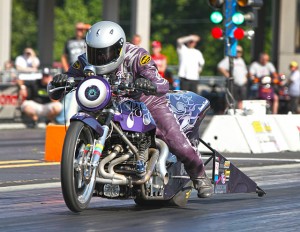 west side with an entire weekend of no-bar bikes, wheelie bar bikes, streetbikes, dragbikes, grudge bikes, index bikes—they'll all be there, along with those hard working NHDRO bikini girls.
McIntosh Machine & Fabrication Pro Street features the world's quickest street legal motorcycles and ballsiest riders—Frankie Stotz and his turbocharged Honda CBR1000RR, champion Doug Gall and Columbus Dunigan Pro Street Shootout winner Gabe Frederick with their side-mount turbo Suzuki Hayabusas, and the traditional turbo 'Busas of Bud Yoder and Jeremy Teasley. Guys like Ryan Hable, Jason Angela, Rudy Sanzottera and John Chant are working overtime to catch the frontrunners.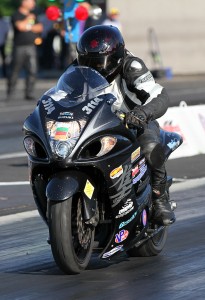 Frederick and Teasley were also still alive in the Columbus race, along with Gall and Wisconsin's Joe Robbins, when rain halted the event after round 2. Frederick had low ET of the round and will face Robbins in the semi when the race resumes during qualifying on Saturday at Indy.
Ain't nothing street legal about Schnitz Racing Pro Comp bikes. These big-tire behemoths belch flame on the starting line and push their slicks to the limits of adhesion lap after lap. Champion Mark Paquette and his turbo-methanol Kawasaki Funnybike struggled the first time out this year but came back to dominate in Columbus. Keith Lynn and his Roger Gordon-owned and tuned gas/turbo/nitrous Kawasaki was on the opposite schedule as Paquette—dominating the opener and faltering in Columbus. Expect both bikes to be on point this time around for an all-out battle, and Chris Cutsinger's 'Busa waiting in the wings should these big dogs falter.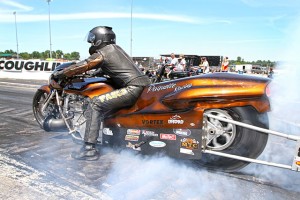 Bradley Shellhaas and Greg Mallett have split the two Route 21 Top Gas 8.20 index races so far this year, with both runner-upping to the other as well! Will anyone else in the class break through this time around?
Catalyst Racing Composites Crazy 8s class champion Ron Arnold will be fending off a large field in this wildly popular index class. Teasley won at home in Columbus, and his bother Cameron won at Indy in May. Odds-makers say it will be a third different winner in as many races this time around.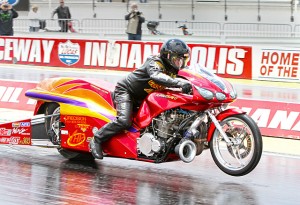 Tsukigi Racing Streetfighter champion Ben Knight will have to deal with the likes of Nathan Hollingsworth, Shawn Books, May winner Ryan Schnitz, Bernard Varner, Columbus winner Gall, and more.
Shellhaas also won Millennium Trailers Super Comp in Columbus, and will be dealing with the likes of opening round winner Eric Cooper, Brian Selner, Kyle Olson and more.
G&G Metal Spinners Pro ET features all the big ballers like John "Spooky" Markham and his son Dalton, Jim "Put it on the Underhill tab" Underhill, Shannon Clem, Quinn Orand, Tim Ganey, and Kounselor Kenny Schwartz.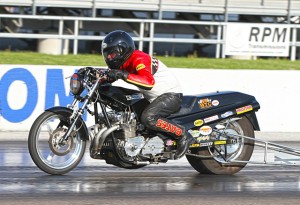 Kevin Dennis Insurance Street ET will be night after night of head-to-head competition amongst Chris Doty, Spencer Claycomb, Dustin Burchett, Matt Ehora and scores of others, including Knight and Arnold.
With online trash talking reaching a boiling point, Port-Tech Grudge is sure to be hotter than ever. The Joe Marasco-built NHDRO grudge bikes Thunder and Lightning, the Fugitive, Orange Crush and others will all be making wild, wheelieing passes as they chase the finishline for big bucks.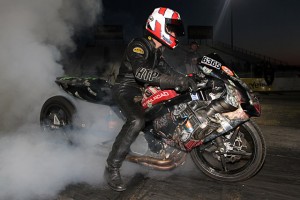 And nothing—and I really do mean nothing—will be wilder that the wet thumping, Twinkie throating action of the bikini contest as the NHDRO girls spill all out from underneath the KD Kanopies in an all-out effort to please the crowd.
NHDRO promoters Brian and Niki Welch, and the whole NHDRO staff look forward to welcoming the NHDRO family of racers and sponsors back to Indy. Pack your trailer and come see what the buzz is all about!
Find out more about the NHDRO at http://www.nhdroracing.com/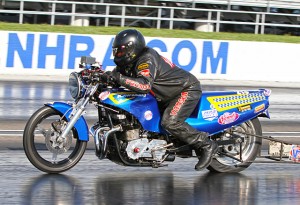 NHDRO thanks Schnitz Racing http://www.schnitzracing.com , McIntosh Machine and Fabrication http://www.mcintoshmachineandfab.com , Route 21 Racing Apparel http://www.route21.us , Catalyst Racing Composites http://catalystracingcomposites.com , Tsukigi Racing http://www.tsukigi.com , Millennium Trailers http://www.milltrailers.com , G&G Metal Spinners http://www.ggmetalspinners.com , Kevin Dennis Insurance http://www.bettercoverages.com , Port-Tech http://www.porttechheads.com/index.html , and KD Kanopy http://www.kdkanopy.com .
This report was prepared by Tim Hailey. Enjoy everything there is to read, see and watch about motorcycle drag racing and more at http://www.eatmyink.com