With interest in motorcycle drag racing dwindling in some areas of the country, the sport needs all the support it can get.
Fans of Top Fuel Harley-Davidson dragbike racing were left to lament when the AHDRA (All Harley Drag Racing Association) went out of business a couple seasons ago. The wildly-popular V-twin nitro class received a huge boost when it rejoined the high-profile IHRA (International Hot Rod Association) tour.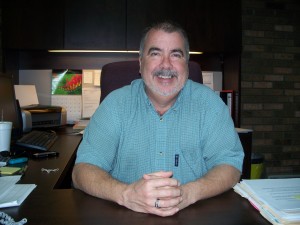 Nitro Bike is featured as a marquee class at all 12 of the IHRA's national events. Racers compete for a hefty $18,000 purse per event, plus a championship points fund worth more than $60,000, with $25,000 going to the year-end champion.
Based on fan support and racer participation the class has been a huge success in 2014.
First-year IHRA President Scott Gardner, who owns beautiful Cordova Raceway Park in Cordova, Ill., and has over 20 years of experience in drag racing management, couldn't be more pleased with the involvement of the crowd-pleasing two-wheelers
"I see it as a big part of our IHRA brand. The motorcycles need to be included," Gardner said. "We like coming up with our own formula. We don't want to look like everyone else and what's better than American-made, Harley-Davidson, nitromethane, one-wheel-in-the-air dragbikes. They make an awesome sound too."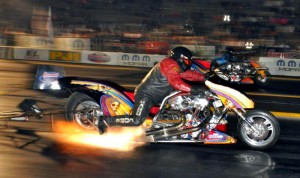 Gardner says he sees the class remaining a key element of the IHRA Nitro Jam Series. The category has proven to be a competitive one with tremendous parity and does not appear to be in need of any rule changes
"It's been an anybody-can-win situation. There are some classes in drag racing that can become a bit lopsided or out of control. This is not one of them," Gardner said. "It's a great group of racers who are very professional."
With his many years of quarter-mile wisdom, Gardner knows keeping the cost to compete low is vital to keeping the turnout high.
"Sometimes a class can get too expensive," Gardner said. "In other sanctions numbers have eroded because of that and we are working hard to make sure that does not happen."
Positive news for dragbike racing should be relished, and for now fans of Top Fuel Harley-Davidsons can rejoice in the category's new home in the IHRA.