The capital improvements continue at Maryland International Raceway as new grandstands have been installed on the spectator side of the drag strip. The new seating has stunning views of the on-track action, holds 5,000 people, and includes a section specifically for handicap viewing.
The new grandstands are one of the many improvement projects IRG Sports + Entertainment (IRGSE) is making to Maryland International Raceway. The drag strip recently underwent a complete transformation after 16 years, as it was resurfaced to enhance the racer experience on the drag strip. With an elevation of only 80 feet and a newly surfaced track, speed records are guaranteed to be broken.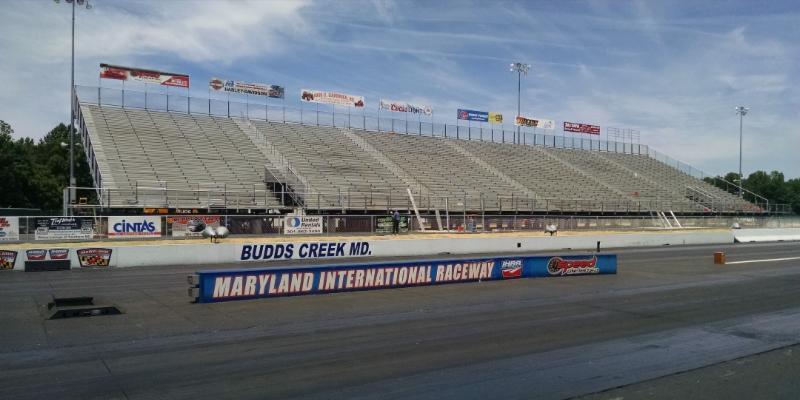 The completion of the new surface and grandstands occurred just prior to this weekend's IHRA President's Cup Nationals Fueled by Sunoco on June 17 – 18. Racers and fans alike will have an opportunity to experience the improvements firsthand.
"I invite all our fans to come out to the President's Cup Nationals Fueled by Sunoco and take in the view from the new elevated seating," stated Royce Miller, IRGSE COO. "You will see great racing like you've never seen before at Maryland International Raceway on our newly resurfaced drag strip. We look forward to seeing everyone."
The President's Cup Nationals Fueled by Sunoco is a two-day event on the IHRA national touring schedule. This weekend marks the 22nd time the premier event has come to Maryland International Raceway and the third event on the IHRA schedule. The racing will be highlighted by the professional series which includes: AMSOIL Nitro Funny Car, Nitro Motorcycle, Pro Stock and Pro Modifieds in conjunction with the Summit Pro-Am Tour.
Maryland International Raceway was built in 1966 and was purchased by IRGSE in November 2014. The famed drag strip hosts a multitude of events during the season ranging from weekly series', car shows, swap meets, to national drag racing events. For more information on Maryland International Raceway, please visit www.RaceMDIR.com or to purchase tickets to the President's Cup Nationals Fueled by Sunoco, please visit www.BuyIHRAtix.com.